It's fitting NBA games are now flooded with "Men in Black III" ads (there's even one with an NBA tie-in), because after Game 1, Lakers fans had the urge to "flashy thing" themselves. Who'd blame any member of the Laker Nation for making every last memory of a 29-point beatdown instantly disappear? That's not a bad plan for the actual players, too. Dwelling on what can't be changed is pointless and could perhaps hinder moving forward. Of course, this is also contingent on having addressed the problems causing their nightmare. Otherwise, the "flashy thing" would just be creating space in their brains for a brand-new set of horrors.
To help preview Game 2, Brian and I conducted an IM chat with Royce Young from the True Hoop network's Daily Thunder blog. Below is the transcript.
Andy Kamenetzky: I'll start with a question for Royce. Wha happa?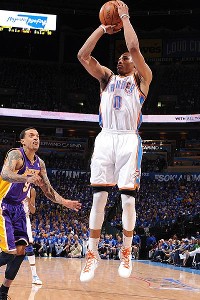 Win McNamee/Getty Images
Russell Westbrook owned the left and right elbows.
Royce Young: Yeah, that was something. I expected the Thunder to win, but definitely not a 29-point victory. The Thunder weren't rusty, and were foaming at the mouth to get on the court. OKC is good and has maybe the NBA's most explosive offense, but if they're going to turn it over just four times, the Lakers might as well hit the beach right now and save themselves the trouble.
Brian Kamenetzky: How sustainable is OKC's performance? The starters shot 63 percent. As a team they hit 60 percent between 10-15 feet. Russell Westbrook barely missed from 10 feet-plus, etc. Even if the Lakers don't do anything differently -- and they'd better do some things differently -- do you expect the Thunder to come back to earth?
RY: That's definitely about as good as it gets, although not completely out of left field. The Thunder have rolled up big offensive games before: Game 3 against Dallas, in the regular season against Miami and Chicago. But the mid-range game can dry up at a moment's notice, 3s might not fall and transition opportunities might not be available. Then it's about executing in the half court, getting to the line and finding easy buckets. They're capable of doing that every night, actually doing so isn't entirely realistic.
Is there an adjustment the Lakers can make to slow down Westbrook and Kevin Durant?
AK: Metta World Peace must do better staying with KD despite the constant screens. MWP's bulk can work against him fighting through bodies, but he's succeeded better than on Monday. Considering that his were the freshest legs of any Laker, I was disappointed by his general lack of defensive tenacity. As for Westbrook, when he's running pick-and-roll to that elbow spot, the Lakers bigs need to hedge harder to challenge shots or make him give up the ball. I realize the recovery after showing is tough for someone like Andrew Bynum, but Russ' looks were too clean, and he pulls up so quickly to begin with.
RY: Here's the dirty little secret with Westbrook: Everyone thinks you give him that mid-range shot and take away his path to the rim, but it's actually the opposite. Give him the jumper, he'll eat you alive. That's the hinge to his game. It opens the door to everything else. Actually, in hindsight, let's scratch my previous paragraph from the record. I don't want anyone to know this.
BK: If Mike Brown waits for game previews to get his scouting report for that night, I think you're OK.
AK: Did you view Monday as more a function of OKC building off the Dallas sweep, or the Lakers being disorganized and tired?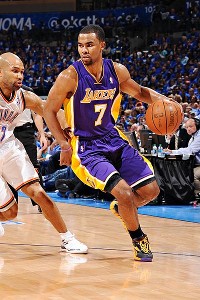 Andrew D. Bernstein/Getty Images
Ramon Sessions needs to make his presence felt more.
RY: Definitely a combination. It was a perfect storm for Thunder, who were rested, prepared and hungry. But that's the thing: It's about perspective. Game 1 definitely set a tone, but the Lakers only need one out of two in OKC. You see it the same way?
BK: Yes and no. I do expect a far more competitive game. The Lakers understand going down 0-2 to OKC is basically a death sentence. They'll throw whatever they have on the floor. However, the Thunder still have more talent, and seem awfully motivated. I don't think they'll let up on the gas. The Lakers have a lot to fix in one practice and a shootaround. Getting Ramon Sessions going. Finding easier shots for Kobe Bryant. Repairing the pick-and-roll defense, etc.
Conversely, the Thunder did really good work on L.A.'s pick-and-roll game.
RY: They're a team that can eliminate anything easy. They clog the paint wonderfully with Serge Ibaka and Kendrick Perkins and have athleticism and length on the perimeter in Westbrook, Thabo Sefolosha and Durant. It's really hard to shoot over the top of OKC or find clean passing lanes, and in the paint, you have to worry about Ibaka swooping in. But they have struggled at times in pick-and-roll coverages, most notably with point guards like Tony Parker or Chris Paul that attack it. Sessions has to be aggressive. I feel like he could be an X factor, but seemed scared to shoot anything outside of 10 feet. He's got to be willing to get in a pick-and-roll with Gasol, hit the elbow and pull up.
Is that just not Sessions game, though? Does he simply distribute to Bynum, Pau Gasol and Kobe and get out of the way?
BK: He arrived in L.A. with an attack-first attitude, and shot well from distance, making teams pay for ducking under screens. But in the playoffs, he's been tentative. Doesn't want to take the open shots, doesn't know how much he's supposed to defer to the Big Three. (The answer is "not much.") I certainly don't think the Lakers can win this series if he doesn't play better. Andy, would you agree?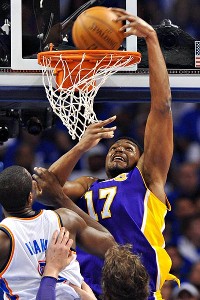 Mark D. Smith/US Presswire
Amid the problems, Drew found an offensive groove.
AK: Yup. Sessions was imported as the theoretical missing piece for a credible playoff run, a source of speed, penetration and easier buckets. Instead, he's largely faded into the background, save for a few big shots in Game 4 against Denver. His strengths, namely the high pick-and-roll, should be played to more often, with Kobe or Pau as partners. Hopefully, he'll discover a better rhythm and comfort zone. It's also fair to wonder if he's a little overwhelmed. This is his first postseason, which can be a lot to absorb as the stakes rise. Either way, it's imperative that he provide more offensive zip, because defensively, he's mostly out there to be hidden.
Royce, this might be a bizarre question, but did anything from the Lakers give you pause?
RY: Bynum looked like he cared. With Perk's health in question, if Bynum decides to take over games, that could be the biggest Achilles' heel for OKC. There were also first-half moments when the Lakers were all over the offensive glass, which is a worry against LA's size. Both could be something to build on.
AK: So finally, does the series head to L.A. split or with the Thunder in the driver's seat?
RY: I have the Thunder winning in five, and the way Game 1 went, I'm pretty convinced OKC's taking a 2-0 lead to Staples. Game 2 will be closer and probably more of a half-court defensive grind, but the Thunder are terrific at home and have more offensive weapons to get them through.
BK: Again, I expect the Lakers to play better, OKC to regress a little, and a tighter game. But until the Lakers demonstrate an ability to play consistently with the Thunder, I'll keep picking OKC.
AK: Unfortunately, no reason to disagree. The Lakers should play a better, more organized brand of basketball, but there's still a talent gap that's hard to close. Particularly at home, with that ridiculously loud crowd.