With their backs against the wall, it's obvious what the Lakers must do to send this series back to L.A.: Play near-perfect basketball against a team that's not only more talented, but better at closing tight contests. Nothing less will likely get the job done, especially in the Thunder's insanely loud building. The confidence of fans, based on the LO'L chatter, appears low, but what actually matters is the confidence of Lakers players. We'll get an idea of their collective belief -- and what that's worth -- soon enough.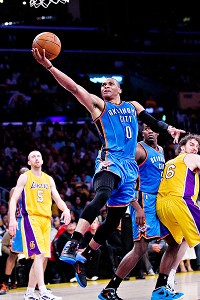 Layne Murdoch/NBAE/Getty Images
Russell Westbrook took over Game 4 down the stretch.
For a look ahead to Game 5, we had an IM conversation with Royce Young, who covers the Thunder for the TrueHoop network's Daily Thunder blog. Below is the transcript.
Andy Kamenetzky: What stood out most to you in the Thunder comeback/Lakers collapse?
Royce Young: The obvious thing people want to point out is Kobe Bryant's shot selection the final few minutes, but what stuck out to me was Russell Westbrook. He's been steadily improving at sensing his moments, where he can separate from Kevin Durant, and he picked an outstanding place in Game 4. He did the heavy lifting, and Durant carried them across the finish line. But like I said, it seems Kobe-ball had a lot of people talking.
AK: I watched the fourth quarter again, and there were definitely possessions where he went into "head down/Mamba/iso" mode and most weren't terribly fruitful. But Metta World Peace and Steve Blake also over-dribbled some possessions. Andrew Bynum was getting fronted, and as a team, they adjusted poorly. In the meantime, the Lakers' D went to pot.
Oh, and the mother of all bad turnovers from Pau Gasol!
It was just horrible execution on both sides of the ball, and OKC capitalized.
RY: One thing that's really hit home is just how fragile a playoff game can be. Each possession is priceless. The Thunder have valued the ball more than ever, and have approached games with a crazy amount of focus. Down seven, down 13, they see it as just pressing on and not letting up until the clock officially runs out. Whether that's just the natural evolution of maturity, or a voice in the locker room like Derek Fisher, the team doesn't lose focus even when times are tough.
Brian Kamenetzky: Still, the Lakers have played three straight competitive games. Royce, do you see in those any reason for Thunder fans to worry?
RY: To be frank, no. The Lakers are in a position where they need to win three straight, two of those games in Oklahoma City, and the Lakers weren't a strong road team this season. It's obvious not much separates the teams, but the Thunder are deeper and more talented than the Lakers. Unless they get tight and anxious about closing, they should handle their business.
Some are probably thinking about Game 4 in Dallas last season for the Lakers. Is this team different, or could they be headed toward a clunker in Game 5?
AK: I'd be lying if I claimed visions of a blowout haven't entered my head. Beyond that Dallas debacle, chemistry between players feels like it's eroding. Maybe that's just the immediate reaction to the collapse talking, and 48 hours later, things change. But based on the mood Saturday, an ugly finish isn't out of the question.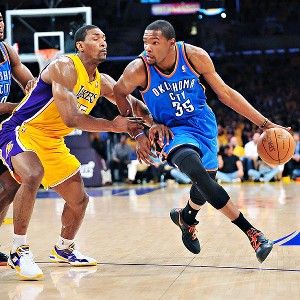 Gary A. Vasquez/US Presswire
In order to stay alive, MWP (and everyone else) will need to slow Kevin Durant.
BK: It was an uncomfortable locker room, for sure. I think they'll play hard Monday night, but if the Thunder get hot and bust out to a big lead, it's certainly reasonable to wonder how much pushback they'll have. Although I might have said the same going into the fourth quarter in the final regular-season matchup, and we saw how that went.
Royce, you talked about the three tight games. Is there something beyond that maturity you referenced helping the Thunder succeed late?
RY: They're a whole new crunch-time team from a season ago. James Harden handles the ball more, while Durant and Westbrook have hushed any noise about issues between them. Shot selection has been quality, the defense digs in, and the offense isn't just about isolating Durant anymore. Harden can run screen-and-roll, Westbrook can attack or Durant, whose handle has improved mightily, doesn't need to be curling off a screen anymore. He can attack off the dribble, which opens up the offense immensely late in games.
AK: I realize this can be tough to quantify, but do you think Scott Brooks has outcoached Mike Brown?
RY: I don't necessarily think so. Brooks hasn't done much out of the ordinary in terms of rotations, playing time or adjusting. Maybe that's where the credit lies: He knows how to get out of the way and trust the process. Brooks has made a few gaffes sitting Harden or Westbrook too long, but I can't think of anything else significant either way. When you have the talent he does, getting out of the way is sometimes the best move.
BK: Ignoring the impulse to tinker is a skill, and it's particularly important when you're coaching the better team. I think Brown will get a lot of flak after the series, but how much is fair I haven't decided. On the one hand, the Lakers have done a lot to change the way they attack the Thunder defensively. Offensively, there have been real struggles, but they've tried some clever stuff at different points. Fundamentally, the Lakers have a talent problem.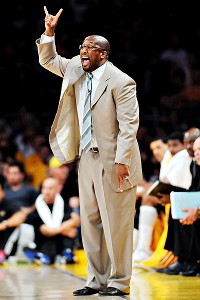 Jayne Kamin-Oncea/US Presswire
Rock on, Coach!
Do you think Brown's been outcoached, Andy? As opposed to out-teamed?
AK: Obviously, Brown's handicapped by the lesser team, which can't be overlooked or held against him. I expected OKC to win the series in large part because of this. But I do think the team's lack of focus down the stretch, which reflects what occurred against Denver and often throughout the season, does fall on Brown to some degree. It's his job to keep their heads in the game. Not that the players themselves also don't bear responsibility, but we've both questioned how much Brown's really being heard.
I also think he's making a mistake not playing Devin Ebanks ahead of Matt Barnes, whose productivity has hit rock bottom.
Ready to make some predictions, everyone?
RY: In Games 2-4, the Thunder outscored the Lakers 276-274, but 22-14 in the final two minutes. I had OKC in five and it's set up for them to close out at home. I don't see a repeat of Game 4 in Dallas for the Lakers, but I do expect the Thunder to win somewhat convincingly.
BK: I picture a competitive game much like the last three, but I'm taking the home team. The Thunder seem ultra-focused on beating the Lakers, not just because they are the current opponent, but because of what it represents. Nor do they want to be playing while San Antonio is sitting around. Things will stay tight until the last half of the fourth, where OKC's superior firepower allows it to pull away.
AK: Well, I had OKC in five to begin with, so who am I to blow against my own wind? But all joking aside, I do think the series ends today. The Thunder scored a massive Game 4 win, have a ridiculously loud crowd backing them and clearly don't tighten under pressure. The Lakers are obviously capable of extending the series, but I, unfortunately, don't see it happening.