Word on the street was that if Darius Morris had remained at Michigan one more season, he might have been a lottery pick in the first round of the 2013 draft. Instead, he opted to make the jump to the NBA and found himself selected by his hometown Lakers. Between the presences of Kobe Bryant, Steve Blake and (at the time) Derek Fisher, backcourt minutes figured, then proved, difficult to come by. Even by the typical standards for rookies playing on veteran teams with championship aspirations, Morris didn't get much run.
19 games, 8.9 mpg, 2.4 ppg, 1.8 apg, .8 rpg, .429 FG, .444 3-PT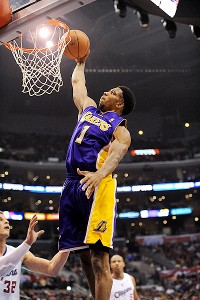 Noah Graham/Getty Images
Morris wasn't ready for a regular role, but demonstrated occasional flashes.
Highlights
The early part of his unexpected seven game stretch (1/11-1/22) filling in for Steve Blake. A rib injury to the veteran left Mike Brown no choice but to throw the kid into the fire and for the first few games of this stretch, Morris did a credible job considering the he had yet to log a minute's worth of regular season run. Four assists were doled out against the Cavs and Clips, with seven points to lead all reserves in the local contest. (He even drilled a half-court buzzer beater! The rookie didn't make anybody forget about Blake altogether, but at the very least, we saw glimpses of the potential that prompted the front office to draft him.
Lowlights
The latter part of the aforementioned seven-game stretch. Whether the result of more tape of Morris for opponents to study or simply the rigors of NBA ball catching up to Morris, the more games he played, the more he struggled to make an impact. It's one thing for his scoring to turn inconsistent, yet quite another to log just one assist over four consecutive contests. Morris looked increasingly in over his head, and Brown eventually opted to bench the Wolverine in favor of fellow rookie Andrew Goudelock as a quasi-point guard to provide the reserves a scoring punch.
Prospects for 2012-13
To some degree, this could be dictated by other point guards on the roster. Ramon Sessions (opt out), Blake (amnesty provision/trade) and/or Goudelock (potential free agency) all could find themselves part of new teams next season, which might open the door for Morris to play a larger role. (Assuming the Lakers make a qualifying offer of a little under a million bucks to retain his services, as I expect they will.) Were all three to return, Morris may once again be on the outside looking into a crowded backcourt. And I got the distinct impression from his exit interview playing time is a factor he'll use to weigh his options, should he have any. Darius is rightly concerned with establishing his credentials as an NBA-worthy player, and the process can never begin too early.
In any event, the Lakers could use more youth at this position, which leaves a door open for Morris, assuming he proves worthy of walking through it.
Grade
C
Previous Report Cards