As a college sophomore, to fulfill my foreign language requirement and nab an easy A, I took beginner-level German, a language I'd already studied for four years in high school. Predictably, I was ahead of the curriculum, which allowed me to skip classes without falling behind. A lot of classes. Basically, unless there was a test, I was absent. I even arrived to my final 30 minutes late because I skipped class the day we were informed that the test was in a different building, and missed the oral section. I still got a B, probably my lowest grade of the semester, and figured I'd get a B-plus for the course.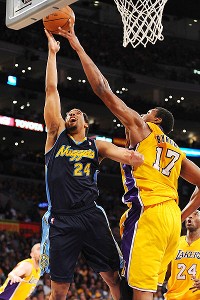 Noah Graham/NBAE via Getty Images
Game 1 against Denver demonstrated how dominant Bynum can be.
I ended up with a C.
When I confronted my teacher, she reminded me that attendance counted toward our grade, and that crushed me. I insisted that shouldn't have mattered, since I still aced the work. As I further explained, I actually did her a favor by ditching classes, since she could focus her attention on kids who needed more help. She then told me to leave her office and never bother her again.
The lesson? In life, you're often held accountable not just for the final result, but for responsibilities accepted or shirked along the way.
Andrew Bynum's season reminded me of my beginner-level German experience. If you gauge Drew's year purely on the results, it was obviously a fine campaign. Between his stats, his ability to drastically impact games like few players can, and his inherent talent, 2012 was a coming-out party for the emerging star. He firmly established himself as the second-best center in the league behind Dwight Howard, and on some days, it felt reasonable to argue that he'd reached Superman's level. There are still problem areas, such as negotiating double-teams and improved pick-and-roll defense, but on the whole, Bynum's talent is the least of his problems. Along with Kobe Bryant and Pau Gasol, a huge burden of production was placed on Drew's shoulders, and he held up his end of the bargain.
What does raise red flags, however, are the issues born between his ears. A sometimes sour, moody attitude that reeked of entitlement. The inability/unwillingness to consistently engage himself when he didn't get enough touches (or sometimes even when the touches came, but shots refused to fall). The lack of accountability toward the tremendous sway he held over games, and the consequences for not maximizing that effect. Drew often seemed to operate with an egocentric rather than team-centric agenda, and those instances sometimes hurt the Lakers.
Still, in more games than not, Bynum played well. Like the season itself, he's an enigma, which makes everything tricky to evaluate.
Statistics
60 games, 35.7 mpg, 18.7 ppg, 11.8 rpg, 1.4 apg, 1.9 bpg, .558 FG%, .200 3P%
Highlights
Bynum was named to his first NBA All-Star team, and as a starter to boot. Despite the physical demands of a lockout-shortened season, plus a career high in minutes (by a lot), his body held up remarkably well. Of the six games missed this season, only one was due to injury. If this season doesn't erase concerns about Bynum's long-term health moving forward, it certainly represents steps in the right direction. His Game 1 triple-double against Denver, highlighted by 10 blocks, was among the most impressive and unique I've ever seen. A 30-rebound effort in San Antonio wasn't just remarkable because of the numbers, but also because of the way Bynum weathered a 7-of-20 shooting performance. Similar to Game 7 against Denver, Drew broke a habit of disappearing out of frustration because he put his mind to the task.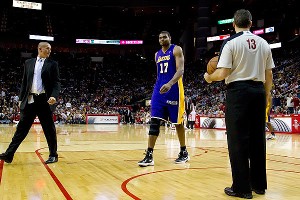 George Bridges/MCT via Getty Images
Bynum's pair of ejections demonstrated how petulant he also can be.
Lowlights
On several occasions, Drew's focus and energy were so transparently lacking, his subsequent postgame admission wasn't necessary. There was a weird phase seemingly about cultivating a "tough guy" image, which manifested itself in an isolationist vibe, alienating behavior, and two unnecessary (and costly) ejections during eventual losses to Houston. A meeting with Mitch Kupchak was skipped, which resulted in a fine by the organization. The "expanding my game" 3-pointer and huddles skipped to "get my zen on" were just two examples of Drew testing Mike Brown's authority. "Closeout games are kinda easy" proved a regrettable choice of words. (For what it's worth, I often enjoy Bynum's candidness and think it can be useful on a team sometimes lacking accountability. However, "time and place" should be always considered when offering an honest opinion, and if the honest opinion happens to capable of motivating opponents, there's an onus to back up those words, which Drew failed to do in Game 5 against Denver.)
If you haven't gauged a theme yet, the lowlights all center around attitude and/or effort.
Prospects for 2012-13
Beyond Kobe, no Laker is off limits for a trade. If forced to bet, I'd lay money on Drew returning, but it's hardly a lock, especially when you consider the complexity of his situation. The Lakers must soon either roll the dice on Drew as the next franchise face, or cut bait and move him from a position of strength. The Lakers have precisely two trade assets (Gasol and Bynum) with high value, and between them, Drew has considerably more value. But he's also a potential cornerstone, leaving the team with a huge decision. I imagine the front office will use the offseason to gauge where Bynum's head is at, and his willingness to accept all that comes with being next in line after Kobe.
Right now, I'd hesitate to lock up Bynum, tremendous talent notwithstanding. Yes, he's just 24, but he's also been in the league for seven years as part of a championship franchise, so he knows what constitutes professionalism. It's reasonable to question whether he'll truly embrace being passed the proverbial "baton." However, I was encouraged, albeit guardedly, by some comments during an introspective exit interview. Below is his response when I asked about where he stands as a leader and how important that is to him.
"For the most part right now, obviously Kobe is our leader, followed by Pau," Bynum explained. "Right now, I'm just kind of sitting back. But I definitely need to mature and get the locker room to follow me. ... Have a presence, have an aura that demands my teammates' respect, and so forth. That's something I can definitely work on. ... If I'm gonna have a superstar-type career, then I'm gonna have to get there."
I liked how Bynum recognized that leadership doesn't happen unless people believe you have somewhere to take them, plus an element of earned respect. Leapfrogging Pau in the "Kobe eats first" buffet line may have increased Drew's status, but at the same time, the most influential voice over the last few seasons was probably Derek Fisher's, and he often subsisted on table scraps. Bynum's a long way from that level of respect, but self-awareness is a potentially big step toward attaining it.
Drew later acknowledged an ability to either "inflate" or "deflate" a locker room -- presumably with an eye on avoiding the latter scenario -- and the importance of making his teammates better. In his own words, Bynum was "up and down" along these lines, but he wants to be more consistent next season. Again, fantastic sentiments.
Still, words only carry so much weight. It's time to walk the talk. Any reasonable Lakers fan will tolerate occasional lapses from a burgeoning star. Few players are immune to missteps en route to becoming a legend. However, missteps stemming from a questionable attitude can't be tolerated, especially with so much at stake.
Grade
B+
Previous 2011-12 report cards: