Per ESPNLA's Dave McMenamin:
"Jamison will sign a one-year deal for the veteran's minimum with the Lakers ... The 36-year-old forward will bolster the Lakers' bench with scoring and veteran leadership while pursuing the first championship ring in a career largely spent as the best player on bad teams...

... Jamison had several suitors for his services, including his hometown Charlotte Bobcats, the Brooklyn Nets and the Golden State Warriors, his employer for his first five NBA seasons. For a player who has never advanced past the second round of the playoffs in 14 NBA seasons, the Lakers' chance to contend apparently was too enticing to Jamison."
Brian recently shared some thoughts on Jamison. The two-time All-Star was among the bigger "names" available, but also among the more productive players. His numbers may be trending southward, but last season's 17.2 ppg and 6.3 rebounds is nothing to sneeze at. Even if those figures -- along with his shooting percentages from the field and downtown -- continue to dip, Jamison could become the most useful Lakers reserve since Lamar Odom. And we all remember how much LO (or a credible equivalent) was missed in 2012.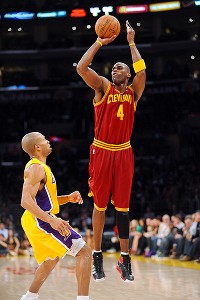 Andrew D. Bernstein/NBAE/Getty Images
The Lakers really needed a bench player who can score.
Beyond his age -- and all joking aside, it wouldn't be worst thing to add another rotation player who refers to a 30 year-old as "sir" -- the biggest issue I suspect fans will raise about Jamison is his defense. And with good reason. The guy wasn't a particularly good defender in his prime, which means at 36, he's only slightly more effective slowing foes than an Antawn Jamison fathead. (Which, incidentally, can be yours for the low, low price of just $99.99!) Will that be problematic at times? I imagine so. Perhaps the chance to play for a title, an opportunity rarely presented over the course of Jamison's career, will spark a greater commitment to the defensive side of the ball. Granted, one doesn't typically discover his inner-Bruce Bowen 15 years into a career, but if increased effort led to even 10-20 percent better lockdown, that beats the alternative.
And even if Jamison remains an absolute sieve, here's the thing: Last season, the Lakers subs averaged a league-worst 20.5 ppg (more than a third of which were provided by Matt Barnes, who ain't walking through that door). Unless the bench scoring is drastically improved, the reserves' collective defense is largely irrelevant, because they'd need to hold opposing second units to 10-15 points a night to be effective. That being a completely unrealistic goal, enter Jamison, who nearly outscored the purple and gold reserves himself in 2012. He's often a volume shooter, but outside of his rookie season, he's never averaged less than 14.8 points (which came off the pine). Jamison's proven ability to unite ball and basket removes pressure off the starters and reserves alike. Simply knowing somebody can consistently score should provide the bench with a mental lift, and defenses being forced to key on Jamison should make the unit as a whole more effective. Thus, I'm guessing the points generated by Jamison will offset the inevitable buckets he'll allow in the process.
There are other pluses as well. He's a former Sixth Man of the Year. Yes, that was eight seasons ago, but success in that role requires a specific mentality. Some players adjust well to joining games already in progress. Others struggle to catch a groove. Jamison is familiar with the process, so hopefully this will help him hit the ground running. The half-season spent under Mike Brown in 2010 means he's at least somewhat familiar with the coach's style and system, which could result in a reasonably smooth transition. (Ditto Steve Nash after their 2004 season as Mavericks teammates.) While probably better suited for the four at this age, Jamison can play both forward positions, which provides depth at two spots. Durability isn't an issue, even at his age, which is important for a team lacking the depth to absorb an injury to a key player. He's also long carried a reputation as a good locker room addition, and even veteran teams can never get enough of those players.
And finally, the money involved makes this a pretty sweet deal. More often than not in life, you get what you pay for. On paper, Jamison represents more help in one player than I figured the Lakers could realistically land at that cost. Unless he seriously underachieves, this signing should prove a very useful bargain.