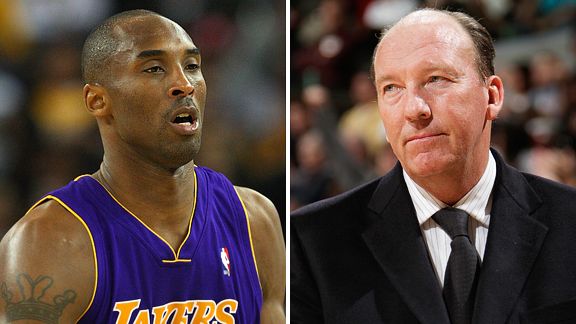 Kobe Bryant: Credit Jed Jacobsen/Getty Images, Mike Dunleavy: Credit Ron Hoskins/NBAE via Getty Images
Kobe Bryant against the Golden State Warriors, Nov. 28, 2009. Mike Dunleavy vs. the Pacers, Nov. 25, 2009.
"Kobe went through a stretch after we tried to get him (after the 2004 season), where I didn't love the way he played. Maybe it was the pressure of that whole situation, but I didn't think he played as good of a teammate. The one area that I thought he might have been falling short was in the leadership capacity.n the sense that I'm not sure his teammates liked him. To get the most out of everybody, I think your teammates really have to like you, and they really want you to succeed. That's the best chemistry you can have. The last two years, that's changed back to where I love the way he plays. Tremendously, in everything he's doing. Whatever it is, I feel like he's changed. He understands that leadership role, that dynamic better. Or he has more confidence in those guys that they can do it with Pau Gasol obviously. But right now, I love the way he plays."
More Evolution of Kobe Bryant:
--Mike Dunleavy is the coach and general manager of the Los Angeles Clippers, and coached the Trail Blazers during their epic seven-game Western Conference Finals in 2000.