Early last month, I looked at some pressing needs for the Lakers heading into the summer's draft/free-agency period, noting similarities to the list from the summer of 2011. Now the collegians and internationals have all been selected. Players, including most of the significant ones, have flown around the NBA in a flurry of trades and signings. DwightWatch! is in full swing (though reviews indicate viewers believe the plot is moving too slowly for their tastes).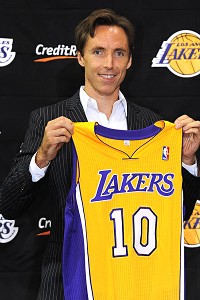 Andrew Bernstein/NBAE/Getty Images
Steve Nash didn't solve every problem for the Lakers, but he sure helps in a lot of areas.
There is still business to do and some help remains on the market, but after agreeing to terms with Jordan Hill on a two-year deal on Friday, it's as good a time as any for a progress check for the Lakers. Below are five areas of need faced by the purple and gold entering the summer, as well as thoughts on how they've been addressed.
Fair to say I'm a lot more optimistic about the 2012-13 season than I was before.
1. Outside shooting.
The problem: "[In 2011-12] the Lakers again fell short from the perimeter in the playoffs, hitting only 28.2 percent of their 3-pointers against the Thunder. Disappointing, but unfortunately not far off their 32.6 regular-season mark, meaning nothing about the way L.A. shot against OKC was fluky. Throughout the year, the Lakers had little floor-stretching capability, limiting space inside for their high end post game or lanes for dribble penetration. Help defenders could collapse on the ball whenever it entered the paint, comfortable nobody on the perimeter would make them pay."
The address: The Lakers still could use a classic floor-spreading spot-up shooter -- a Steve Novak type could put up video-game numbers surrounded by L.A.'s Big Four -- but certainly addressed the need with the acquisition of Steve Nash. While his primary value will come in doing point guard stuff, Nash will also be a major weapon on the perimeter. Last year's 39 percent mark from downtown was his worst in more than a decade, but would have pushed for the lead among regularly used Lakers. And while it was Nash's second straight sub-40 percent season, the slippage was more likely because of the decline of the roster around him than his actual shooting skills. Joined now with great post players and an elite wing in Kobe Bryant, there is every reason to expect Nash's percentages to rise back into the 40's.
If so, it's a huge boost to the offense. Plus, Nash's skills at the point should help improve the flagging percentages of his teammates.
The addition of Antawn Jamison brings another potential perimeter weapon (he's averaged no fewer than 4.1 3-point attempts in any of the last three seasons), though not necessarily a deadeye. A career .346 3-point shooter, Jamison has averaged 34.1 to 35.1 percent from downtown in every season since 2008-09. Not bad, but not remarkably efficient either.
2. Point guard productivity.
The problem: "[In '10-11] there was some improvement, as the Lakers PG's boosted their output to 14.9 points and 6.5 assists. Still their efficiency differential was again just off the bottom of the barrel ... Deadline day brought [Ramon] Sessions, at a cost of a couple first-round picks and veteran leadership in [Derek] Fisher. Do they still need a point guard? ... Depending on the composition of the team around him, Sessions could be plenty adequate. On the other hand, there's definitely space for an upgrade should the Lakers decide to plug in a true star at the position."
The address: He's Canadian, he makes film parodies, he used to play for that team Kobe hates.
3. Center depth.
The problem: "The Lakers added a couple bodies in [Troy] Murphy and Josh McRoberts [before the start of 2011-12], then later in the year with Jordan Hill. All three had some degree of utility, but because the Lakers sent away their main source of frontcourt depth (Lamar Odom) away without replacing him, once again Gasol piled up major minutes. Only OKC's Kevin Durant logged more than Pau's 2,430. Had Bynum not remained healthy all year, it would have been worse for Gasol and the Lakers. Like his frontcourt partner, Bynum was given plenty of burn, averaging 35.2 minutes a game, third among centers."
The address: The Lakers took a major step in providing both depth on the bench and support for Gasol and Dwindrew Bynward on Friday afternoon by agreeing to terms with Hill. Had they let him go, the Lakers would have had a very difficult time finding a player of his energy, athleticism and rebounding on the free-agent market, given their inability to shop anything but the red-tag clearance aisle. He's not much of an offensive player, generating most of his points from dirty work around the basket and plays in the open floor, but despite not finding a long-term home in his young career, Hill has certainly shown the ability to compete at the NBA level.
They also drafted 7-footer Robert Sacre out of Gonzaga with the 60th pick in the draft. He might not make the team, but you never know. He is, if nothing else, very tall, solidly built and sees the game with a defensive mindset.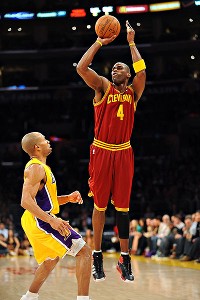 Andrew Bernstein/NBAE/Getty Images
With Antawn Jamison, the Lakers have some badly needed bench scoring.
Jamison, in addition to providing badly needed punch off the bench, should also make life easier on L.A.'s front-line big men. With him on board, the second unit gets someone who can put up points -- last year Bynum or Gasol often had to carry the load while on the floor with the reserves -- and having a reliable backup at the 4 should make it easier to manage Gasol's minutes.
4. Shot creators.
The problem: "None of their free-agent acquisitions [heading into last season] qualified as guys who even like to dribble, let alone create shots. Combined with Odom's departure, the Lakers had a gaping hole in the collective skill set. Until the deadline, Kobe Bryant was the only guy who could put the ball on the floor to get his own look, or effectively penetrate to set up someone else. This added to his already-too-large workload and was a big reason Gasol was forced higher up the floor to facilitate. The Lakers needed help getting the ball around the floor."
The address: Again, Nash will be monstrously helpful in this regard. He doesn't create his own shot in the vein of Russell Westbrook or Derrick Rose, guys who outquick/outspeed defenders off the dribble, but he can still be very effective. Defenders, especially help defenders, approach him warily -- the way they might a radioactive porcupine -- fearing Nash's vision. Meanwhile, his arsenal of shots make him effective anywhere on the floor, including the paint and midrange. And obviously he creates easy looks for others. Jamison isn't Kevin Durant at the forward spot, but relative to anyone the Lakers had on the bench last year, he is a far more credible and confident offensive player. He can get the ball on the floor and score from a variety of angles.
Still, the Lakers would benefit immensely having someone else on the wing capable of creating on his own, particularly someone simultaneously able to back up Bryant. (It's why Lakers fans hoped against any logic that O.J. Mayo might end up in L.A.: He was a perfect fit on a lot of levels.) At this point, finding that sort of impact wing is unlikely, but the additions of Nash and Jamison improve the Lakers in this area.
5. Speed and athleticism.
The problem: As Kobe said, the Lakers were old and slow.
The address: And, generally speaking, still are.
Here's a place where the Lakers aren't appreciably different from last year and are still vulnerable. But I'd rather have them bring in good players, Nash and Jamison certainly qualifying, than simply focus on youth and athleticism. Young and athletic may not always mean effective, on either end. Still, there are requisite demands in Mike Brown's defensive system, relying heavily on multiple helps during every opponent's possession. Dedication and smarts go a long way, but there is no question athleticism helps players get from Point A to Point B faster, without having to cheat. As of now, the Lakers haven't done much to improve their athleticism.
Obviously, adding Howard changes the dynamic because of the ground he covers defensively. Bynum is an outstanding athlete for his size, but he's not Howard.
Whether the deal happens or not, the Lakers aren't going to be the spriest of groups. They'll be vulnerable on the break, and the type of swarming defense that elite teams like Oklahoma City and Miami are capable of could be a problem.
No team is perfect, though.
Conclusion: The composition of the roster still could change in ways big (a Bynum-for-Howard swap) or small (another veteran's minimum free agent). The Lakers still have their mini-midlevel exception, though right now it looks as though they might not use it. Understandable given the current payroll (around $94 million) and the luxury tax implications; strategically it could be beneficial later in the year. Useful players always come on the market following trades and buyouts, and having a full MML would give the Lakers more money to lure a potential late-season addition. Still, with real needs including more perimeter shooting and a viable backup for Bryant, plenty of fans will be upset if ultimately the exception goes unspent.
I do expect them to take a stab at shoring up one more weakness, likely plucking up one of the guards/wings without a home as free-agency winds down, though finding players of Nash's or Jamison's impact will be tough for just north of a million bucks.
If they can, the Lakers will, somewhat remarkably, be in really good shape going into next season. Far better than most could reasonably have expected.