This series examines how the presumably now-elite Lakers stack up against their fellow brethren, and the Nuggets would largely be considered one tier lower. Thus, their inclusion here could feel strange. It shouldn't. As last season's first round, seven-game series demonstrated, Denver features a roster stuffed with rising talent tailor-made for a quick pace that tests the Lakers. And in Andre Iguodala, they've acquired an All-Star and Olympian who's both a great fit and addresses the team's biggest weakness (defense). The Nuggets would never be favored in a series against the Lakers, but still could provide one of the trickiest rounds possible.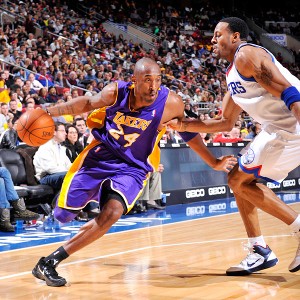 David Dow/NBAE via Getty Images
Iggy should help Denver on both sides of the ball.
For some local knowledge on the Nuggets, we spoke with Jeremy Wagner from the True Hoop network's Roundball Mining Company.
Andy Kamenetzky: What was the general reaction in the Roundball Mining community when word hit the street about Dwight Howard joining the Lakers?
Jeremy Wagner: The real story revolving around the Howard trade for Denver was obviously the acquisition of Iguodala. There was a angry subdivision of fans who were very upset that the Nuggets took part in ushering Howard to the Lakers. After the loss in the playoffs to LA and the addition of Steve Nash, most fans viewed the Lakers superior to Denver anyway. The addition of Howard only increased the gulf. Any hope of catching them this season is gone.
AK: Well, even if they can't catch the Lakers, how capable is Denver of pushing them with Iggy on board?
JW: The addition of Igoudala is a tremendous one for Denver. Arron Afflalo's defense had really fallen off from where it was a couple of seasons ago and Igoudala will certainly help in that area. Plus, Igoudala is a much better passer, fits better into Denver's drive-and-kick offense, and should flourish in the open floor. I believe a healthy Nuggets team will be the third best team in the West, barely ahead of the Clippers.
Is there any concern that with such a small window, based on the ages of Kobe and Nash, this team cannot afford taking a year to jell?
Brian Kamenetzky: No question. There are definitely moving parts to integrate. In theory, Howard doesn't demand a massive adjustment -- it's not like the Lakers aren't accustomed to a high end center -- but in a lot of ways he's a very different player than Andrew Bynum. More mobile, more effective in the pick-and-roll. Plus, he's been "the guy" since entering the league. With the Lakers, he will, at least to some degree, have to give a little. And Nash is a huge change, a point guard capable of putting a game on a string, the type of player Kobe Bryant has never teamed with. Defensively, I think they'll be okay, since Howard makes things easier for everyone else. But this is at best a two-year experiment thanks to age and finances, and if it doesn't yield at least one title, people will be upset.
Denver is an interesting experiment in meshing skills. No stars, but a ton of solid players in Wilson Chandler, Kenneth Faried, Danilo Gallinari, Iggy, Ty Lawson, JaVale McGee, and Andre Miller, plus intriguing talents like Timofey Mozgov, Anthony Randolph, and the young draft picks. What's the secret to making so many parts work together?
JW: That's a great question and I'm not sure there's an easy answer. George Karl has an incredibly difficult job deciding how to divvy up the minutes, learning which players mesh, etc. The good news is this lineup is very versatile with the ability to play big or small. With Karl being such a small ball advocate, the big question is whether he'll ever take advantage of the opportunity to put big lineups on the floor. But the key is really the players, who'll have to put egos aside and accept whatever minutes. They'll also need to establish a renewed commitment to defense. The Nuggets have traditionally been a top-10 team in defensive efficiency until the last two seasons. That must change to reach their potential.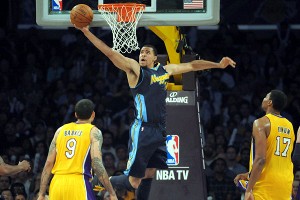 Kirby Lee/Image of Sport/US Presswire
JaVale must build on his 2012 playoff breakthrough.
AK: What's interesting for the purposes of this matchup is Afflalo, who'd largely done a good job defending Kobe. Could his absence be felt when these teams meet, even if you think Iggy is the better overall defender?
JW: Afflalo has done a good job hounding Kobe when they are matched up, but I don't think AAA's reputation matched his performance, especially last year. Afflalo always played hard and never complained, an attitude the Nuggets will need. But Igoudala possesses a similar mindset with a better body and skill set. The one area the Nuggets might really miss Afflalo is his outside shooting. Igoudala shot nearly as well as Afflalo did last year (39.4% vs. 39.8%, respectively), but the former has never shot that well before and the latter's percentage was reduced by an incredibly cold start caused by his holdout.
I am fascinated by the Nash-Kobe pairing. Bryant's shown the willingness to take a secondary role with Team USA, but not the Lakers. Is there any chance we will see more of that Kobe with a mini-dream team of Howard, Pau Gasol and Nash?
AK: I'm guessing that's unrealistic. It's one thing to dial back your game with Team USA for a month or two with LeBron James, Kevin Durant and Carmelo Anthony on hand. It's another doing so on "your" team. However, I do think Kobe's scoring totals and usage rate will dip as the result of Nash spreading the wealth, and I'm optimistic a happy medium between "Mamba" Kobe and "London" Kobe can be discovered. If so, he and Nash will have a healthy relationship.
BK: I'm fascinated by just about every offensive combination the Lakers can put together. So much skill available at every spot on the floor. There will be nights of spectacularly entertaining basketball.
Jeremy, if you're George Karl, with all those weapons available to you, how would you attack the Lakers offensively and defensively?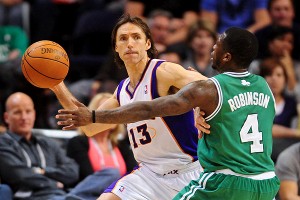 Mark J. Rebilas/US PRESSWIRE
Nash should help prevent the Nuggets from living in transition.
JW: Offensively, the Nuggets do a great job of scoring in transition and scoring in the paint. The latter is where Howard will most help the Lakers although the Lakers already did a very good job of defending inside out and closing off the lane with Bynum. The player who holds the key to whether Denver is merely good or a contending team is McGee. He made the pilgrimage to Hakeem Olajuwon this month and The Dream is raving about his ability. If McGee can develop a post game that requires a player like D12 to expend time and energy covering him, it will make a big difference. The Nuggets will also have to shoot better from behind the arc, and second year player Jordan Hamilton is primed to help in that department.
Defensively, Denver must improve in almost every area. McGee must make improvements on this side of the floor as well. Fortunately, the improvements are mostly mental and the Nuggets will ensure he learns what he needs to know. If players like McGee and Faried can close down the paint with their quickness, shot blocking and rebound abilities, they will allow the perimeter players to close out on all those wide open 3-pointers surrendered last season.
AK: During the playoffs, the Nuggets capitalized on the Lakers' lack of mobility and transition opportunities created by from inefficient offense. With a more mobile Howard and Nash running a presumably better show, how effective can that formula remain?
JW: With the improvements you mentioned, Denver will need to score even more frequently in the open court. That becomes problematic with the Lakers' new lineup. Nash is a deadly shooter who makes teammates better shooters as well, and Antawn Jamison is a new weapon to help the bench score more frequently. That's bad news for the Nuggets, who rely on misses and turnovers to trigger the running game. I don't see the Lakers giving as many opportunities as last spring. Add in Howard patrolling the lane and Denver will have a more difficult time scoring against the Lakers, while LA should score more easily against the Nuggets, even if the defense improves.
AK: Do you consider Denver that team none of the elite squads would want to play?
JW: The West will continue to remain a minefield, and while I do think the Nuggets can secure the third seed, I believe they are basically even with the Clippers, Grizzlies and Spurs. Denver will give fits to whoever they face in the playoffs although I see them as a bigger threat to the Thunder than the Lakers. For reasons discussed above, while I thought the Lakers were the best matchup for Denver last season, they may now be the worst.
AK: Denver is a scary team to me, in that even if the Lakers improve themselves on both ends of the floor, they're still much more mobile and can attack in waves. They may not necessarily be better than the Clips, Griz or Spurs, but they're potentially a tougher matchup. In Iggy, they've got a point-shooting guard-forward who can guard Kobe and Nash if needed, which could be disruptive. Faried is a handful to contain. Gallinari, when healthy and confident, is a very creative scorer (although Metta World Peace has largely owned him). At his best offensively, McGee puts up bizarre shots difficult to defend. And even at his worst defensively, he can be disruptive.
BK: They're up there on the scary meter, if only because they are less conventional than the three teams you mention. Under better circumstances last year, Denver could have finished ahead of the Lakers in the W.C. standings. This year, they're not as good but their depth and flexibility makes them a team I think the elite squads will want to avoid.
AK: Where do you see the Lakers against the rest of the league?
JW: I think the Lakers are right up there with the Thunder and Heat. If they won the championship, I would not be one bit surprised. I do believe OKC and the Heat are a smidgen better because of the cohesiveness. It will be great to see Nash and to a lesser extent Howard fighting for a chance to earn their first ring.