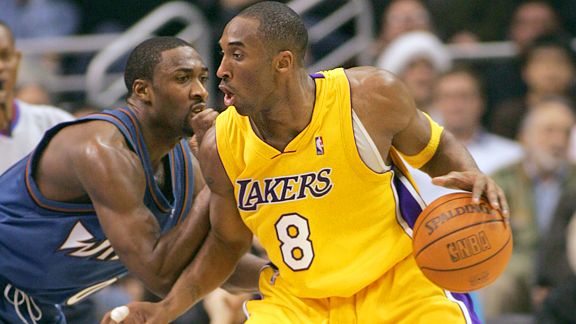 Stephen Dunn/Getty Images
Kobe Bryant drives against Gilbert Arenas on December 16, 2005 at Staples Center in Los Angeles.
"When he first came into the league, he played more up and down, fast paced, using his athleticism and getting into the lane to do great things. Year by year, he's put something new in his game and not settling for what he is at any time. It's not normal to keep adding like that. Only great players do it, because they're not satisfied. A couple years ago, he came back from a summer with the pump fake, and he was using that pump fake for everything, getting guys off their feet and off balance. That's how he got his rhythm. Now, he's using what I call the plant-spin back. He goes to the hole and makes everybody jump, then spins back. You can learn it- it's easy to learn. But to have the confidence to use it in a game is the difficult part. I practice it all the time, but I just haven't mentally got it to go in a game. I just can't get it yet. But that's what makes Kobe, Kobe. The patience he has to learn how to play, and then apply it."
More Evolution of Kobe Bryant:
--Washington's Gilbert Arenas averaged 29.3 points a game during the 2005-06 season, and 28.4 a night the following season.