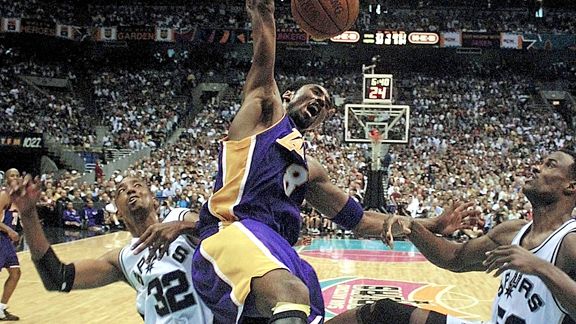 JAMES NEILSON/AFP/Getty Images
Kobe Bryant (C) of the Los Angeles Lakers dunks the ball between Sean Elliott (L) and David Robinson of the San Antonio Spurs during game 1 of the NBA Western Conference Finals 19 May 2001, at the Alamodome in San Antonio, Texas.
"Early on in his career, he wasn't one of those players that we focused our attention on most of the time. I would even say as far back as '99 when we won the title (with San Antonio), when we played the Lakers in the second round we were more focused on how we would stop Shaq underneath. But Kobe was definitely up and coming. We just figured that we could get away playing him with a little more single coverage, as opposed to letting Shaq kill us. Kobe wasn't quite the polished scorer. He still took bad shots. The one thing I remember vividly about that team is they just didn't have that chemistry. They were talking to each other on the court and if Kobe took a bad shot, believe me, guys on the team weren't very happy about it...
...Listen, the guy never went to college, came straight out of high school. The cultural adjustment alone is huge and I think we saw a lot of that with Kobe Bryant early on in his career. He wasn't nearly as polished, and I'm sure it cost him with his teammates and the media. But he's matured a lot and his game has matured along with him. Now he makes a lot of smart decisions. Yeah, he can score the basketball, but as far as the wild shots and the shots that were really bizarre, you don't see those every often, if ever, anymore. That's just Kobe Bryant growing up."
More Evolution of Kobe Bryant:
--Sean Elliott faced Kobe Bryant's Lakers twice in the playoffs as a member of the San Antonio Spurs.