Because you can never look at a game from too many angles, I tracked down some insight from Cavs Blog scribe John Krolik of the True Hoop network. Kid's still in college and something of a genius, and BK and I like to think we discovered him back in the day when we were running a now-defunct local sports site. We really didn't, but it's a great story that makes us come off like seers. Anyway, I threw five questions his way regarding the Cavs and the holiday matchup. Give what he's saying a whirl and see what you think.
1) You were on record as critical of the Shaq deal when it happened, if memory serves. As we speak, how do you think Shaq's fitting in? Has Mike Brown discovered more ways of using him or do you picture his minutes/ production continuing to drop and Brown mixing and matching front court lineup?
John Krolik: I'm not sure if my initial reaction to the Shaq deal could be called "critical," but I'd say I was skeptical from the beginning of how he'd fit in with the existing pieces on the team, especially Anderson Varejao and Zydrunas Ilgauskas. Since the Cavs gave up almost nothing for him (or so it appeared at the time, as most assumed Ben Wallace would never come all the way back from the injury he sustained mid-season), and had the core of a 66-win team still intact, my assumption was that Shaq was a guy who could potentially make the team better and be safely discarded if he didn't work out. You can judge for yourself what my reactions were to Shaq before the season (why pretend I have secrets?), but here's me being (I think) cautiously optimistic about the acquisition when it happened and cautiously pessimistic about the prospect of Shaq starting about a month later.
(AK's note: After reading John's original thoughts on the Shaq trade, he's right, not nearly as pessimistic as I recall. I guess I was mixing up Krolik with someone different who thought that deal didn't really help short or long-term. Me.)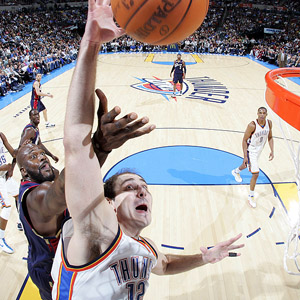 Layne Murdoch/NBAE via Getty Images
Shaq was brought in to stop heavier hitters than Nenad Krstic.
As for how he's fit in, I'd say badly so far. As I noted on Tuesday, the Cavs are the only team who could be considered a title contender whose two most-played units have a negative +/-, and Shaq is a part of both of those units. Simply put, Shaq and Anderson Varejao don't work as an offensive frontcourt, and Shaq and JJ Hickson don't work as a defensive frontcourt. Him and LeBron don't play off of each other very well either, because Shaq can't play pick-and-roll and he hasn't really been opening up the middle for cuts when he posts up.
But more than anything related to "fit," Shaq just hasn't been very good when he has the ball. Shaq's always had some glaring flaws, but he's made up for them by always scoring or demanding a double-team when he got the ball on the block, and he hasn't been doing that this season. He's been left on an island a lot of the time, but usually ends up committing a foul or leaving a jump hook short instead of getting the basket, and possessions where the ball gets tossed into Shaq often ends up being a stagnant, bad possession. At the end of the day, it doesn't matter if Shaq's "clogging the lane" or anything like that; if Shaq's 43rd among centers in True Shooting, just behind Kwame Brown, he's not doing what he's supposed to be doing. The party line is that Shaq was an acquisition for the playoffs, and he did what he was supposed to when the Cavs played the Magic earlier this season, so some of my judgment is reserved for when it "counts," but the early returns have not been promising.
2) This Cavs team isn't off to as strong a start as last season's. What do you see as the chief reasons?
JK: The Cavs definitely aren't off to the same start that they were last season. Here are what I see as the reasons why, in no particular order:
-Ilgauskas's regression: Ilgauskas was both playing at an all-star level individually last season before he got hurt and provided a perfect fit in the frontcourt, guarding the rim defensively as Ben Wallace/Varejao showed out on the perimeter and stretching the floor with jumpers offensively as Wallace/Varejao did their work in the immediate basket area. Whether it's a product of adjusting to the bench, age, or just a slump, Z has not been much of a player this season. His PER has dropped from 18 to 11.5, and his eFG% on jumpers this season, his bread-and-butter offensively, is worse than Josh Smith's was last season, and that's very bad. Add that to Shaq's struggles from inside this season (see above) and center play has gone from a strength to a weakness offensively.
(AK's note: Krolik's opinions were sent in before Z went all goony bird from behind the arc against Sacto.)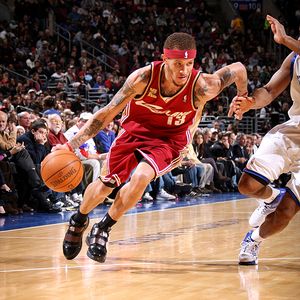 Nathaniel S. Butler/NBAE via Getty Images
Delonte West can be a difference maker for the Cavs, which is a good and bad thing.
-Delonte West's personal troubles: Delonte was an absolute key player for the Cavs last season. He moved the ball and offset Mo Williams not being a true point, he spaced the floor by shooting 40% from beyond the arc, he could get his own shot when an offensive set broke down, he looked to create turnovers and push the ball, and he was hell in sneakers defensively. His numbers weren't gaudy, but he was an absolutely integral part of the team. Obviously, he's missed time this season, and got moved out of the starting lineup for Anthony Parker, who's a better spot-up three-point shooter but represents a downgrade in almost every other aspect. And even when Delonte plays, he's been inconsistent offensively, with most of his impact coming as a scorer off the bench; he hasn't gotten his outside touch back yet, and has only made one three so far this season.
-Overall defensive intensity: The Cavs have always hung their hat on defense, but this season they've regressed in that department. Replacing Ben Wallace with JJ Hickson in the starting lineup is a huge defensive downgrade. Anthony Parker has a good defensive reputation, but he makes nowhere near the defensive impact Delonte West does at this stage of their careers. LeBron doesn't have the same chip on his shoulder as he did last year on the defensive end, and has gone from being an absolute force of nature on that end to merely quite good. And Mo Williams was on his best behavior last year, but the numbers show he's gone back to being somewhat of a defensive liability this season.
-Struggling to integrate Shaq: See above.
-Saving it for the playoffs: I give this less credence than actual on-the-court things, but I do get the feeling that the Cavs feel like there's less at stake in the regular season after securing the NBA's best record and homecourt advantage, then losing at home in the playoffs anyway. They definitely seem to have less zeal for every game than they did last season.
3) Everyone focuses heavily on Kobe v. LeBron (and ironically, they won't even spend as much time on each other as past games with Ron Artest now on board. Is there a matchup getting less hype but just as important (or maybe just flat out interesting)?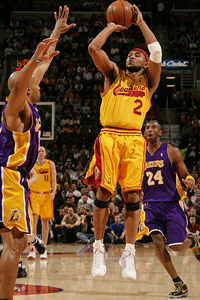 David Liam Kyle/NBAE via Getty Images
Mo' Mo Williams would be a good start if the Cavs want to beat the Lakers in their house.
JK: I think Mo Williams vs. Derek Fisher is a matchup the Cavs are going to have to exploit if they're going to have a chance to win. Fisher is probably the Lakers' weak link defensively and won't be able to hurt Williams off the dribble very badly, so it'll be absolutely imperative for the Cavs to try and get their second-leading scorer going against Fisher. If they can't do that, it's tough to find many other favorable matchups for the Cavs on Christmas day.
4) Is there an X-Factor player for the Cavs?
JK: Kelly Dwyer recently called Delonte the biggest X-Factor in the league, and the Cavs do go to another level when Delonte is healthy and on his game. But going through the Cavs' games so far this season, Mo Williams' performance has been an uncannily accurate barometer of how well the Cavs play offensively. When Mo's hitting open threes and creating enough offense so that the defense can't load up on LeBron, the Cavs are a whole different team offensively. So I'll go with both Delonte and Mo. The Cavs will need both of them on their games to beat the Lakers, anyway.
5) Last season, Lakers-Cavs was considered a measuring stick game for the Lakers, since they were trying to shed that "too soft to play against the physical East" tag? Obviously, that wasn't true and they ended up champs. Is this now a measuring stick game for the Cavs, both in your mind and the team's?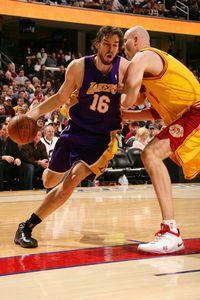 Photo by David Liam Kyle/NBAE via Getty Images
Pau Gasol and Lamar Odom killed any "soft" talk by going right at Cleveland's interior last season.
JK: I mean, if the Cavs are able to beat the league's best team at home, that would be phenomenal, and could really help their confidence going forward. But it's not like it's all that much of a setback if they lose, since the Lakers are the pretty clear favorites in this one. Like I said earlier, I'm not sure how into statement games the Cavs are this season after they had a statement regular season last year and it didn't get them what they really wanted. But the Cavs did struggle against the elite in the regular season last year, especially on the road, and didn't beat the Lakers at all, so that would be a bit of a monkey off their backs. But I think it'll be a couple of months until the games Cavs really want start.
You can always count on our man Krolik not to skimp on details. Good stuff, and I'm not just saying that to suck up because BK and I expect to be working for John when he inevitably ends up running ESPN before turning 27. In particular, I was taken by the stats tossed out in reflection of Shaq's slow dividends thus far. As mentioned, I was among those who felt the deal wouldn't help, but it was for commonly expected reasons that Krolik cited, like "clogging the lane," "not being a natural fit with Andy V.," etc. But that said, I never expected that Shaq would struggle so much judged purely by his individual effectiveness.
It's also interesting to contrast how motivated the Lakers clearly were all of last season (and this one, really) after the sting of losing to Boston in the '08 Finals vs. Krolik's description of a Cleveland team playing anything but motivated basketball. Then again, Krolik thinks this is due in part to the regular season feeling ultimately meaningless after a best overall record wasn't even parlayed into a Finals appearance. It's hard to believe a Christmas Day game against the champs wouldn't shake the cobwebs.