Those were the words of Lamar Odom after Tuesday's 109-107 win over the Raptors at Staples.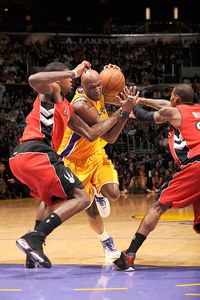 Noah Graham/NBAE via Getty Images
Driving through a double team is hard. Unlike L.A.'s aura, which Lamar Odom says is coming off as soft.
They reflected the mood in a Lakers locker room in which nobody was particularly happy with what it took- more Kobe Bryant heroics- to dispatch a middle-of-the-road Eastern Conference team coming into the game with a 10-19 mark south of the Canadian border. The normally gregarious Odom spoke while seated and facing his locker, often in what came off as an angry, occasionally muttering rant.
It was tough to discern every word perfectly, but the meaning each was perfectly clear.
"We've got dudes on the Raptors talking (trash)," he said, noting Toronto hasn't exactly arrived as an NBA powerhouse. "But our disposition as a team gives some of these young cats, these dudes, the right. They feel like they got the right. A couple of dudes talking to me today, if I'd have talked to Charles Oakley like one of those dudes like that, I probably would have been smacked in my face."
The smack talk happens because over the season's first 65 games the Lakers played with too little focus, too cavalier an attitude. "It's given these teams like a quiet confidence, where they think they can beat us," Odom continued. "They start talking and carrying on. Extra animated, even when they come here. I don't expect that. The respect level, it seems like we've got to take it from teams."
"(They're) way too confident against us."
The season didn't start this way, he noted. "I felt like we were [taking it to teams] at the beginning of the year," he said. Odom then made a sound almost like a steam engine, driving and pushing relentlessly, demonstrating how they attacked teams. "(Opponents) are like, "Man, it's too hard."
Whatever it was the Lakers had, that extra edge of a champion causing the opposition to flinch at important times, Odom said it was gone. "Now, at this point of the season, teams watching are like "Yeah, we can beat (those guys.)"
It can be difficult to quantify the importance of individual games over a season. They are all one of eighty two, each with the possibility of bringing something significant and also with the potential to be overblown. Does it right and truly matter if a title team loses a random game to the Clippers four months before the playoffs? What about a Christmas game against Cleveland?
But over 65 games, patterns emerge. The Lakers haven't fared well against the best teams in the NBA. They've required Bryant to bail them out seven times, and asked him to do it three more. The record is solid, but feels emptier. So I agree with Odom- the '09-'10 brew of injuries, lack of continuity, and complacency has punched huge holes in L.A.'s air of invincibility. Now add the fact every team in the league gets geared up to play the Lakers in a down year, let alone during a title defense, and it's easy to see how much harder the Lakers may have made things for themselves en route to a possible repeat.
I might not be right all that often, but have said for a while the way in which the Lakers have seemed determined to improve the collective morale across the NBA could hurt them. In a playoff environment where the margins are thin and intangibles matter, could the confidence Cleveland, Dallas, and Denver have gained against them be what costs the Lakers a second straight title? It may be impossible to know, but should L.A. fail in the playoffs I guarantee it'll be something people point to.
That was one half of Odom's message. The other? From his perspective, "it," the idea teams can play the Lakers with swagger they may not have earned with a title, ends now.
"That (expletive) Matt Barnes pulled? That ain't never gonna happen again. He was lucky it was a close game."
Odom said Tuesday's was the second straight game in which he nearly was tossed, and seemed to imply an ejection might be coming. (Like I said, it was occasionally hard to tell exactly what he meant). Either way, Odom made it clear he wants to "go in there and mix it up." Not in a turn-back-the-clock-to-Pat-Riley's-Knicks way, but through aggressive, physical play. A hard foul. The determination to win games ugly.
In their own way, Derek Fisher, Pau Gasol, Phil Jackson, and Kobe said similar things after the game. The Lakers have officially made it harder for themselves. How they handle it from here will play a major role in whether or not we're all back at the Coliseum this June.