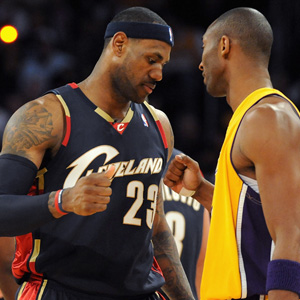 Harry How/Getty Images
Kobe vs. LeBron! Let's get ready to ruuuuuummmmmmmble!!!
In life, there are three elements safely deemed "certain": Death, taxes, and NBA analysts comparing Kobe Bryant and LeBron James. While the first two issues can be avoided until periods ranging from "April 15th" to "hopefully several years away, knock on wood, as I down another vitamin and drag my fat butt to the gym," basketball fans know "Mamba v. The King" is unavoidable, particularly with the X-Mas Day showdown lurking around the corner.
You know the endless jabber is coming, so why not get it over in one fell swoop? Land O' Lakers breaks down the NBA's top pair of dogs every which way from Sunday with the ultimate tale of the tape.
SCORING
Hey, why not jump in headfirst with a decision difficult enough to plague mankind for centuries? LeBron's career numbers and Kobe's are a wash, but Kobe's career-high smokes everyone not named "Wilt" or "Chamberlain." Kobe's able to score in more ways and spots, but LeBron's spent more time racking points while teamed with fewer teammates worth guarding. How do you make a call? Actually, you don't.
Edge: Push
PASSING
Those sensing an anticlimactic string of ties, fear not. Decisions are on the menu, starting now. Kobe's among the better passers in the NBA, with a floor vision rivaling many point guards. But LBJ is not only the league's premier point forward, but the only player who garners as many (or more) comparisons to Magic as Michael. No, this isn't a passive-aggressive "ball hog" dig at Kobe. Just credit where credit is due.
Edge: LeBron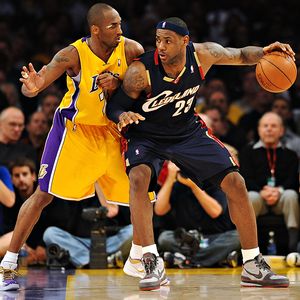 Noah Graham/Getty Images
LeBron's become a good defender, but he still hasn't passed the guy that taught him a few tricks.
DEFENSE
With all due respect for James' marked improvement and all awareness of Kobe's maddening tendency to play "free safety" (i.e., wander and guard nobody in particular), James never truly cranked up his effort until taking cues from 2008 Team USA teammate Kobe. And in crunch time, Mamba's as good as any wing, which LeBron's had the displeasure of learning firsthand.
Edge: Kobe
ATTACKING THE BASKET
In his prime, Kobe could hang with more or less anybody. But he's no longer in his prime, and in the meantime, you can't possibly stop LBJ with a head of steam, you can only hope to contain him. And frankly, containment is a mostly pipe dream.
Edge: LeBron
CHAMPIONSHIPS
LeBron never reaping the benefit of Shaquille O'Neal (at his best) or Pau Gasol makes this somewhat unfair, but life often sucks. Championships define a resume, and according to my math, "four" trumps "goose egg."
Big Edge: Kobe
REACH
I'm not talking wingspan (they're both fairly blessed in that regard), but rather the ability to"reach" people. LeBron obviously boasts a monster Q rating, but Kobe is a one-man jersey industry who can communicate with Italian and Spanish fans, curse out French, Slovenian and Serbian haters, and easily become the Mayor of China. Dude's literally got the whole world in his hands.
Edge: Kobe
MOST LIKED BY SHAQUILLE O'NEAL
Shaq talked smack about Kobe when they played together and now loves him whenever it's convenient. Shaq currently refers to LeBron as "The King," but if history remains consistent (Penny Hardaway to Chris Quinn to TV producer Steve Nash), Shaq will eventually have beef with LBJ by the time he joins another franchise next season.
Edge: Push, since it's all fake anyway.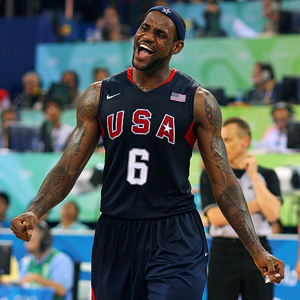 Phil Walter/Getty Images
LeBron's head might be in the right place by retiring 23, but the irony of donning Russell's 6 is pretty thick.
JERSEY NUMBER
To be honest, I'm pretty "meh" about both. LeBron's 23 was born from a predictable ode to MJ and Kobe's 24 was born from zero subtlety. (Did we honestly need a reminder that Mamba toils around the clock?) But here's the thing. Kobe's digits may feel like PR, but at least they didn't expose a bossy side (LBJ taking it upon himself to get 23 retired) and a lack of historical context pre-1984 (LBJ plans to don his Olympic #6, which just happened to be worn by What's His Facee with the eleven rings). I'm not impressed either way, but still...
Edge: Kobe.
CONTRIBUTIONS TO CINEMA
Kobe's documentary was limited to the small screen. LeBron's was a critical smash and actually has a shot at an Oscar nomination. Sorry, Kobe, Spike and... gulp... my new employers, but I gotta stay true to my art geek side.
Edge: LeBron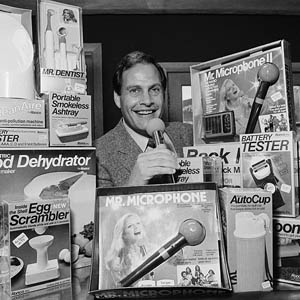 AP Photo/Reed Saxon
Could LeBron or Kobe have moved Chop-O-Matics? Probably.
PITCHMAN SKILLS
Between the Vitamin Water, State Farm and "LeBrons" spots, I'm usually pretty entertained while reminded of my "witness" status. But you also gotta love the utter randomness of Kobe's viral ads. Ankle insurance. Jumping an Aston Martin. Hanging with the Jackass crew. For two fellas whose image protectiveness often resembles a mama bear and her cubs, they're surprisingly willing to get goofy while hawking goods. Edge: Push
BETTER FICTITIOUS TWO-SPORT ATHLETE
They're both pretty sick athletes, so it's pretty easy to see them successful as anything other than jockeys. Kobe is a soccer nut who could also see himself on the diamond. But LBJ has been strident in selling himself as the next Tony Gonzalez and I'm the type of guy who likes to reward effort. Well played, my man.
Edge: LeBron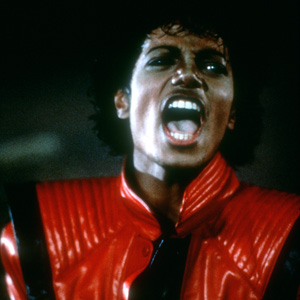 Michael Ochs Archives/Getty Images
If this is the Mike Kobe really wants to be like, he at least has the good sense to keep the performances to himself.
DANCING
LeBron's made it abundantly clear he loves him a Riverdance. Kobe claims that he and his young daughters have danced around to "Thriller." I suppose the latter could be lame, but the former leaves no shadow of a doubt. The veteran entertainer knows what needs to be cut from the act.
Edge: Kobe
MUSICAL SKILLS
Edge: LeBron
MOST IN TOUCH WITH HIS INNER "FANTASY GEEK" SIDE
Well, Kobe lists Star Wars as his favorite movie and drops "Voldemort" references during pressers. Unless LeBron secretly kicks it in various Cleveland area basements to play Dungeon Master, it's looking like Edge: Kobe. Whether that's a good or bad thing may vary from person to person.
Edge: Kobe
"YOU CAN ONLY HAVE ONE"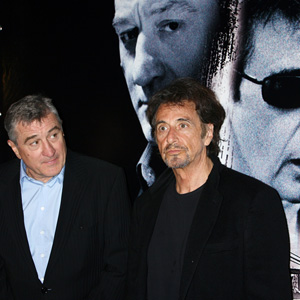 Elisabetta A. Villa/Getty Images
Just as it's tough deciding who phoned it in more during "Righteous Kill," crowning Kobe or LeBron is no walk in the park.
This is similar to choosing between DeNiro or Pacino in their primes. You really can't go "wrong" (and you can't them making as wretched a flick as "Righteous Kill" in the distant future). But if a call has to be made, here's my tie-breaker. Even if you think LeBron's the better overall player, no logical person would say its by much. But Kobe's got him lapped in experience. And that matters. A lot.
Bottom line. You'd pick LeBron over anyone to stack a franchise for the next decade. Maybe even one on one. But if you need to win ginormous games right this minute, I just can't picture taking anybody over Kobe. Savor it while you can, Lakers fans. The gap may be shrinking, but for now, your guy's just out of reach.