Ain't gonna lie. These days, the best thing offered by a date with the Hornets in New Orleans is The Big Easy's grub. As a media member that only travels during the postseason, I don't even get to enjoy it.
Just two seasons ago, Lakers-Hornets represented a showdown with enough 'zazz for some scribes to use the outcome as their final criteria for an MVP vote. (That it's asinine to boil down a vote to one game where Kobe Bryant and Chris Paul don't even guard each other was apparently beside the point.) Now, it's a showdown between the Western Conference's likely champ and the 11th place residents. Yikes!
Still, the Hornets may not be great, but they aren't wretched, particularly at home (22-14). Thus, I thought it was worth sharing five thoughts on the upcoming showdown:
1) At a respectable 39.4% (T-26th, NBA), rookie Marcus Thornton trails only Paul in three-point percentage for the Hornets. Among those in the rotation, his 4.1 attempts per game makes Thornton the NOH leader, and he's actually been hoisting 5.5 times from behind the arc throughout March. In other words, dude's likely to spend some time downtown and needs to be accorded a certain amount of respect. Not to pick on anybody, but I'm specifically thinking Kobe and his tendency to give C-Listers leeway even as they put points on the board. Most recently, this habit reared an ugly head against Miami with Dorrell Wright and (especially) Quentin Richardson.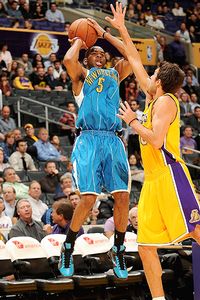 Andrew D. Bernstein/NBAE via Getty Images
Mind the rookie, Kobe!.
I understand the temptation to stray, particularly against a team with a guard (guards, in the Hornets' case) capable of serious penetration while paired with a less explosive backcourt mate. But honestly, I think the "center field" style is usually the result of Kobe being just plain bored while assigned to these relative nobodies. He needs to mind the store, or at the very least, ignore it while making purposeful double teams, as opposed to just wandering no man's land.
If it helps stir Mamba's competitive juices, Thornton put up 37 -off the bench, no less- against Cleveland earlier this season. Thus, he is capable of putting up numbers and should be treated as such.
2) Plus, there's a reward for exercising discipline, and it comes on the other side of the ball. In addition to the myriad of disadvantages one faces in checking Kobe, Thornton is two inches shorter and not nearly as strong. Checking bigger guards has been a struggle for the young 'un, most recently against Brandon Roy. My man crush on Roy is undeniable, but that doesn't make me blind to the facts: 24 > 7. Bryant should eat the rookie alive.
And should Jeff Bower opt for the larger and more defensively accomplished Mo Peterson on Kobe, that means Thornton giving up around 50 lbs. to Ron Artest. Have fun with that, kiddo.
3) In three games since returning from a knee injury, Paul has yet to score 15 points or grab more than two rebounds. His assists are steadily climbing, but it's easy to understand why Hornets247 believes CP3's explosiveness greatly eludes him. Between that and Artest's recent decreased weight/increased speed, I'm wondering if Phil Jackson might give his stopper extended time against arguably the league's best point guard. We saw Ron Ron very effective last Wednesday against the quick likes of George Hill and Manu Ginobli, and I thought he did very well -by and large- slowing Wade during the early-March loss to Miami.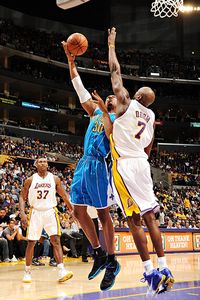 Andrew D. Bernstein/NBAE via Getty Images
David West has typically come up
small against the Lakers.
4) David West has been absolutely, as Charles Barkley would say, "turrble" this season against the Lakers. And I do mean turrble. Averages of 9.5 points, 3.5 boards, and 1.5 dimes, with nary a blocked shot in either contest. In the opening game, he started against Lamar Odom. Next, Pau Gasol. Either way, not much doing. And save one 40-point explosion last season, the Lakers have contained West below scoring average during the 2009 and 2008 campaigns as well.
5) Saturday's loss to Portland officially eliminated N'Awlins from the postseason, making the Lakers their first opponent since learning mid-April vacation plans are safe to make. I could see this development prompting players to channel every bit of collective frustration in the Lakers' direction. I could see this development prompting players to think about nothing other than said mid-April vacation opportunities. Either way, this development shouldn't be overlooked.
For more preview action, check out Forum Blue and Gold, Silver Screen and Roll, Basketblog, and our former digs.