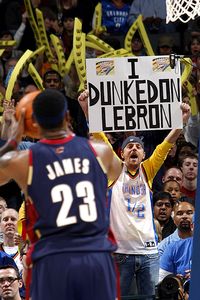 Layne Murdoch/NBAE via Getty Images
There's more than one way to give LeBron the business this Christmas Day.
Call them "Cavaliers." Seriously.
And there you have it. A way to not only razz the visitors at Staples, but in way that'll go completely over their heads. I'm picturing it now:
Lakers Fan: "Hey, LeBron! You're playing like a Cavalier out there!"
LeBron James (after a confused pause): Um, yeah... I know. (points to his jersey) That's the team I play for, dude.
Another Lakers fan: "Shaq, I've seen Cavaliers box out harder than that!"
Shaquille O'Neal (totally lost): You mean Daugherty?
And so on and so forth. The only thing better than getting in the Cavs' heads is getting in their heads and they don't even understand why. Have fun.