Andrew Bynum is hardly the first Laker to spend time on the bench in street clothes this season. But he is the latest, and with the playoffs right around the corner, the strain to his left Achilles tendon suffered against Minnesota March 19 is a special sort of scary. He'll almost certainly be out until next week, leaving the Lakers to find, or at least start looking for, their pre-postseason groove without him.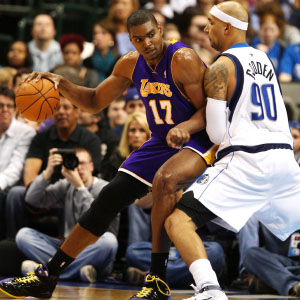 Matthew Emmons/US Presswire
The Lakers miss Andrew Bynum on the block. Like, lots.
A fair amount of time is spent talking about how Bynum's presence impacts the team. Does the offense run as smoothly with him in the middle? Does Pau Gasol suffer?
And there are always the Bynum "What if's?" What if he busted tail defensively every night? What if he found ways to stay involved even when his touches go down?
Less time is spent talking about what he brings, what he contributes, what his value is. Bynum's absence, like Gasol's and Kobe Bryant's earlier this season, has a serious impact on the Lakers' identity as a team, and on how they operate on the floor.
When he's out the fallout is significant:
-It exposes the bench: Despite a season of bench problems, some members of the national media still say the Lakers have the best depth in the league. They don't. What they have is incredible and incredibly versatile top-end talent in Bryant, Gasol, Ron Artest, Bynum, and Lamar Odom. I maintain it's the best top five the NBA has to offer. Behind them, though, are more question marks than a line of Frank Gorshin casual wear, so when a member of the quintet is on the shelf, it strains the rest of the roster. I have an enormous amount of respect for D.J. Mbenga and Josh Powell, but both have limitations exposed with increased playing time. The skill gap between Bynum and either of the bigs who play more minutes when he is out is dramatic.
And as it seems to with every injury to a front line Lakers player, Bynum's absence pressures the non-Kobe guard corps to elevate their games. Bryant spends more time at small forward because Artest plays a little more power forward, meaning guys like Shannon Brown and Jordan Farmar have more influence on outcomes. (I'd say the same for Sasha Vujacic, but he's been buried since engaging in a spat on the bench with assistant coach Brian Shaw Friday night in Oklahoma City.)
There's also additional defensive pressure on all the guards, because Bynum's ability to change and block opposition shots is no longer behind them. Even when Bynum isn't as engaged on defense as fans/coaches would like, he's still very tall, very long, and very tough to shoot over.
-It puts more pressure on shooters: Bynum's absence removes one big scoring threat from the paint, and makes it easier for teams to match up against Gasol and throw bodies at Kobe when he sets up in the post. When Bynum, Pau, and Odom are all available, most teams don't have enough players in their rotation to deal with all three over the course of 48 minutes. Somewhere, the Lakers can exploit a crack. With Bynum out, it's easier to pack the middle and encourage the Lakers- who, it should be noted, need only the slightest nudge in this department as it is- to start hoisting jumpers.
-There are fewer cheap points: With his incredible length and soft hands, Bynum is a prime target for alley-oop passes and easy weak-side finishes when Kobe or Gasol force teams to commit defenders to double-teams. Despite missing games here and there, Bynum is fourth in the league in dunks. Shots don't get more efficient, and for a team suffering a drop off on that end of the floor this year, losing a handful of ultra-high percentage looks every night hurts.
-And continuity remains a problem: The inability to develop consistency over the last 50-plus games comes in part because the batch of available players hasn't been the same for any significant stretch of games. Bynum, Kobe, Pau, Artest, Luke Walton, and Vujacic have all missed multiple games and/or played through physical problems that limited their performance. In an offense built on rhythm, spacing, timing, and cohesion, this sort of thing is a problem. Last season, the Lakers lost Bynum, but it was their only injury to a marquee player. The rest of the guys were able to develop a great on-court chemistry. Such a connection has been much harder to achieve this season.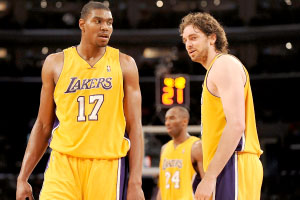 Win McN/Getty Images
Whether or not Andrew Bynum and Pau Gasol fully thrive as individuals when playing together, the combination helps the Lakers as a team.
There has been, justifiably, a lot of talk about whether or not Bynum and Gasol can play effectively together. My take has always been that even if one suffers in the exchange, the Lakers gain in the pairing because the combination makes the team unique and far more difficult for which to game-plan.
Does Bynum frustrate occasionally? Sure. Has he fully realized his potential? I don't think so. But when healthy he's still averaging 15 points, 8.3 rebounds, and nearly 1.5 blocks a game in only 30 minutes a night, making him one of the NBA's most productive centers. He may not have the type of defensive impact people want on a nightly basis, but Bynum's presence, particularly in combination with Gasol and Odom, forces opposing shooters to be aware when they penetrate the lane.
The bottom line is, the Lakers aren't nearly as good without him. It diminishes a team strength (length and skill down low) and shines light on weaknesses (shooting, spotty bench play, etc.).