Sunday's loss to Portland marked sixth time in their last nine NBA mandated basketball extravaganzas the Lakers didn't manage to score as many points as the other team. Combined with Andrew Bynum's lingering Achilles injury, Kobe Bryant's questionable health/shooting slump, and the minor issue of the playoffs starting next week (oh, that), the 3-6 run has folks in a questioning mood.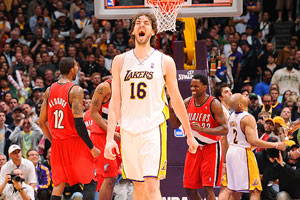 Andrew D. Bernstein/NBAE via Getty Images
He missed the last shot, but with 23 points (9-13 shooting), 12 boards, four assists, three blocks, and no turnovers, Pau Gasol definitely did not lose the game Sunday afternoon against the Blazers.
Questions we posed regarding why yesterday's game ended with a Pau Gasol three-pointer to tie, and some of the rather shocking breakdowns from Lakers vets in the final seconds.
Questions from ESPNLA's Arash Markazi about the condition of the team heading into the postseason:
"...Asked if any one of his ten championship teams played like the Lakers have down the stretch, (Phil Jackson) shook his head and quickly said, "No." In other words, this Lakers team, which has lost six of their last nine games, doesn't look like a champion. At least not one that Jackson, who two weeks ago said winning a championship this season would be a "long shot," could recognize. The Lakers may have come into this season as the favorite but any competent bookie would have to side with Jackson when handicapping this team's chances of repeating. You can only hide behind excuses like complacency, apathy and boredom for so long before you are forced to admit there are some fundamental problems with this team that aren't going to be resolved in a week..."
One guy who can't be questioned is Gasol, writes ESPNLA's Dave McMenamin:
"...For all the questions that surround the Lakers about their true chances of repeating as champions this season because of how inconsistent play and a rash of injuries have led to a 5-6 record in their last 11 games, there is no question Gasol has hit his stride and is ready for the postseason. The final miss notwithstanding, Gasol had another masterful game -- 23 points on 9-for-13 shooting, 12 rebounds, four assists, three blocks -- after coming into the game against the Blazers averaging 29.0 points, 11.7 rebounds, 5.0 assists and 3.3 blocks over his last three games... He has stepped up his game when everything else has been going downhill for the Lakers. He is doing his part to perform consistently in the midst of the Lakers' wildly inconsistent play, as if to remind his teammates, "Hey, it can be done. Follow me..."
More media reaction below...
GAME REPORTS
Mike Bresnahan, Los Angeles Times
Elliott Teaford, Los Angeles Daily News
Kevin Ding, Orange County Register
David Lassen, Riverside Press-Enterprise
NEWS AND NOTEBOOKS
Kobe won't sit out the final two games, ESPNLA.com
Blazers hoping to see L.A. in round one? LA Daily News
Ron Artest watches the final moments from the bench, LAT
Portland's playoff picture (and L.A.'s, by extension) is still muddled, The Oregonian
Brandon Roy won't play Monday vs. OKC, The Oregonian
BLOGS, COLUMNS, AND OTHER ASSORTED OPINIONS
J.A. Adande, ESPN.com: "...At a lengthy postgame media session, Bryant's mood alternated between amused about some of what transpired Sunday (a play for Pau Gasol to try a game-tying 3?) and gravely serious about the upcoming postseason. "Very concerned," he said. "It's going to be tough. It's not going to be easy. We've got a really, really tough road ahead. And I think it's important that we understand that, and I think we do. It's not something that we're taking lightly at all. We know it's going to be a dogfight. It's going to be a dogfight no matter who we play." He discounted the lullaby edgy Laker fans are using to put themselves to sleep, that somehow this team will magically activate championship mode once the playoffs arrive. "It's not about flipping the switch," Bryant said. "We're playing hard." In that case, the Lakers should be even more concerned. It's as if they're trying to pose and smile for a portrait and they're still looking goofy..."
Dexter Fishmore, Silver Screen and Roll: Lakers inventing new ways to lose
Jeff Miller, OC Register: Lakers arrogance is playoff ready
Mark Heisler, LAT: Lakers lay it on the line, still come up short
Dave, Blazers Edge: Blazers 91, Lakers 88- Blazers win, Roy hurts knee
Andrew Tonry, Portland Roundball Society: Bruised and Triumphant- A wild one in L.A.
Darius Soriano, Forum Blue and Gold: "...Close, but no cigar: while the defense was suspect at times, the Lakers performance at the other end of the court was even worse. The Lakers only scored 101 points per 100 possessions and did so on 47% true shooting. The Lakers went 5-22 from behind the three point line, but yet Gasol (who had another strong offensive night) only missed 4 of his 13 shots (including a last second attempt from downtown to tie the game) and Odom went 8-15 from the field. On one egregious possession, Shannon Brown ran a P&R with Odom and forced a switch so that Jerryd Bayless was guarding LO in the low post and Aldridge was on Shannon. But instead of passing the ball into Lamar, Shannon stepped back and took a contested three pointer with 11 seconds left on the shot clock. That's the type of execution that will not get it done – not in any game. And I haven't even touched on Kobe's 20 points on 23 shots. Sure, #24 played hero down the stretch with a looong three pointer and an and 1 layup that came on back to back possessions to give the Lakers the late lead that they could not hold onto. But, the rest of the game saw a few too many forced jumpers against defenders that have traditionally given him problems. Not the return he was looking for in his first game action in a few games..."