The Thunder were pretty miserable in the half court in the Lakers' Game 1 win Sunday night, but to the extent they generated any offense- and held to 79 points, there wasn't much of it- OKC did it in transition. Russell Westbrook earned a healthy portion of his 23 points on the break/semi-break, and was particularly dominant over the final 1:51 of the first half, scoring eight points in that span before doing more damage in the third. But he's not the only problem for L.A.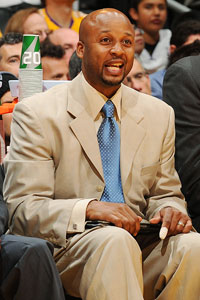 Andrew D. Bernstein/NBAE via Getty Images
Lakers assistant Brian Shaw, likely pressing for his guys to get back defensively.
"They all run like deer," Kobe Bryant said of the Thunder after the game.
Which wouldn't be a problem if the Lakers ran like, oh, let's say... antelope. Spry, those creatures are. Instead, Kobe went another direction when I asked him to pick a member of the animal kingdom best describing how the Lakers get up and down the floor. "Elephants," he replied with a smile. Thunder head coach Scott Brooks made it pretty clear after Game 1 his team pushed every at every opportunity available, and will probably try space to crank it up a little more Tuesday night.
So how exactly do the Lakers shore up the transition defense? For answers, I spoke with Lakers assistant coach Brian Shaw after Monday's practice in El Segundo, who provides all sorts of insight into how the process works, where it can break down, and some of the trade-offs inherent in L.A.'s system.
Q: What are the steps to good transition defense? On the most basic levels, what goes into it? It's obviously such an important aspect of defending a team like the Thunder.
Shaw: They obviously have an advantage in terms of just youth and team speed. So the thing that has to enter our mind, is our defensive balance pattern. When a shot goes up, where it goes up from. Looking at the film, when we took three-point shots and missed, that's when they ran out. On our misses. Phoenix, for example, runs on makes and misses effectively. This team, when you miss, they get going. We like to send three people to the offensive boards every time, but we may have to start thinking about just sending two and sending three back.
In our offense, a lot of times we hit the wing, and the guard goes to the corner. If a shot goes up, the guards are the ones who are usually responsible for getting back in a tandem, and a lot of times they're having to recover from the corner. And if that's Fish in the corner having to get back to Westbrook, it's not going to happen.
Another thing is, our team has a bad habit of if one of our guys feels like they got fouled, they start talking to the referee or they look over at the bench while the other team is in transition. It's not one man's responsibility. As a team, we have to get back and "wall in" the ball.
Q: What does that mean? It's a term coaches use a lot, but what does it look like on the floor?
Shaw: Even if Nenad Krstic or Jeff Green or someone is taking the ball out, or they get the rebound, whoever's man that may be- Andrew (Bynum) or Pau (Gasol's) man- they have to run back as if Westbrook was their man. Because their man's out of the play, so they have to get back and help form a wall so when Westbrook looks up he sees all these bodies in front of him, to deter him from trying to find the cracks and crevasses and getting in there and penetrating against us.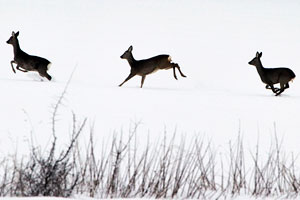 AP Photo/Focke Strangemann
Deer. The Oklahoma City Thunder of the animal world.
Q: When Westbrook was in the open floor, there were different plays when Fish, having retreated, tried to pick him up and stop the ball at different spots on the court. Sometimes higher up, other times closer to the basket, perhaps looking for the charge. Is there a place on the floor where you need to meet the ballhandler?
Shaw: You have to gauge the speed. Anybody would be tough to stop when they're at full speed and you're backpedaling. You almost have to guess which way they're going to go, and change direction. If you can get up to his body earlier and make him have to go back and get the ball, or take a roundabout route that's helpful. But if you don't have the speed to do that, that's ok, too, you just have to gauge where it's to your advantage to pick him up.
Q: If he (Westbrook) is already moving and has 20 or 30 feet to get going?
Shaw: It's almost impossible (to stop him). You can sit all the way back and hope that he pulls up. He's gotten really good at hitting those little pocket jumpers right there at the elbows around the free throw line, but we'd rather (Westbrook) do that than attack the basket the way he can.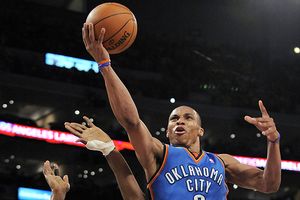 Mark J. Terrill/AP Photo
Taking smart shots at the other end will help keep Russell Westbrook away from the basket.
Q: So the first step here really is shot selection.
Shaw: Definitely. Especially, we're not shooting the ball very well from the three-point line, and they're packing it in and daring us to shoot from the outside. Those shots go up, and Jordan (Farmar) got a foul (Sunday) going to the offensive rebound. If he hadn't gotten that foul, we would have gotten beat on that one as well. So the guards just have to remember they have to get back, especially if they didn't take the shot. We can't have those lapses in our defense.
Q: What can be done to shut off the break in the first place? Are there ways to deny those outlets or slow Westbrook's progress up the floor?
Shaw: (smiles) If you're making your shots and the ball is going in and they're taking it out, that works.
Q: Right, but on misses. What can be done to slow down a fast-break team once the ball is in their hands?
Shaw: If they're the shots that are within the framework of the offense (it helps). You can try to get up (on the ball handler) but once again, they have the advantage on us at every position, pretty much, a speed advantage. But we have a size advantage. So we're going to give up speed. So even if we tried to get up and take the ball out of Westbrook's hands, and make somebody else take it up, I don't even know if we could do that.
So our main focus has to be on getting back and forming that wall, and then getting out onto shooters. But we have to stop the initial thrust of their push, which starts with Westbrook. And it's not just Fish, it's the other four guys as well trying to wall him off.
Q: Relative to the rest of the league, are you guys a good transition D team? Bad? Somewhere in between?
Shaw: We're probably right in the middle. We're a good transition team when we're running our half court offense and we're pounding it inside and we can control the pace based on that. But if we're coming down and just jacking up shots?
Also, a lot of teams with their offense, they always have the point guard out with the wings and the big men down low. But our five guys are pretty much interchangeable. When it gets inverted and our big guys are out- you have Lamar at the top of the floor, sometimes Pau comes up to the high post, and our guards, Kobe posts up and Fish might be in the corner- it's inverted and harder to get back. But we understand and accept that as part of what can happen [in our system].