For most of the first three quarters of Game 3 at Ford Center, the Lakers were able to keep the Oklahoma City Thunder at arms length. L.A. started strong, scoring the game's first 10 points, and were up 15-3 three-and-a-half minutes in. The Thunder scratched and clawed their way back- Would you expect anything else?- but whenever it seemed OKC would bust through, the Lakers pushed back.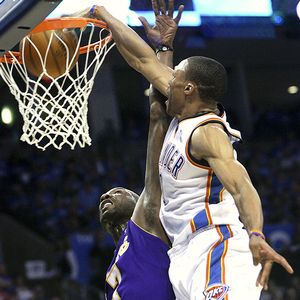 Sue Ograki/AP Photo
A monster third quarter dunk for Russell Westbrook, with monster impact for Game 3.
In the second quarter, it was Kobe Bryant hitting a series of three-pointers. In the third, he knocked down a couple more jumpers while Pau Gasol exerted influence.
With two minutes left in the third, OKC's Serge Ibaka, who has blocked nearly everything in sight in this series, went a little overboard, swatting away a Lamar Odom hook from the paint so clearly on its way down Ibaka's hand nearly hit the rim. He turned a sure miss into an eight-point Lakers lead. It was such a bad play, the folks in the control room at TNT decided to show a replay, just to drive home the point. Shame, too, because they missed full coverage of the play that swung the game.
Off the inbound, Russell Westbrook took the ball up the left side of the floor, with no intention of stopping. As Kevin Durant moved to the top of the key to set a screen, Westbrook gave a quick shade towards the pick, then quickly crossed back to his left to penetrate. Leaving Derek Fisher in his wake- nobody is staying in front of Westbrook moving at that speed- the former Bruin attacked, exploding from the floor in the lane from a spot well outside the restricted area, his right arm extended high.
To his credit, Odom made an attempt to challenge Westbrook at the rim, but all it got him was a spot on the wrong end of a poster.
It also blew the roof off a building filled with fans just begging for a reason to explode.
I don't know if it was the impact of the play or a function of a team struggling for most of the night to get high quality looks anywhere but the perimeter- probably both- but for the next two trips, the Lakers only fueled the fire. An airball from Shannon Brown on the ensuing possession turned into a fast break for the Thunder, Durant streaking up court and finding James Harden on the wing for three. The Lakers responded with another triple, this time from Fish at nearly the identical spot, with nearly an identical result. Fish barely drew iron, and again the Thunder were on the move.
This time, Durant kept the ball himself, pulled up, and drilled the three.
Eight points in 59 seconds, and the game was tied.
It was an incredibly entertaining game before Westbrook's dunk, and it became that much more amazing after. The Lakers didn't fold up the tents and go home. But when that minute was over, the tenor of the game changed. It was no longer a game the visitors controlled, but instead was a dogfight with momentum behind the home team. There were a host of factors contributing to the result (many of which will soon be posted below...) but anyone looking for the game's fulcrum can find it at the end of Westbrook's drive to the bucket.
Much more below...
DURANTULA BITES BRYANT
Kevin Durant has, by all accounts, put a much higher premium on defense over the course of this season than he did over his first two. He took personally any implication his game was one-dimensional, or that the Thunder were actually a better team without him, so large was his negative effect on the team's defense.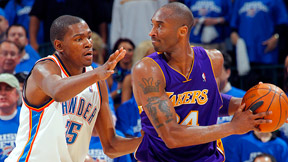 Layne Murdoch/NBAE via Getty Images
Kobe said after the game he was surprised to see Kevin Durant guarding him. Here, he just looks frustrated by it.
To his credit, he's worked to get better. But I don't know anyone considering Durant a lockdown defender.
But on a night where Durant scored 29 points, bouncing back after missing seven of his first eight shots, his biggest impact could have come on the other end of the floor. First, Durant grabbed 19 rebounds, obliterating his previous (as far as I can tell) career high (13). But more importantly, in the fourth quarter Oklahoma City coach Scott Brooks moved Durant on to Kobe Bryant, and the young superstar shut down the MVP.
Bryant missed all six of the shots he took against Durant (part of a 2-for-10 fourth quarter for 24). Kobe struggled to shoot over Durant's ridiculously long arms, and couldn't penetrate against him, either. The most impressive of Durant's stands against Kobe came with just under 5:30 to play. Kobe created a little space at the top of the key to put the ball on the floor. With a couple changes of direction and speed, he managed to beat Durant going left. Or thought he beat him, at least. But Durant didn't quit on the play, and when Kobe pulled up to the left of the elbow, Durant reached out and blocked it away.
That Durant managed to get the better of Kobe during a game of this series isn't a shock; Durant is too good a scorer to be kept at bay forever. But how he got the best of him was a surprise.
NATE ROB SAYS SLOW DOWN, 24
The awful fourth quarter will have a lot of fans/media questioning Kobe's shot selection. He finished 10-for-29, meaning he missed only two fewer shots than Bynum and Gasol attempted between them. Kobe took seven of the team's first 10 shots in the final frame, making only one. That ain't gonna work. Over that stretch, the Thunder built up an eight point lead after ending the third down one. But it's one thing for me, a humble blogger, to lob a little criticism.
When Nate Robinson thinks your shot selection is wonky, that really says something.
BIG NUMBERS
13, 12: The first figure represents Durant's free throw attempts, the latter visits to the stripe for the Lakers. All of them. Overall, the Thunder had 34 visits to the line, and led by Durant's 12 makes generated 27 points, versus 10 for L.A. One need not be S.R. Srinivasa Varadhan to understand the impact this sort of thing could have in a game where the teams were separated by two points with 12 seconds left to play. By the way, Kobe didn't shoot a free throw tonight, only the third time in his career he's gone charity-less in a playoff game.
But lest you think the Lakers were gettin' robbed!, I bring you...
31: The number of three-pointers hoisted by the Lakers, a full 37% of their field goal attempts for the game. Could the Lakers have benefited from a call here or there? Sure. It was surreal to see the team still without a free throw until under two minutes remained in the first half. On the other hand, when the refs finally decided L.A. had been hacked in the act, it came not on a Kobe drive or post moves from Andrew Bynum or Pau Gasol, but a Fisher three.
It's hard to get a lot of love from the officials when treating the game like a jump shooting contest.
Every shot they took from there was one they didn't take from the paint. Give the Thunder credit for once again making it tough for the Lakers to get inside. They're athletic, front aggressively, and are quick enough to double in the post and still recover on shooters. But 31 threes? Really? Maybe there's an element of settling going on here?
2.8 (approximately): Ironically, despite completely overdoing it from downtown, the Lakers needed to finish with 33 instead of 31. In the fourth, Ron Artest buried two toe-on-the-line jumpers, turning six points into four. Gotta get those tootsies back behind the arc, Ron.
7: After grabbing 12 offensive rebounds in Game 1 and a whopping 19 Tuesday night in Game 2, the Lakers were limited to a mere seven Thursday night, despite missing the mark 46 times. That's a 15-percent offensive rebound rate, compared to their season average of 27.6. It's also not enough, particularly for a team struggling to find offense in the half court, and for one night at least, not getting to the line.
HARDEN EXPLODES
Before Thursday's game, the most notable contribution from OKC's James Harden had been his beard. That thing is awesome. Much more than his shooting percentage of 0.0 (0-5). In Game 3, the rook hit his first shot- a triple from the right wing- and blew up from there. 18 points, including a trio of threes and seven free throws in eight attempts. On his own, he outscored L.A.'s bench. Add in six from Serge Ibaka and a bucket from Nick Collison, and OKC's reserves reserved outscored their purple and gold counterparts 26-16.
The production disparity didn't end there. OKC's bench won the rebounding battle 17-8, had more assists (6-2), and only one turnover. Before leaving town Wednesday afternoon, Phil Jackson said his teams subs had held their own over the first two games. He also makes frequent mention of how benches tend to perform better at home.
On this issue, on this night, nobody would argue.
(He also challenged Odom to make "an imprint" after opening the series with two underwhelming efforts. Unless his definition of "imprint" is a whole lot different than mine, I don't think eight points, six boards, and nary an assist would qualify.)