It was a game the Lakers had to have after the Thunder buried the purple and gold Saturday night... and man alive, did they ever have it.
111-87 was the final in Tuesday's pivotal Game 5 at Staples, and as we noted in last night's postgame wrap, it was a positive experience on nearly every level. Start with Kobe Bryant's management of the offense to his work on Russell Westbrook. Then there was the hyperactivity of L.A.'s big men, a rebirth of Ron Artest's offensive production, great ball and player movement, and more.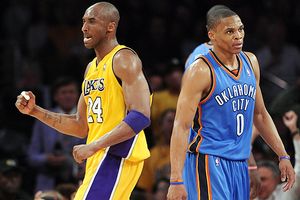 Mark J. Terrill/AP Photo
The facial expressions basically tell the story...
Plus, by going up 28 and holding OKC to only 60 points through three quarters, the Lakers put an early hammer lock on tacos for the devoted. What's not to like?
Well, their stomach acid-inducing inconsistency for one. Or maybe not. ESPNLA's Dave McMenamin suggests fans embrace the roller coaster:
"...You never know what you're going to get with this team, so revel in the surprises. The Spurs have been a model of consistency revolving around Tim Duncan like a ball tethered to a pole for the last decade and a half, but have they ever provided the intrigue the Lakers do?... Neither Bryant nor Jackson would commit to reattaching the labels to their team they gave them last year after the game. But Bryant explained how the team deals with its sinusoidal personality. "It's adjustments," Bryant said. "It's playoff basketball, that's why you can't get too high or too low after a big win or a tough loss. You make your adjustments and move on." Lakers fans should adjust their expectations in conjunction. There'll be good days and bad days and great days and days that make you hate them, but there will be nary a dull moment."
Meanwhile, rumors of Bryant's decline ring a little hollow to Kevin Durant, writes ESPNLA.com's Arash Markazi:
"...After the game, Durant, looking as if he had just gotten out of class, wearing a backpack, flannel shirt, jeans and sneakers, was still shaking his head at the notion Bryant had somehow lost his step. After getting embarrassed by Bryant on an up-and-under move and seeing him hit a couple of shots over him, Durant was as convinced as ever Bryant was still able to do whatever he wanted on the court. "You all are killing me man, you all killing me with this," Durant said. "Kobe Bryant is the best player in the league; one of the best players in the world. You're talking to me like he played a phenomenal game which is something he normally doesn't do. He's Kobe Bryant, he's going to come out and lead his team. That's what he's been doing for 12 or 13 years. He's a guy who doesn't need to score on this team to win games now. Maybe a couple years he has to but now he can get everybody involved..."
Much, much more next-day reaction below the jump...
GAME REPORTS
Elliott Teaford, LA Daily News
David Lassen, Riverside Press-Enterprise
NEWS AND NOTEBOOKS
Extra rest helps the Lakers, ESPNLA.com
Lamar Odom busts through, LA Times
Don't shower too much quite yet on the Durant/Westbrook combination, LA Times
Jackson asks Artest to exercise better judgment with three-pointers, Daily News
Shannon Brown limited on a few levels, OC Register
BLOGS AND COLUMNS
Vincent Bonsignore, LA Daily News- Phil Jackson's stand-up helps the Lakers rise up...
Mark Heisler, LA Times: Kobe's body may be aging, but the mind is razor sharp...
Bill Plaschke, LA Times: Lakers step up defensively at the right time...
Berry Tramel, Oklahoman: Something woke up the Lakers...
Kevin Ding, OC Register: With his parents in the front row, Kobe played with kid-like enthusiasm...
Lee Jenkins, SI.com: Inconsistency still defines the Lakers...
Darius Soriano, Forum Blue and Gold: Lakers deliver the performance we've all been waiting for...
DexterFishmore, Silver Screen and Roll- The Empire strikes back...:
"...Two schematic innovations - one on offense, one on defense - powered this blowout, and for all the heat we've at times given Phil this season, he owned this one completely. On defense, he correctly realized he could no longer live with Derek Fisher "defending" Westbrook and handed that assignment to Kobe Bryant. Kobe rewarded the decision with a sparkling effort. The days off seemed to do wonders for his physical condition, as he looked more laterally mobile than at any time in the series. His long limbs, agility and unmatched instincts turned Westbrook back into a turnover-happy 21-year-old. The kid is the nerve center of the Thunder's offense, and knocking him off his game induced system-wide failure. The Thunder appeared not to know where their shots were coming from and reverted to the sloppiness they displayed in Games One and Two..."
J.A. Adande, ESPN.com: What took them so long?...
Kurt Helin, Probasketballtalk.com: Lakers bring the D, Lakers bring the blowout...
Mark Spears, Yahoo! Sports: Kobe can't always win for winning...
Mark Medina, LA Times Lakers Blog- Kobe Bryant's impact goes beyond the box score...:
"...This was a different type of challenge Bryant embraced this series. First came his ability to overcome his nagging injuries and still showcase his scoring dominance in Game 2. Then came his ability to do that to the extreme in Game 3. That followed with Bryant taking the opposite approach in Game 4, opting not to take any shots in the entire first quarter while the team worked to get the ball inside. His approach in Game 5 seemed to serve as the best approach, with Bryant still leaving an imprint on the game even if it didn't involve any late-game theatrics. "Kobe started off the game just giving me turns and assists," Bynum said of Bryant, who has seven assists. "Pau, also. That got me started early. As far as points in the paint, we were moving the ball and moving ourselves. When you do that, it forces defenses to collapes and then you get wide open cuts..."
Royce Young, Daily Thunder- Lakers crush Thunder to take 3-2 lead:
"...Here's reality: Kobe didn't do anything special on Westbrook. Russ missed shots he was making in the other four games, and didn't play with any confidence or swagger. What we Thunder fans know is that this was to be expected from Westbrook. He's been excellent all season, but at times has been inconsistent. But here's what switching Kobe did accomplish: The Lakers weren't spoiling his excellent defense on Thabo Sefolosha, who as we all know, isn't the world's best offensive player. So while Kobe wasn't doing anything overwhelming on Westbrook, it improved the overall team defense. The Lakers were able to rotate better, funnel Westbrook away from the rim a little and basically cancel out a liability in Fisher with Thabo. What's odd, is that it took LA five games to make this adjustment..."