ESPNLA.com's Ramona Shelburne recently caught up with Lakers Vice President Jeanie Buss and naturally, conversation turned to Phil Jackson, who juggles duties as Lakers head coach and Buss' main squeeze. Jackson's in the final year of his contract and rumors have persisted all season about he and the Lakers parting way after this season. Should this end up the case, Jeanie doesn't paint Phil's next chapter as one entitled "Retirement." As she told Shelburne:
"I know Phil will be coaching next year, somewhere. Whether it's here or someplace else I don't know. There's going to be a lot of good jobs that come up this summer."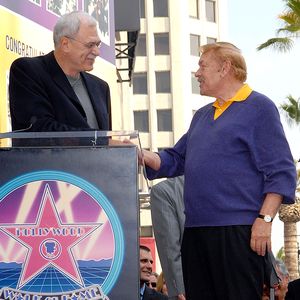 Andrew D. Bernstein/NBAE via Getty Images
Can these fellas shake hands on a salary?
Everything from family divides over Jackson's performance to money (PJ currently makes $12 million) has been bandied about as a possible cause for defection. Jeanie disputed the former issue to Brian and me on our PodKast, but took a considerably different tact with the latter while talking with Shelburne. No bones were made about this being a point of contention:
"Plus, my dad has made it very clear he doesn't want to pay him what he's been paying him. So that's kind of hard, too. You could kind of say, in some jobs, well, I'm cutting back your hours. But can you see him cutting back his hours?"
And therein lies what I consider a pretty interesting rub.
The big issue surrounding last offseason was the retaining of free agents Lamar Odom and Trevor Ariza in an effort to keep a championship core intact. Athletes typically seek paydays, and in Ariza's, this was the first shot at such a chance in his career. Further complicating the objective was a nasty economic climate and an already swollen Laker payroll. Jackson was asked about this situation during his 2009 exit interview, and while expressing optimism over a feasible resolution, he offered a caveat I'm now wondering could come back to bite him:
"I'm convinced we can get both of these guys back to play. Obviously, it's going to take sacrifice on many parts. Dr. Buss is not going to be able to do without having to make sacrifices at some level. We have to make sacrifices in other places in our organization to make room for their salaries. (Ariza and Odom) probably have to sacrifice something in the process if they want to come back. Nobody can eat their cake and have it both, in their situation. But it's possible to do it."
Well, it may come time for Phil to either walk his own talk or come off like a hypocrite.
Judging by Jeanie's words, a salary cut is a strong possibility. Like Phil said nearly a year ago, "nobody" can expect an endless supply of cake. When he said this, I actually fast forwarded ahead to this upcoming offseason, taking those words as a potentially positive sign money wouldn't draw a line in the sand. Sympathy towards Dr. Buss' situation was being conveyed. He seemed to understand the limits to what an owner can reasonably be expected to spend. That the luxury of associating with an elite franchise and a stacked roster can't always come with no strings attached. That even by accepting less than the highest possible market value, the compensation will hardly leave one donning a wooden barrel. Particularly when you're already rich.
It's also easier to say these things when you're not the one asked to sacrifice.
It remains to be seen what Jackson considers an untenable pay cut, and I'd like to think PJ would maintain the reasonableness he contended was required Ariza and Odom to stay on board. For example, a still-staggeringly high $10,000,000 really constitute that big a burden in the grand scheme of things? $9,000,000? Even $8,000,000? Especially when you consider Buss' track record of shelling out for an ultra-competitive payroll. If taking less makes it easier for Buss to field the roster necessary to remain in the championship mix, maybe that's the cost of building a coaching legacy.
I'd like to think after years of collecting big scratch Jackson doesn't truly need the money enough to allow it become the difference between staying in L.A. or rebuilding the Sixers, if that's one of the "jobs that comes up this summer." If we're talking about bumping Mike Brown to coach LeBron in Cleveland, I understand. But save such a gig, Phil's migration would be tagged as selling out to the highest bidder, and I wouldn't blame anyone making the accusation.
I also don't think it's out the question Buss would also deem 8-10 mil a reasonable compromise. He may want to save a few bucks, but he also hates losing. If the Doc feels Jackson equals wins, the penny he'd pay for PJ's presence may not remain quite as pretty, but I doubt we're talking that awkward girl from eighth grade with the braces, weird glasses and a rabid interest in shell collecting. Somewhere in the middle lies the monetary version of a very attractive lass.
Obviously, there's always a chance the offer will be more along the lines of red tag savings. But if that's the case, I question the sincerity of his interest in Jackson to begin with. That smacks of an owner preferring deep down to move in a different direction, and I imagine he'd just do so before making an offer potentially viewed as insulting. (All joking aside, the Zen Master appears to be in his daughter's life for the foreseeable future, which presumably prioritizes moving in a different direction while maintaining respect. I'd just as soon shake hands and wish PJ luck than make him feel truly low-balled.)
Then again, unless Buss is ready to promote Brian Shaw and pay him accordingly for a man with his head coaching experience (not considerably greater than my own), the odds of landing a bargain bin coach satisfying fans, not to mention Kobe Bryant, strikes me as low. If the money's high either way, unless it's truly a matter of dissatisfaction with Jackson, better the well compensated devil you know, right?
Who knows how it'll all shake out? A pre-Western Conference Finals exit could make this a moot point from either perspective. Ditto another championship. And the impetus for this may be little more than Jeanie lobbying early for her man. But hearing the matter floated, I immediately wondered if Phil might regret making those comments about Trevor and LO last summer.
You can hear Shelburne discuss her article with Andrew Siciliano and Mychal Thompson on 710 ESPN's LA Sports Live.
Phil Jackson's 2009 Exit Interview: