Heading into Game 2, one of the presumed story lines was another mano y' mano between Ron Artest and Jazz point guard Deron Williams. Phil Jackson put his defensive specialist on Utah's All-Star for large chunks of Game 1 and hinted we'd see more of this look throughout the series. D. Will mentioned a speed advantage he deemed exploitable, an opinion clearly upping Artest's dander. However, the joke was on us, as Tuesday's 111-103 Game 2 victory featured mostly Derek Fisher checking his former protege. At least for those 48 minutes, a sequel got the kibosh.
But despite spending time marking the less heralded C.J. Miles, Artest wasn't left starved for opportunities to make his defensive mark. Quite the contrary, in fact. Particularly during the first quarter, when his prowess played a key role in flipping an early Laker deficit.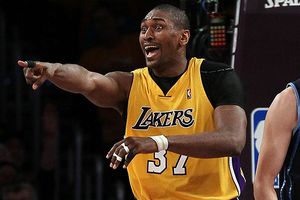 Stephen Dunn/Getty Images
Ron Artest earned the right to whoop it up with a
courtside fan.
With the Lakers down 11-4 after nearly four minutes, Artest was fed under the rim by Pau Gasol and drew a foul against Kyrylo Fesenko. He hit the first of two free throws, breaking up a 8-0 Utah run, and his missed followup even managed to pay dividends as Gasol drew a loose ball foul pursuing the rebound. The new Laker possession was converted into a pick and roll dunk for Andrew Bynum.
From here, Artest's footprint grew even more pronounced, predictably through his signature defense and energy.
After Miles received an inbound pass in the corner, Artest immediately trapped him, then popped the southpaw's outlet pass in the air to himself. The rock slipped out of bounds and Utah maintained possession, but no worries, as this was merely the main attraction's opening act. On the new and scrambled sequence, Artest found himself checking Williams at the arc. Williams tried shooting a pass inside to Carlos Boozer at the elbow, but Ron-Ron's hands-hands were too fast-fast. The ball's popped once again straight up, this time landing securely in Fisher's mitts. Upon streaking downcourt along the right wing, Artest received a bounce pass from Fish and threw down an emphatic right-handed dunk.
Later in the frame, Kobe and Boozer hit the deck in pursuit of the rock after Paul Millsap lost the handle driving against Lamar Odom. The ball slipped out of the scrum and Artest tapped it over Wes Matthews' head right to Fisher, who drew a pair of free throws courtesy of Williams. Little time passed before Artest jumped a pass from Williams to Korver and it was off to the races for an uncontested layup. 23-20 Lakers, as the purple and gold slowly regained control of the game.
"Ron's a special player with a special personality," praised Kobe after the game. "A lot of players, when they miss shots and miss layups, they don't give the same effort on the other end. He's actually the opposite. When he misses those things, he feels a responsibility to increase the intensity and increase his energy on the defensive end of the floor and to make something happen. A lot of players aren't like that."
The value of Artest's defense, regardless of his assignment, was reinforced to everyone... save the man of the hour himself.
"I can't remember what I did," said Artest when I mentioned his first quarter defensive energy. "A lot of people said I played good defense. Even our trainer. I was just playing hard. I don't even remember what was so good about whatever I did."
One man's "another day at the office" is another blogger's food for post.
Whenever people talk Laker defense, Artest's name often take center stage, his being the stopper role. If his matchup is potentially or even presumably spicy, eyes are glued even more on him. I asked Artest if his rep sometimes results in people focusing too much on his individual success.
"I think sometimes, yep. I've shut down guys so much people just get obsessed with that. They want to see it all the time... It's fun to have that reputation but I still need my team help me get stops although sometimes I can get stops myself."
This was a classic Artest-ian moment, downplaying the individual work while simultaneously citing a resume of putting elite scorers in his pocket. He's a different kinda cat. Artest's personality would also be generously described as flighty, so whatever he often says should typically be taken with an entire salt lick, much less a grain or two. But that doesn't render Ron incapable of offering wisdom, because his larger point is dead on.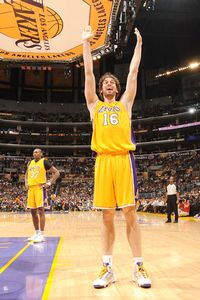 Andrew D Bernstein/NBAE via Getty Images
Pau Gasol and his gangly arms
hosted a block party in L.A.
The man certainly made a defensive presence felt, but as he correctly noted, the Jazz don't end up stymied on several levels unless his teammates lent their two cents.
The Lakers had four of their 13 blocks in the first quarter alone, which featured a fantastic sequence at the expense of Boozer. After getting a layup stuffed at the rim by LO, Boozer hustled for the offensive board and a second opportunity, only to get a hook shot pushed back by Gasol. The Duke product's body language upon the ensuing timeout wreaked of "You gotta be kidding me!" The Lakers crushed their opponent on the boards to the tune of 58-40. And the Jazz shot just 39.6 percent from the field, a paltry clip heavily boosted by a third quarter at 50 percent. Save Paul Millsap, no Jazz player with more than two shots drained half of them.
Like the Adidas commercials taught us back in the day, it takes 5ive to make things happen.