The bigs were gigantic in L.A.'s Game 2 win over the Jazz Tuesday night, as Andrew Bynum, Pau Gasol, and Lamar Odom combined for 50 points (on 18-of-24 shooting), 44 rebounds, and nine blocks. That's a season's worth of work for Kyrylo Fesenko and Kosta Koufos. Two, maybe. But it wasn't just the Lakers' size. Andy cited Kobe Bryant's incredible second quarter as a major factor behind the victory: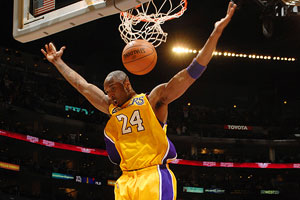 Chris Carlson/AP Photo
Kobe Bryant isn't a "big," but he played plenty large in Tuesday's Game 2 win over Utah.
"...His work during this 4:47 stretch was the roundball equivalent of a conductor with his orchestra or a puppet master controlling seriously athletic marionettes. Just a brilliant manipulation of moving parts... There was also great success as Kobe set up shop several times on the right block... Three straight layups were created from more or less the exact same spot on the floor. Each time, recognition of the approaching help defender and the cutting Laker led to a score so easy, Kobe barely broke a sweat while calling the shots..."
Bynum may be playing through pain, but as Dave McMenamin notes, in that he has plenty of company. As a result, peer pressure is playing a big role thus far in L.A.'s playoff run:
"...It's easy to say the difference in the Lakers has been all about Bynum. He missed the last 13 games of the regular season because of a strained left Achilles tendon when the Lakers floundered, and now that he's back the Lakers look right again. But what Bynum is doing doesn't make him any more of a warrior than his teammates. There are two requirements to being a Laker these days: be willing to wear yellow and play through whatever pain is ailing you. "I think the thing with the injuries is everybody kind of looks at each other and tries to figure out which one is going to be the first punk," Kobe Bryant said. "Because we will talk about you like a dog, like a chump. So nobody wants to be a chump..."
And while the Lakers are showing toughness, the Jazz have a softie in the middle- Kyrylo Fesenko- forced to face L.A.'s phalanx of giants:
"...Fesenko, who may be the last basketball player to actually wear his wristbands on his wrists, is a nice guy, but that's the problem with the Jazz. They are a roster filled with nice guys and none of them are nicer and softer than their seven-footers who are supposed to be protecting the paint and providing a low post presence. (Kosta) Koufos, who finished with two points as well, is such a softie, he dries himself off and gets dressed away from his locker when there are reporters near his area. If he can't muscle middle-aged scribes out of his area, how is he supposed to fare against the likes of Andrew Bynum, Pau Gasol and Lamar Odom..."
Of course, others were ready to weigh in as well. Click below for the rest of the reactions...
GAME REPORTS
Mike Bresnahan, Los Angeles Times
Elliott Teaford, Los Angeles Daily News
Kevin Ding, Orange County Register
David Lassen, Riverside-Press Enterprise
NEWS AND NOTEBOOKS
Phil Jackson believes he'll coach in LA if he coaches next season, ESPNLA.com
Lakers keeping an eye on Luke Walton, ESPNLA.com
Odom comes up big... Fesenko doesn't, LA Times
Utah's defense is lacking in a few ways, LA Daily News
Meanwhile, L.A.'s defense is fueling their game, Salt Lake Tribune
Kirilenko hopes for a Game 3 return, ESPNLA.com
BLOGS AND COLUMNS
J.A. Adande, ESPN.com: On PJ's coaching whereabouts next season, and his reluctance to get political.
Darius Soriano, Forum Blue and Gold: Paint and glass control put the Lakers on top in Game 2.
C.A. Clark, Silver Screen and Roll: The bigs were simply too large for Utah to handle.
Vincent Bonsignore, LA Daily News: Jerry Buss is playing an unnecessary game with Phil Jackson's future.
Mark Spears, Yahoo! Sports- Kobe works to quiet the critics:
"Kobe Bryant has listened the past few weeks as his critics have said he's on the downward slide, that he's too old, that he's physically worn down. And after totaling 30 points, eight assists, five rebounds and three blocks during a 111-103 victory over the Utah Jazz to give the Lakers a 2-0 lead in the Western Conference semifinals, Bryant barked back to his skeptics. "Stupid. They're stupid," Bryant said. "It's an injury. They don't know me very well. They think I'm done. I just hear it. I just hear it. I find it amusing. It's entertaining..."
Ding, OC Register: Brittle Bynum is getting tougher.
John Krolik, ProBasketballTalk.com: It's hard to know what Utah could have done different, other than be taller.
Gregg Patton, Riverside Press-Enterprise- For one night at least, is there really anything to complain about?:
"I'm trying, I'm trying. Believe me, a series-and-a-half into the postseason I know there should be something the Lakers did wrong Tuesday night. Something to get picky about. Something they could work on. Something to complain about.Maybe their focus, letting Utah trim the deficit to four points in the fourth quarter. Maybe the fact that the Lakers made only 4-of-17 three-point shots. Nah. Maybe it's just a good night to let them enjoy a win, sans the harping. Acknowledge the four-game winning streak, nothing to sneeze at in playoff season. Give them credit for taking care of undermanned, underwhelming Utah in the first two games of this Western Conference semifinals matchup at Staples Center..."
Gordon Monson, Salt Lake Tribune: The Jazz will need divine help to beat the Lakers.
Rey-Rey, The No Look Pass: Even the Jazz don't think they can win this series.