Perhaps the toughest thing for players, fans, and media alike during the playoffs is to avoid becoming a prisoner of the moment. Teams can fluctuate wildly, strengths and weaknesses often masked by matchups and the sort of performance blips able to alter the course of a series. They can look incredibly vulnerable one moment, then hoist a Larry O'Brien the next (see Celtics, Boston 2007-08), or look totally dominant but then fall short (see Lakers, Los Angeles 2007-08). All the while, infinite definitive and declarative statements are made crowning or burying a squad.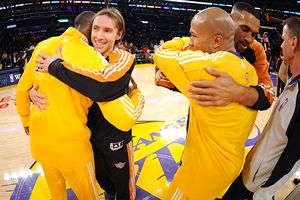 Noah Graham/NBAE via Getty Images
With a week to go before the games actually start, there's plenty of time for hugging.
It's particularly true of a team like the Lakers, for whom "the now" is parsed and dissected like no other team in basketball. Forget game-to-game- the Lakers are often tagged as champions, fakers, pretenders, world-beaters, too-thin, too-deep, complacent and focused within any 48 minute stretch. Sometimes within the same quarter.
They were undoubtedly on shaky ground heading into the playoffs, and I warned it would be a tough slog for the Lakers en route to what I still believed was a Finals appearance. I figured they would get better as they went along, but there would be some extremely rocky points along the way in a brutal Western Conference. Any missteps could cost them a third straight trip to the Finals. Then things, as they often will, started happening: Denver fell apart, Portland effectively lost Brandon Roy, and the Jazz were left without Mehmet Okur and a rusty Andrei Kirilenko.
Suddenly a pothole-laden road got a fresh paving.
The Lakers survived a stiff test against an Oklahoma City team without any experience, but scores of other stuff able to give the L.A. fits. The Thunder had speed, defensive energy, a guy to put on Kobe Bryant, and a great transition game. Once it became clear they weren't going to shrink in the moment, it's no surprise the Lakers were nearly pushed to seven games by Oklahoma City.
Call Utah the anti-Thunder. Seasoned as they may be, it didn't take long to see the Jazz had absolutely no chance of beating the Lakers. My original pick was Lakers in six. By halftime of Game 1, I figured I oversold it by a game. Turns out, I was off by two. Without Okur to provide a little useful height and without anyone to check Kobe effectively, the Jazz were left with a beautiful system, Deron Williams, and little else. That's not nearly enough to beat L.A., particularly one getting healthier as the series progressed. Break out the brooms.
So how much of that dominance was L.A. rounding into form, how much was a second round draw tailor made for success?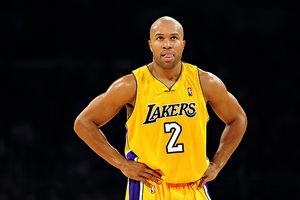 Harry How/Getty Images
First Russell Westbrook, then Deron Williams, now Steve Nash. At least Derek Fisher is staying busy.
Having won six straight, including three on the road, I'm inclined to say it's some of the latter but more of the former. The Lakers have produced quality execution at critical moments against the Thunder and Jazz (teams not up to L.A.'s level, but hardly the Warriors) and looked overwhelming in others. We'll find out more next week when they kick off the Western Conference Finals against the Suns. Again it seems like the draw has opened up well for the Lakers. Sounds funny after watching the Suns torch (ha!) the Spurs in four games- can't say I saw that coming- but on paper, at least, it doesn't seem like Phoenix can beat the purple and gold four times in seven games.
Two or three, maybe, and it wouldn't surprise me if at least one was a blowout, but not four.
They will, however, be a serious test. Phoenix ended the regular season winning 14 of 16. 26-21 after an overtime loss to Charlotte on Jan. 26, the Suns went 28-8 the rest of the way. Measured by efficiency, the Suns had, by miles, the best offense in basketball. They've also slowly evolved into a better defensive team, and over the tail end of the season and the playoffs have exceeded their season norms for defensive efficiency as well. Phoenix outscored the Blazers and Spurs by an average of almost 10 points a game (vs. 4.1 for L.A.). Offensively, they've dominated in the postseason more than any team west of Orlando (scroll around these stats, and you'll see what I mean).
They're certainly capable of spreading the Lakers defensively and piling up points.
On the other hand... the Suns are still small. Very small. Depending on the health and effectiveness of Robin Lopez, who hasn't played since March 28th thanks to a bad back, the Suns may have to take the floor against the Lakers without a seven-footer and perhaps only the ineffective Jarron Collins to eat up space inside against Pau Gasol, Andrew Bynum, and Lamar Odom. The Lakers have the ability to make Amar'e Stoudemire work defensively like few other teams can. Gasol is mobile enough to defend in space and still dominate inside. The Suns, like the Jazz, have no natural fit when it comes to guarding Kobe, explaining Bryant's 54.4 percent mark from the floor in four regular season games (three of which were Lakers wins) against Alvin Gentry's bunch. This despite a terrible mark (28.6%) from downtown.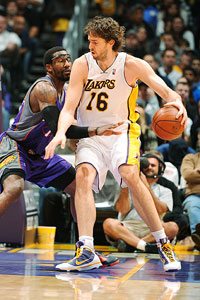 Andrew D. Bernstein/NBAE via Getty Images
Pau Gasol has the potential to cause all sorts of problems for Amar'e Stoudamire.
In those four meetings, the Lakers held Phoenix under their season average in offensive efficiency in three. They also scored at or well above their mark for offensive efficiency in all four, which makes sense given L.A.'s size advantage inside. Bynum and Gasol combined to shoot 60 percent against Phoenix. That's a lot of easy points. Defensively, the Lakers were able to hold the Suns under their season mark of 41 percent on three pointers in all four games. They held Stoudamire and Steve Nash under their season averages in most meaningful statistical categories, and absolutely destroyed Jason Richardson.
On the other hand, much like it was when evaluating the Oklahoma City series, context matters. Two of those four contests came reasonably early in the season when Phoenix wasn't nearly as good as they are now. The Suns have the dangerous point guard in Nash, the superstar offensive player in Stoudamire, waves of dead-eye three point shooters, and a bench playing incredibly well. Every time I turn on my TV, Jared Dudley hits a three, and that includes when I'm watching Food Network. Dude's everywhere. And they're not winning just by running up and down the floor, either. In the postseason, likely due to time against the slowpoke Blazers, Phoenix has a slower pace factor than L.A. (90.3 trips per 48 minutes vs. 90.7 for the Lakers).
Both teams are trending up, both are coming off sweeps. The Lakers, however, were expected to win. Phoenix broomed a potent San Antonio squad most, at least here at ESPN, picked to win. A Spurs squad many thought was L.A.'s biggest threat. They absolutely destroyed them.
With a week to go before Game 1, there won't be an angle for this series left uncovered. I'm sure at some point, I'll issue my end-of-the-bench, Dwayne Jones vs. Adam Morrison post. Jack vs. The Gorilla. Which city has better tacos. There's that much time. But by next week, a Lakers team already getting healthy will be even more sound, and while I can't guarantee they'll win, I'd be surprised if they didn't.
One thing I can guarantee? It's going to be a very fun series.