With last night's 111-96 beatdown of the Utah Jazz, the Lakers put to bed any concerns about extreme vulnerability created by a tough first round against Oklahoma City. A sweep will do that for a team's image. But if brooming an opponent reinforces a defending champion squad's credentials, it's only fair the same respect be accorded to a challenger following suit.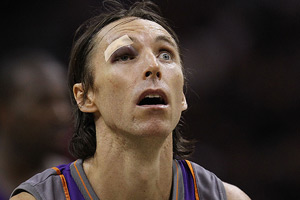 Eric Gay/AP Photo
You only need one good eye to see how well the
Suns are playing right now.
Last Sunday, the Phoenix Suns shocked the basketball world by making mincemeat of a San Antonio squad on a surprise roll of its own after dispatching the two-seed Dallas Mavericks. A black and silver crew once written off as too old and too unhealthy appeared to have reclaimed their bounce, making seemingly inevitable yet another showdown against the Lakers for Western Conference pink slips. San Antonio's proverbial window may be shutting, but there was still enough air separating glass and the sill to mount a surge.
Or... the window was on the verge of getting slammed shut with enough force to send shards flying everywhere.
To put it mildly, the Phoenix Suns controlled their series outright. Steve Nash's Game 1 was a masterpiece and his bloodied Game 4 iconic. Amar'e Stoudemire scored 20+ in three games. Jason Richardson drained a whopping 52.2 percent of his treys as the leader of a squad killing it from downtown. Between the constant hustle and energy of Jared Dudley and Louis Admundson, plus Goran Dragic's 23 fourth quarter points in Game 3, Phoenix's bench made an impact. The defense, led by Grant Hill, has been scrappy. Every Spurs postgame presser featured a frustrated player with no answers.
Factor in how both of Phoenix's series were closed out on the road, and these desert dwellers don't appear a team to trifle with.
Of course, lest we forget, the Lakers are still in ownership of the O'Brien, a trophy being protected with home court advantage. In Andrew Bynum, Pau Gasol and Lamar Odom, they still boast a serious size advantage over Phoenix. In Ron Artest, they still have one of the NBA's best and most versatile defenders. And they still have a certain 2-guard known to fill up a bucket every now and then. For that matter, I'd still take the Lakers in a series. But I'd be stunned if they got it done in less than six, and I'd probably put my money on seven.
But that's just my take. I'm curious about yours. We'll obviously be talking about the series from every which angle but sideways, but I wanted to get some initial feedback from the Land O' Lakers blogosphere. Vote early. Vote often. Use your voice. These polls are what make America the greatest nation on earth.
<a href="http://polldaddy.com/poll/3181177/" mce_href="http://polldaddy.com/poll/3181177/">On a scale of 1-10, how scary are the Phoenix Suns?</a><span mce_><a href="http://polldaddy.com/features-surveys/" mce_href="http://polldaddy.com/features-surveys/">online survey</a></span>
<br /> <a href="http://polldaddy.com/poll/3186913/" mce_href="http://polldaddy.com/poll/3186913/">Which Laker needs to step up biggest against the Suns?</a><span mce_><a href="http://polldaddy.com/features-surveys/" mce_href="http://polldaddy.com/features-surveys/">online surveys</a></span><br />
<a href="http://polldaddy.com/poll/3186939/" mce_href="http://polldaddy.com/poll/3186939/">Which Sun is it most important to shut down?</a><span mce_><a href="http://polldaddy.com/features-surveys/" mce_href="http://polldaddy.com/features-surveys/">online survey</a></span>
<br /> <a href="http://polldaddy.com/poll/3186955/" mce_href="http://polldaddy.com/poll/3186955/">What will be the biggest factor in this series?</a><span mce_><a href="http://polldaddy.com/features-surveys/" mce_href="http://polldaddy.com/features-surveys/">survey software</a></span><br />
<a href="http://polldaddy.com/poll/3187059/" mce_href="http://polldaddy.com/poll/3187059/">How will the long layoff affect the Lakers?</a><span mce_><a href="http://polldaddy.com/features-surveys/" mce_href="http://polldaddy.com/features-surveys/">customer surveys</a></span>
<br /> <a href="http://polldaddy.com/poll/3186969/" mce_href="http://polldaddy.com/poll/3186969/">How will the series end?</a><span mce_><a href="http://polldaddy.com/features-surveys/" mce_href="http://polldaddy.com/features-surveys/">online survey</a></span><br />