30 years ago, Magic Johnson, then a 20-year old rookie, took the floor for Game 6 of the NBA Finals against the 76ers at the Spectrum in Philly. Kareem Abdul-Jabbar, laid up with a bum ankle, remained in Los Angeles.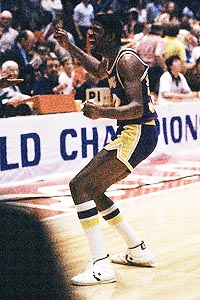 Jim Cummins/NBAE via Getty Images
42/15/7 had Magic Johnson celebrating in Game 6. A title had the city celebrating with him.
Out of options, coach Paul Westhead asked Johnson to take the opening tip at center. Caldwell Jones met him for Philly, and incredulously asked, "You gotta be joking, right?" Jones won the tip, but from there, Magic won everything else, playing every position on the floor, scoring 42 points and adding 15 rebounds, seven dimes, three steals and a block as the Lakers knocked off Philly for the title.
It remains one of the greatest games in NBA playoff history, some would argue the greatest ever. Earlier in the week, we asked for your memories of a game. Among the responses was ESPNLA.com's own Jon Weisman, host of Dodger Thoughts:
"I was as passionate about the Lakers then as I am about the Dodgers now. But the weekend of Game 6, we were going on a family trip. I was able to set the family's brand-new, first-ever VCR (which had been baptized just a few months earlier with the Miracle on Ice game) to record one game, and with Kareem out for Game 6 (Friday) but possible for Game 7 (Sunday), I set it for the latter. At LAX that Friday, we heard that the Lakers were winning at halftime, and I was beside myself. And when we found out the final score after landing, we couldn't believe we had missed the game. And then when we found out what Magic had done ...

I saved the Los Angeles Times and Sports Illustrated coverage of the game - still have those issues. SI had that classic picture of Magic with the trophy on the cover. The Times had a great headline that incorporated as a kicker the lyrics from a Doris Day song: "How else can I explain those rainbows when there isn't rain? IT'S MAGIC!" But I didn't get to see the game itself for about 15 years, when I caught an ESPN Classic broadcast. And I recorded it, for keeps.
Unbelievable."
For more of responses, click below...
Mitch Skaff, Sunland, CA:
"My recollection of that shocking Laker victory was listening to the voice of Chick Hearn on Armed Forces Radio. I was stationed at Ramstien AFB in Germany at the time and being a big Laker fan had to listen to the game on the radio. In those days the TV broadcast was taped delayed for a week, so it was anticlamatic by the time I actually saw the video of that Championship clinching game. It was the start of a great Dynasty that continues today."
Dave Descuacido, Lakewood, CA:
"My most vivid memories of the 1980 championship is Jamaal Wilkes often overlooked contribution of 37 points in the championship game. Two other moments stand out in my memory as well.1) Bob McAdoo blocking a Dr J lay up atempt late in the game2) Dr. J's now legendary reverse layup over (or should I say under) Mark Landsberger and Kareem. I still cant believe what I saw."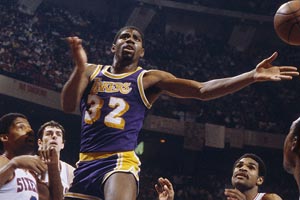 Getty Images
Johnson's Game 6 is considered one of the single greatest performances in NBA history.
Mario DiLeo, Burbank, CA:
"It just so happened that on the night the Lakers won their first of five NBA titles during the Showtime Era, we had tickets to the Dodgers game. This would be an exercise in multi-tasking as we kept up with the events in Philadelphia while enjoying a Dodger Dog or two with 50,000 of our closest friends. The net effect (HAHA) of this social experiment was something that resembled a Godzilla movie...the action on the field at Chavez Ravine was out of sync with the crowd reaction as some listened to Chick Hearn's play-by-play on their transistor radio (hey, it was 1980) while others actually paid attention to what the True Blue was doing between the chalk lines as the stadium scoreboard flashed L.A.-Philly updates between half-innings. When the contest at the Spectrum was over and the shouting began, reliever Babo Castillo who was warming up stood on the bullpen mound and began to take bows in response to the fans' outpouring of love to the other L.A. team. We didn't realize that by decade's end, the guys wearing shorts would win more championships than our beloved Bums."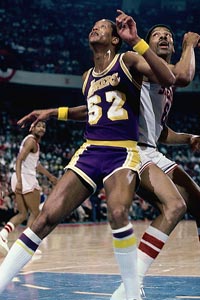 Jim Cummins/NBAE via Getty Images
Jamaal Wilkes scored 25 second half points and 37 overall, but his performance has been overshadowed by Magic's effort.
rdlee, Burlington, CO:
"What I remember most is how badly the LA papers ridiculed Darryl Dawkins, calling him ,"Chocolate Blunder." Also I can see the picture of Magic hugging Butch Lee after the game. Butch Lee? That must have been his entire Lakers claim to fame. Sitting on the bench yet getting to celebrate a championship."
Alex Roman, Long Beach, CA:
"I'm not ashamed to say, with the limited knowledge I had of the game at that point, that Dr. J was my favorite player. I was only seven or eight. Back then they used to show the Finals games late at night, and I would beg my parents to wake me up so I can watch. Of course, they never did, therefore, I was so excited the game was on a weekend and that I wouldn't miss it. I remember seeing the photo in the paper and the footage on the news of Kareem going down and thinking that it was over for the Lakers. Still, having watched all the games I could on a small black-and-white with Chick Hearn calling the action, I had hoped that they could pull it out. Although I have seen that game on ESPN Classic since, it's hard to really remember everything about the game when it was on live. I do remember the exhilaration of seeing Magic control that entire game and how excited I was that the Lakers won. That game and Magic's performance also cemented a lot of things for me, including my lifelong love for basketball and the beginning of my affinity for the Lakers. To this day when I think about who my favorite player is, Magic or Dr. J, I remember that game and realize it has to be Magic because of the lifelong memories that he helped to create."