As Andy and I noted when it was over, the third quarter of Monday's impressive 128-107 Game 1 win over the Suns at Staples belonged to L.A.'s star tandem of Pau Gasol and Kobe Bryant. Particularly Bryant, who scored more than half of the 40 points he'd log on the evening coming out of the halftime chalk talk/orange wedge break.
As you'd suspect, though, in such a dominating win, the Lakers saw contributions up and down the roster.
Start with Lamar Odom, who contributed 19 points and 19 rebounds off the bench. He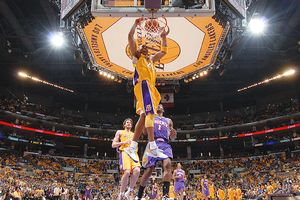 Andrew D. Bernstein/NBAE via Getty Images
Kobe was on top of his game Monday night in Game 1, but he had plenty of help.
was unusually aggressive right off the bat, finding his shot and at one point scoring seven straight for the Lakers after entering in the first quarter. Writes ESPNLA.com's Dave McMenamin:
"I didn't really want to wait," Odom said, speaking to a throng of reporters after the game, with the big blue NBA backdrop behind him -- his first podium game of the postseason, as ESPN colleague J.A. Adande puts it. "I said to myself, 'If I'm going to have a bad game, I'm going to have a bad game going out swinging,'" he continued. "I'm not going to wait for the game to come to me tonight. I'm going to try to attack, and if a jump shot is there, I'm going to take it." And if a rebound was anywhere near his 7-foot-4 wingspan, he was going to take that, too. Odom tied his playoff career high by corralling 19 rebounds and secured the symmetrical double-double with 19 points, the most points he has scored all postseason. Odom's output buoyed the Lakers' bench to a 44-35 scoring edge over the Suns' much-ballyhooed second unit.
Rounding up the rest of the ESPNLA.com crew, Ramona Shelburne wonders if the Suns have the wrong makeup to take down L.A.:
"...To beat the Lakers at the moment, a team must be either brash (like the Oklahoma City Thunder) or crass (like the Boston Celtics?). The Suns, unfortunately, might just have too much class... "They beat us down a little bit," Suns center Channing Frye said. "In the past series, we've done a better job of establishing how we want to play, being aggressive and taking things away. Tonight we just didn't do that. But the Lakers are a great team. What do you expect?" Afterward, Nash was even more blunt. "You know," he said. "I think our room for error is small. They're a lot bigger than we are. They had a lot of points in the paint. They're probably going to continue to be taller than us as the series goes on." In other words, the odds are long..."
At the same time, don't discount what the Lakers are doing, writes Arash Markazi. The days of the up-and-down, often disappointing Lakers may have passed:
"...That's right, throw out everything you've seen this season. Trash everything you saw in Games 3 and 4 in Oklahoma City, forget about that 4-7 conclusion to the season and that dreadful 2-3 road swing that started it all. It doesn't matter. The Lakers have now won seven games in a row in the playoffs and in the process have closed out the Thunder in Oklahoma City, swept the Jazz in Utah and beat the Suns at their own game, blowing them out 128-107 to take a 1-0 lead in their Western Conference Finals series. I know you're surprised. About as surprised I was the first time my cousin was waiting for me at dinner and ended up paying the tab. You're probably thinking, "Who are these guys and where have they been all season?" You're not the only ones. "Well, you know this is a surprise for us," said Lakers coach Phil Jackson. "Maybe they've peaked, I don't know. I think their attentiveness has been great. I think their focus has been very good. They're trying to do things that we're trying to get operated out there on the floor, so those things are good..."
If you're keeping score, Phil Jackson is 46-0 in the playoffs when his team wins Game 1. For more from around the web after Monday's win, click below...
GAME REPORTS
Elliott Teaford, LA Daily News
David Lassen, Riverside Press-Enterprise
NEWS AND NOTEBOOKS
Health making a big difference, ESPNLA.com
Jackson says Kobe's knee drain isn't new news, ESPNLA.com
Suns can't check Bryant defensively, LA Times
PJ stays mum on future, politics, LA Daily News
Lopez strong in his first game back, Arizona Republic
David Arquette toppled in sideline incident, ESPNLA.com
COLUMNS AND BLOGS
Suns wound too tight- Dan Bickley, Arizona Republic
L.A.'s struggles are a distant memory- Chris Tomasson, AOL Fanhouse
The beginning of the end for the Suns?- Sam Amick, AOL Fanhouse
Kobe continues to re-write the narrative- Lee Jenkins, SI.com
Suns left scrambling after Game 1 thumping- Marc Stein, ESPN.com
It's personal for Kobe, and it shows- Bill Plaschke, LA Times
Three more like that, please- Darius Soriano, Forum Blue and Gold
Same old Suns: Lakers win 128-107- Dexter Fishmore, Silver Screen and Roll
Jackson continues proving his worth despite uncertain future- Kevin Ding, OC Register
Lakers scorch Suns in Game 1 blowout- Michael Schwartz, Valley of the Suns
Amar'e Stoudemire provides a boost... for the Lakers- Vincent Bonsignore, LA Daily News
Kobe makes an opening statement to Suns- Marc Spears, Yahoo! Sports
Observations from Game 1- Henry Abbott, TrueHoop
FUN STUFF
A full video breakdown of Kobe's 21 points in the third quarter- Sir Charles in Charge.com