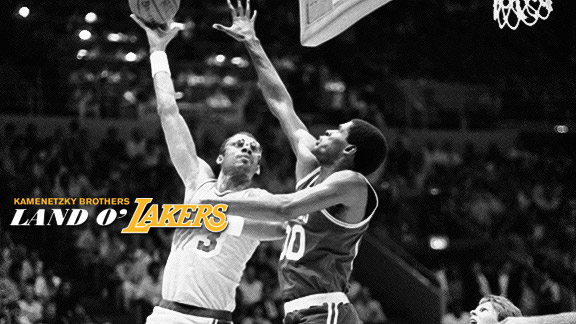 Lennox McClendon/AP Photo
Eight times the Lakers had played the Celtics and eight times they had lost, until Kareem Abdul-Jabbar led the purple and gold to the 1985 title. In the title-clinching Game 6 at Boston Garden, "Cap" scored 29 points, including 18 in the second half.
By 1985, the big green monkey on the back of the Lakers' franchise wasn't simply large and oppressive, but had seemingly taken permanent residence and qualified for rent-control. Eight times, including 1984, the Lakers had met the Boston Celtics in the NBA Finals. Eight times the Celtics sent them home empty-handed.
To put it mildly, things didn not start any better in Lakers Vs. Celtics version 9.0. In Game 1 of the '85 Finals at the Boston Garden, L.A. was obliterated 148-114 in what was later dubbed "The Memorial Day Massacre." The entire team was awful, but Kareem-Abdul Jabbar was particularly bad, scoring 12 points, grabbing only three rebounds, and generally being made to look each and every one of his 38 years old by Boston's Robert Parish. So bad was the showing, Kareem was later compelled to apologize individually to each of his teammates, vowing his effort going forward would be better.
The Captain was true to his word.
In Game 2, he bounced back with 30 points, 17 rebounds, eight assists, and three blocks as the Lakers evened the series. From there, Abdul-Jabbar continued to dominate, and the Lakers were able to build a 3-2 series lead heading back to Boston for Game 6. Saddled with foul trouble, Kareem missed much of the second quarter, heading into the locker room at halftime with 11 points in a game tied at 55.
After the break he exploded, scoring 18 as the Lakers pulled away. With 1:01 left to play, Kareem dropped yet another of his patented sky hooks, putting the Lakers up 12 and squelching any chance of a Boston comeback. Finally, the Lakers had ended the Boston curse and, quite literally, decades of heartache.
Abdul-Jabbar finished Game 6 with 29 points and seven boards, and was named series MVP.
"He defies logic," coach Pat Riley said of his legendary center. "He's the most unique and durable athlete of our time."
ESPNLA.com and Land O' Lakers are counting down the ten greatest playoff moments in Laker history. Upon completion, fans will be asked to vote on the single greatest moment of all. Previous moments include:
-Shaquille O'Neal's near quadruple-double in the 2001 NBA Finals, Game 2
-Elgin goes for 61 in '62