As the Eastern and Western Conference Finals sit at 2-0 leads for the Celtics and Lakers respectively, there is already a buzz building in L.A. about a clash between old rivals. Staples Center patrons were chanting "We want Boston!" in the closing minutes of a 124-112 Game 2 win over the Phoenix Suns (reflecting the desires expressed in a poll conducted a few days earlier). ESPNLA.com's Arash Markazi noted how the Lakers won't come right out and say it, but their wishes jibe with their fan base's. (For that matter, high fives would by slapped by David Stern, the advertising folks and everyone with a stake of any kind in the Finals. Lakers-Celtics pretty much does nobody wrong.)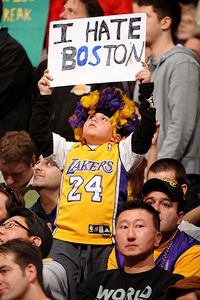 Andrew D. Bernstein/NBAE via Getty Images
You may think you do, little man.
But you actually don't.
Why the fierce local desire for Lakers-Celtics?
You could cite the obvious, a rich history of hatred going back to 1959, the first in a painfully cruel series of Finals losses at the hands of Boston. Should the current path carry forth without a hiccup, bet the house on a non-stop barrage of retrospectives reminding us how far back these skirmishes go. But here's the thing. While the history certainly matters, there's also an early-30's-and-younger generation of Lakers fans that, hand on the bible, would admit they don't really know what this rivalry's about.
Memories create rivalries, and for these fans, there's little to draw on with the Showtime battles, much less the stinging defeats to Red's army. Their hatred of Boston is more institutionalized than sincere. It's like being seventh generation Hatfield. You hate that damn McCoy family, but more from the mind than the heart.
As a St. Louis transplant who moved to L.A. in 1990 and began feverishly rooting for the Lakers a few years later, I have an unfortunate firsthand knowledge of this reality. As much as I wanted to get geeked for a showdown with the Celtics, the process felt labored and inorganic. The Celtics I knew spent two decades as a largely mediocre and irrelevant team before acquiring Ray Allen and Kevin Garnett. By comparison, the Cardinals bolted to Arizona in 1985, but to this day, even as an NFL orphan, I still hate the Philadelphia Eagles, New York Giants and Washington Redskins, rival teams from the old NFC East division. Even without a dog in the fight, I just do. What you really know stays with you forever, and enthusiasm for what you don't know is difficult to manufacture.
Among the Lakers participating in the 2008 finals, I remember thinking only a handful of them really "got" the rivalry: Kobe Bryant, Derek Fisher, Luke Walton and maybe sports nut Lamar Odom. That's understandable, since the roster's overwhelming majority was either too young or too "overseas" for a legitimate perspective on the chapter they were adding to this purple-and-gold book with a green spine. While everyone seemed genuinely respectful of that extra wrinkle, I never really sensed history was truly motivating the 2008 players.
But even if the kids today don't know anything about the world before them, don't go fearing a lack of fireworks in the Finals. Like I said, these teams met in the 2008 Finals, and bad blood transcends a narrow perspective. The Celtics took what the Lakers wanted and they this year's L.A. squad would love a crack at evening the score. In and of itself, that provides all the necessary spice. But there's even more to boot.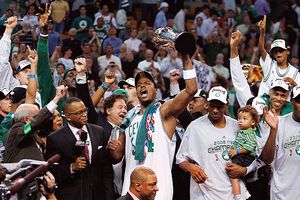 Jim Rogash/Getty Images
This did not sit well for the Lakers or their fans for
a multitude of reasons.
Coming up short in the O'Brien quest wasn't simply a matter of putting forth a quality foot and getting outclassed by a better team. Runner-up status actually equaled emasculation.
Meant losing 131-92 in Game 6. Meant blowing a 24-point lead in their own house, and the everlasting image of Ray Allen blowing past Sasha Vujacic for a dagger layup in that debacle. Meant Pau Gasol and Lamar Odom getting knocked around by the Boston bigs, which created a "soft" tag guaranteed to resurface again before a potential series this year. And meant Kobe being bottled-up and reduced to a volume shooter by a ferocious defense not impressed by his MVP status.
Mentally and physically, the Lakers' toughness was called into question after appearing unwilling to push back against their bullies. That series shaped the current perception of the Lakers: When in doubt, look to bully this finesse team. Even with Ron Artest in the fold and an often suffocating defense of their own to deploy, there's still a prevalent notion the defending champs will shy away from physicality, even at the cost of winning.
Is it true? No, but story lines die hard, especially for fans and media not above utilizing convenience to "explain" results. In the meantime, the Lakers don't like it, and neither do their fans.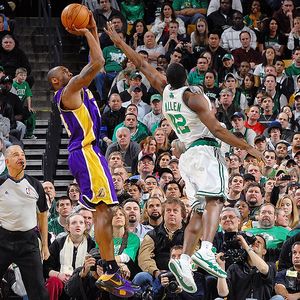 Brian Babineau/NBAE via Getty Images
A regular season win over Boston was nice, but they
still need some closure.
This reputation won't go away until the Lakers provide irrefutable evidence. A date with the Celtics is the key, which is why they need a rematch against the Celtics as much as they need another trip to the Finals. A victory wouldn't just keep the trophy in L.A., spark talk of dynasties, or vault Kobe ahead of Duncan and Shaq in the bling race between contemporaries.
A victory would restore the pride and reputation, the "manhood" of the Lakers --and by extension, their fans-- once and for all.