The playoffs have a way of bending time.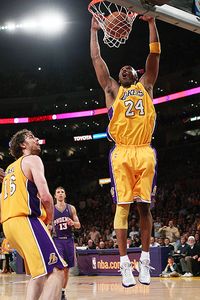 Stephen Dunn/Getty Images
Not every shot in this series has been this efficient for Kobe Bryant. It just seems that way.
Only six weeks ago, the Lakers and Kobe Bryant were in a very different place.
The start of Bryant's postseason was, to say the least, rocky. Over the first three games of L.A.'s opening round series against Oklahoma City, Kobe shot an abysmal 28-of-76 from the floor (36.8 percent). He had been harassed first by Thabo Sefolosha, then the long arms of Kevin Durant. The lift on his jumper wasn't there. In their 21 point loss to the Thunder in Game 4, Kobe didn't have a field goal until three minutes into the second quarter, and finished with only 12 points.
The Lakers were tied 2-2, and after a season of endless injuries Kobe looked tired and slow. Charles Barkley famously declared Bryant had lost a step. Did he have the juice to make it through the second season grind? Was it the beginning of the end for Bryant?
Then a funny thing happened. The Lakers had two days off after Game 4, then blew out the Thunder in Game 5, allowing Kobe to play only 29 completely stress-free minutes. The bum knee hobbling him started to heal.
From there, the guy some thought was cooked has been cooking, scoring 30 points or more in nine of his last ten games, the outlier coming in Game 2 against the Suns, on a night Kobe had 13 assists. Against the Jazz, Kobe averaged 32 points on 52.3 percent shooting along with 3.8 rebounds as L.A. swept Utah. Against the Suns, he's been even better: 33 points a night on 53 percent from the floor (including 44 percent from beyond the arc). To that, he's added 9.6 assists, 7.4 rebounds, and 1.4 blocks.
In each of the last three games, Kobe has only narrowly missed posting triple-doubles, falling short by a rebound in Game 3, three boards in Game 4, and a dime in Game 5.
In his 13 years, Kobe has played 38 playoff series, counting the current one. At least as a matter of statistics, his work through five games against the Suns is better than all of them. Make the comparison to the rest of his greatest hits and judge for yourself (thanks to ESPN Stats and Information for the stats and information):
2001 Western Conference finals vs San Antonio (Lakers in four)- 33.3 PPG, 51.4 pct FG, 7.0 RPG, 7.0 APG

2009 Western Conference finals vs. Denver (Lakers in six)- 34.0 PPG, 48.1 pct FG, 5.8 RPG, 5.8 APG

2009 NBA Finals vs Orlando (Lakers in five): 32.4, 43 pct FG, 5.6 RPG, 7.4 APG (LAL in 5)

2001 Conference Semifinals vs Kings (Lakers in four): 35.0 PPG, 47.3 pct FG, 9.0 RPG, 4.3 APG (Note: This was Kobe's career high in PPG for any single series)

2008 Conference Semifinals vs Utah (Lakers in six): 33.2 PPG, 49.1 pct FG, 7.0 RPG, 7.2 APG
As you can see, in three of four major statistical categories, Kobe's exceeded his career highs. In the fourth (scoring), he's just shy. And when 33 points a night constitutes shy, it's hard to complain.
The explosion also serves to reinforce two very important concepts. First, Kobe Bryant is still very, very good at basketball, capable of dominating for sustained periods in myriad ways.
Second, context matters.
Before the start of the playoffs, I noted it was a little early to stick a fork in Kobe's career. He was hurt for most of the season, he was hurt early in the playoffs. (He's still hurt, just not nearly as much and so is everyone he's playing against.) One season of nagging injuries for a guy who averaged 80.25 games over his previous four seasons doesn't constitute enough of a pattern to make sweeping judgments.
Then there was the opening round matchup. The Thunder were very possibly the best defensive team in the Western Conference over the final 40 games of the season. They had a long, athletic defender in Sefolosha to throw at Kobe, then made a great adjustment by sticking Durant on Bryant. As a team, they move well enough to make a lot of players look a few steps closer to their pension. No other team in the conference could do to the Lakers and Kobe what the Thunder could.
Certainly not the Jazz.
Michael Jordan may still be the greatest nightmare for sleeping Utah basketball fans, but Kobe can't be far behind. He has more or less owned them since the three airballs overtime in Game 5 of the '98 playoffs, back when Bryant was an 18-year-old rookie. This year's Jazz squad was no different, totally lacking in any single defender able to mark him, and as a team they weren't good enough to compensate.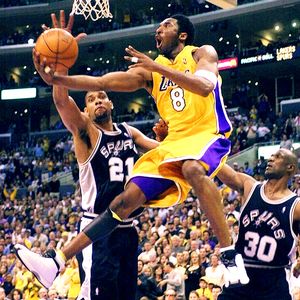 Vince Bucci/AFP/Getty Images
If you're looking for another choice for Kobe's best series ever, his effort against San Antonio in the 2001 Western Conference Finals is a good place to start.
The same can be said about Phoenix, another squad against whom Kobe has had steady success. This season, in four regular season games against Alvin Gentry's crew, Kobe shot over 54 percent. So it's no surprise to see him (wait for it...) blister the Suns in the playoffs. (Sorry about that.)
Should the Lakers advance, Kobe will see a stronger defensive squad no matter who comes out of the east. My guess? The raw numbers will still be strong, but just as it was in the '08 and '09 Finals, he'll have games where he struggles with efficiency. Will that mean his elevated play now is just a mirage? Of course not, just that the other team sometimes gets a vote.
Sports are all about ebb and flow, changes in momentum and trends over time. Minute to minute, quarter to quarter, game to game, month to month. It's unrealistic to take snapshots and expect the image to hold. This year's playoffs have, like most do, proved the point. The Cavs were world beaters, until they lost. The Lakers were vulnerable, until they won eight straight. Phoenix was a mirage, until they ripped off wins in Games 3 and 4 and nearly stole Game 5 at Staples. The Magic were a crushing disappointment, until they got a game away from going home for Game 7.
Context matters.
Kobe Bryant is playing some of the best postseason basketball of his already incredible career. Does that mean he's just as good as he was five or ten years ago? No, not for 82 games, not even in the playoffs. His margin for error is smaller, his ability to drive at will has diminished. More than many Lakers fans who cheer for him, Kobe has no problem admitting time has forced his game to change. Anyone who notes his incredible footwork, enhanced by time with Hakeem Olajuwon last summer, and a seemingly infinite arsenal of jump shots from around the floor can say he's compensated well. Just as good? No, but close enough.
Does his recent run prove again he's best player in the game? Who cares? Bryant is still playing this year while other candidates for the crown are watching at home.
In the end, does anything else mean more to him?