The significant news out of El Segundo Monday afternoon centered around Andrew Bynum, who celebrated his Memorial Day morning by getting his injured right knee drained of excess fluid. Maybe you went to pick up some steaks from the local butcher for an afternoon barbecue. This is what he did.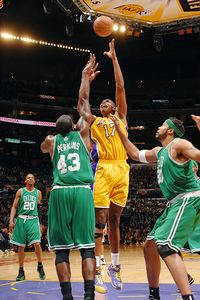 Noah Graham/NBAE/Getty Images
Andrew Bynum was effective in two regular season games against the Celtics, but that was on two good legs. Can he give them enough to help the Lakers to consecutive titles?
(I was told by a fellow media member Bynum was later seen getting something to eat. Could have been a late breakfast, possibly an early lunch. Let's call it brunch to be safe.)
Bynum spoke to the media about the procedure, as well as his hopes and expectations for the upcoming series. Some highlights of the Q and A:
You finally decided to get the knee drained. What went into the decision?
"It was getting worse. The swelling wasn't leaving, so they had to do it. That's pretty much what made me do it, is just because I did the treatment. I was doing the treatment but it wasn't going anywhere, like in the previous three rounds, so I just had to drain it... I think it's supposed to be pretty much fine. I'm gonna continue to do the same treatment with less swelling to keep it from coming back, and just take it from there."
You saw what Kobe did after having his drained. Did that have any impact on your decision?
"It supposedly makes you feel more healthy. So I'll find out come [my next] practice day. I've got to obviously test it out one of these days just to make sure it feels fine. It'll probably be Wednesday, I think."
Not tomorrow?
"Not tomorrow, but Wednesday."
Does it feel different physically after the procedure?
"Not right now. The medicine's still in there, so that has to wear off and all that stuff, and then I'll be feeling it."
So 35 and 10 will be your average for the Finals? (In reference to Kobe's performances after getting his knee drained earlier this postseason.)
"35 and 10? (Laughs) They're going to need me doing better than I am. Going into it, I'm aware of that. We're just studying, I'm looking at all the film watching how they defend the in post, watching our previous two games. I was effective in both of those games, so I'm going to need to play at that level and higher for us to do better."
Are you excited to get back to playing against a more traditional team and defense, after seeing Phoenix and the zone?
"Yeah, it'll definitely be fun, but it'll be a defensive battle this series. It's going to be who's going to play the best defense [will win]."
That second game against Boston (Jan. 31) was one of your better games (19 points, 11 boards, two blocks). Have you gone back to look at what went well for you that day?
"I was getting into a lot better position, and was able to jump a little quicker and all that stuff that having the health plays with. Going into [this series] I'm just trying to be as healthy as I can, and as effective as I can."
How do you feel about the revenge factor from two years ago?
"It's a good opportunity for us to get one back. You never want to let that slip, and it's an opportunity for us to say we can beat these guys. Nobody can come up and say you guys can never beat Boston. Or you guys went to the Finals three times and they beat you twice. All that. We don't want to hear any of that, so it's a motivating factor for us."
Do you feel any motivation from the history and tradition of this rivalry?
"I know it means a great deal, but for me I'm more so worried about my own history. It's been a couple years since we played them, and they've beaten us so we're trying to get [it] back."
Are you having any pain now, after having the procedure done?
"Nah, because I have medicine in it right now. So, it's fabulous. (laughs)
How many minutes do you think you can give?
"I'm not sure. I'm out there for whatever they ask me to do. Any amount of minutes. You don't come this far just to say, ok, I can't go anymore."
You're waiting to see how this feels in a couple days, but does just the process of having it done help you mentally from a comfort perspective?
"I think that practice is going to be what kind of determines it for me, especially since I'll be running on it and cutting. It'll be a full, hard day."
If you had been full strength two years ago, do the Lakers win that series?
"We definitely have a better shot. Obviously Trevor was hurt also, but there's no way you can just insert yourself and say you would win."
Bottom line, Bynum is going to play. How well, I don't know, which is reasonable because he doesn't either. Hopefully Wednesday we'll know more, after he's completed a full practice. I would anticipate some fairly big swings in Bynum's performance over the course of the series, but even if he's only an important factor in every other game, it gives the Lakers something they didn't have in 2008. The trick will be in managing his minutes and monitoring his effectiveness.
The kid is determined to play, though. He's answered a lot of questions about his character over the last few weeks, demonstrating grit many wondered if he had... but only because he's injured again, strengthening the case for those who would like to move Bynum this summer (perhaps for a certain Toronto Raptor). Sports can be ironic.
Trade-or-no-trade is a conversation everyone can have later in June. For now, all eyes are focused on his now-drained right knee.