Four guys who'd probably make a lousy law firm -- generally speaking, at least one guy needs a degree -- but hopefully a solid round table panel to talk Laker-Celtics. With the NBA Finals just hours from starting, we tapped ESPNBoston.com's Chris Forsberg and TrueHoop's CelticsHub.com Senior Writer Zach Lowe to bounce around some questions and answers.
Lot of ground covered, so let's jump right into the discussion:
Andy Kamenetzky: Zach, during the regular season and early playoffs, the Celtics looked more "vulnerable" than "NBA Finals" ready. Clearly, something changed. From your perspective, was it physical, mental, strategical? All the above? Something else?
Zach Lowe: It's nothing completely off the wall, really. The team is trying harder and it's healthier than it's been since the start of the season (or at least until Rajon Rondo hit the floor hard against Orlando in Game 6 and Rasheed Wallace's back tightened up). The length of the regular season gave KG time to get his base under him and Paul Pierce time to recover from minor injuries suffered along the way.
The effort has also been demonstrably better. You can see it in the defensive rebounding numbers, where the Celtics transformed from league-average into an elite glass-cleaning bunch on that end. You can see it in the way they're forcing turnovers at a rate higher than any team in the regular season, a product of precise defensive rotations and focused anticipation.
Some of it might also be intangible stuff built up over the course of a season. Rondo, for instance, might not have been prepared to be the team's best player in May had he not grown into that role over the year.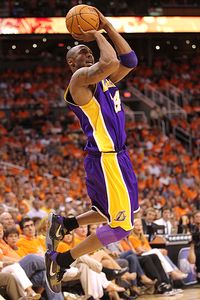 Ronald Martinez/Getty Images
Chances are, Kobe buried this jumper
against the Suns. Doing it in the Celts'
faces is a tougher proposition.
Whatever the reason, this Boston team is playing defense about as well as it did during the '08 title run. That brings me to my question for Brian: The Lakers' offense has been off the charts since the middle of that Oklahoma City series. I haven't seen any dramatic new wrinkle, other than Kobe migrating from the post a bit against the Suns. Am I missing something or are the Lakers just scoring more efficiently because of the opposition's weaknesses?
Brian Kamenetzky: I wrote a lot this season about how the offense wasn't championship caliber. Since Game 5 of the first round, the Lakers have been killing it. The trademark ball movement is back, and it looks like an offense again.
In the regular season, the Lakers averaged 105.9 points per 100 possessions (using Hoopdata's numbers). Starting with Game 4 vs. OKC, L.A. has exceeded that average in every game save one (Game 6 against the Thunder, on their floor). That's 10 straight above their regular season benchmark.
But it's often difficult to separate great play and the matchups creating it. No question, it helps seeing Utah and Phoenix in consecutive series. The undersized Jazz had no counter to L.A.'s size up front, and nobody to guard Kobe. Other than that, they were perfectly suited to the challenge. The Suns obviously don't have much size, and in Games 1 and 2 we learned they don't rotate well in man-to-man D. And while the zone helped neutralize L.A.'s advantage in the paint to some extent and cut down on layups, they hit a bunch of wide open shots.
Oh, and Phoenix didn't have anyone to guard Kobe, either.
Even if they did, I doubt it would have mattered. Kobe was absolutely unconscious against the Suns, posting perhaps the best statistical series among the 38 in his playoff career. Most of it was founded on jumpers. Some routine. Some tough. Some "How the *&)!*# did he do that?" When Kobe's that dialed in, the Lakers offense is almost impossible to stop. He's too good finding the open man (note the string of near trip-dubs), and obviously can punish single coverage. Add in the fountain-of-youth version of Derek Fisher and the always-efficient Gasol, and the whole operation has juggernaut potential.
Can I waffle and say both? They're better, and it's a reflection of matchups? Curious how it works against the Celtics. I don't think he'd have hit so many of those impossible jumpers against Boston. They need to get him catching in rhythm and moving in space. Kobe-Iso doesn't play against Boston.
Chris, how do you expect the Celtics to attack Bryant defensively? In four of the six games in '08, they made him extremely inefficient (38 percent shooting and below). Is the plan basically the same?
Chris Forsberg: The Celtics have thrived on the so-called "superstar defense" this postseason. It's not anything special, other than a conscious effort to force that player to settle for perimeter jumpers and contest everything. It's not even guaranteed to work all the time. (Dwyane Wade in Game 4 of Round 1, LeBron James in Game 3 of Round 2.) But the philosophy leans on one basic premise: Superstars do not get to the rim for easy buckets. Everything is earned, even if it means putting them on the foul line at times.
As BK mentioned, if Bryant is hitting the type of shots he did against Phoenix, I'm not quite sure what you do to combat that. Boston likely centers its game plan on stopping the supporting cast -- something it will undoubtedly focus on anyhow -- figuring Bryant can have his 40 points if no one else tops 15.
Honestly, I'd be surprised if it's anything more exotic than that. Celtics associate head coach Tom Thibodeau -- the team's defensive coordinator -- should probably commit to a head coaching job just in case Bryant goes off in full-on revenge mode and makes his schemes look silly. After all, it doesn't matter what you throw at superstars. They've seen every defense imaginable and they're superstars because they still find ways to score.
I will be interested to see how Bryant, and the Lakers as a whole, respond to Boston's physicality. We all know how that played out in 2008. And it sure seemed to rattle James in the Eastern Conference semifinals as he settled for mid-range and beyond over the final games of that series. When those didn't fall with any sort of consistency, Boston ran away with the series.
The other wild card is Tony Allen's health. He's nursing a sore ankle after a nasty twist in Game 2 against the Magic that slowed him for the rest of the series. Allen has been invaluable as a lockdown defender off the pine, taking some stress off Paul Pierce and Ray Allen.
Andy, if the 2008 Finals were played in 2010, "sag off" might be a trending topic as it was the catchphrase describing how Bryant and the Lakers defended Rajon Rondo. Given Rondo's development -- and assuming the bumps and bruises he's endured this postseason don't limit him -- what's the Lakers' best bet for defending him? And how exactly do they keep Bryant fresh this series? Is this when Artest really pays dividends?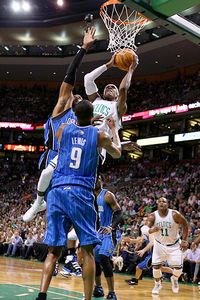 Elsa/Getty Images
If this guy spends a lot of time in the lane,
the Lakers could be in for a long (or
short) series.
Andy Kamenetzky: I'm actually quite curious myself. Rondo's skill set makes him the Lakers' most purely challenging cover, but Ray Allen never stops moving and forces you to constantly fight through screens, which might make him the most tiring assignment. Divvying Rondo, Allen and Pierce between Fisher, Kobe and Artest for the best combination of matchup/energy expended will be an interesting challenge for Phil Jackson.
I think Fish gets the majority of possessions against Rondo. For all the talk about Fisher's inability to stick speedy point guards, he's had series against three (Russell Westbrook, Deron Williams, Steve Nash) and except for Westbrook in transition, none made Fish a true "liability." He's having an fantastic postseason on both sides of the ball. As outstanding as Rondo's been, I believe Fisher can make him work. #9 will undoubtedly have a great series and one or two bananas games, but if he's reasonably contained, that's a victory.
Should Fisher struggle, Kobe would take Rondo, and I'm guessing this will be the look during crunch time even if Fisher succeeds. Odom may get occasional possessions using his length. Artest could also get a crack, but I'm guessing his "dividends" will come guarding Pierce or maybe Ray Allen.
Chris, back to you. Can you give an update on the Celtics' collective health right now? Who's hurting and what effect will these injuries have on the series?
Chris Forsberg: If the Celtics are hindered by injuries, Boston fans might look back at Game 4 of the Magic series and wonder what could have been. Not only would Boston have earned a nine-day vacation had Pierce not fumbled away the final possession of regulation (and the Celtics summarily bumbled away the game in overtime), but Boston would not have endured the carnage that followed in Games 5 and 6. Not to mention the technical foul headaches encountered by Kendrick Perkins.
A Celtics team that was essentially in perfect health, save for maybe Tony Allen's twisted ankle from Game 2 against Orlando, emerged with a football-like injury report and such household names as Oliver Lafayette and Tony Gaffney (wait, Lakers fans *should* know him) were wondering if they'd be pressed into active roles. Glen Davis and Marquis Daniels were concussed in Game 5, while Rasheed Wallace tweaked his back in the same game. In Game 6, Wallace left the court early in the fourth quarter, while Rondo developed his own back pain from landing hard while being fouled on a first-quarter drive.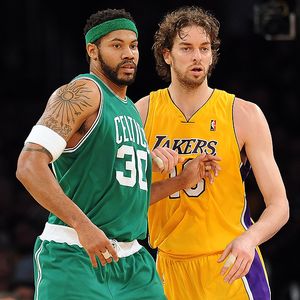 Lisa Blumenfeld/Getty Images
'Sheed's back may not be up to snuff, but
his mouth is ship shape.
Wallace appears to be the only one Boston is truly concerned about as Game 1 approaches. He was held out of practice -- save for non-contact skeleton work -- on Monday and Tuesday and it's always worrisome when 35-year-olds develop back issues. That said, I'd be surprised if Wallace wasn't his normal self by Game 1. Maybe looking a step slow -- that hasn't been unusual this year -- in everything but barking at officials, but also doing the little things veterans do to help teams win titles.
Rondo deemed himself at 67 percent Tuesday and admitted he wouldn't reach 100 percent before Thursday's Game 1, but he promised to be around 94.7 percent ready to go. That's about as good as you can ask for this time of year.
Keep an eye on Tony Allen. His injured ankle is the single biggest storyline no one is talking about. The Celtics need him as that Posey-like defensive stopper off the bench, but he's seemingly been struggling at both ends since the injury.
Perkins is battling a sprained right wrist, but he appears to be fine. He's gotta worry about technicals more than anything else. Regardless, already thin on depth, Boston desperately needs to maintain its health in order to be successful in this series.
BK, what's the Lakers' injury status? How bad is Bynum's knee? Besides Kobe, is there one guy the Lakers absolutely cannot afford to be without this series?
Brian Kamenetzky: We're not going to see Oliver Lafayette? Why'd I spend yesterday talking to his old coach at Houston for my scouting report? There's four hours I'll never get back.
Anyway...
The Lakers, save Bynum, are as healthy as reasonably expected. Not 100 percent, but pretty good. Kobe's knee is either healing or he went down to the crossroads and sold his soul to the devil, Robert Johnson style. (I'm going with the former, if only because in this intense media age someone would have been there with a camera.) Everyone else is in decent shape.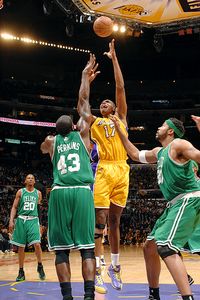 Noah Graham/NBAE via Getty Images
Andrew Bynum's presence could radically
alter the series one way or the other.
But Bynum is quite a wild card. He had the knee drained on Monday- 70cc's of yellowish, gooey fluid goodness that's already returned- and it remains to be seen how he'll hold up through the Finals. In the two regular season games, Bynum was a factor, and the Lakers need that again. An effective Bynum changes how Boston defends Gasol, where Odom can roam, and limits the need for guys deeper down the roster to see meaningful minutes.
He's highly motivated to perform well, but will the knee let him? My guess is game-to-game there won't be much consistency, but Bynum will have a couple (at least) where the Celtics must account for him.
As far as the guy they can't lose? There's Kobe and Gasol (who can't be "lost" literally or figuratively). But I'll go with Artest, who allows the Lakers to account for Pierce at all times without having to put Kobe on him for significant stretches. Fish and Kobe can deal with Allen and Rondo, a much better option than turning to Sasha Vujacic or Shannon Brown.
Zach, I'm curious about the perception of the Lakers in Boston and among the Celtics. Are they still seen as soft? Do you buy it?
Zach Lowe: I've been trying all week to convince Boston fans this is not 2008, because a minority truly believe the Celtics will just out-tough the Lakers again. That the Lakers will inevitably crumble as long as Boston plays with peak effort, intensity and physicality.
I (mostly) don't buy it. Two years have passed. The Lakers have grown as a team, Gasol has grown into himself and Bynum and Artest are playing minutes that went to Vladimir Radmanovic, Luke Walton and others last time around. I also think -- and this is based on no inside knowledge at all -- that Garnett's intimidation factor has dropped since 2008. After all the knee injuries, I don't think opponents fear him the way they used to.
All this said, the Lakers are about to do something roughly equivalent to facing the worst, meatball-throwing pitcher in the majors 10 times in a row and suddenly having to face Tim Lincecum every game for the rest of the season. The Lakers have not faced a defense that combines Boston's height, length, nastiness and overall ability since... when? Oklahoma City comes close, but the Thunder don't have Boston's interior presence.
Boston, of course, knows this, and you can safely assume they are eager to send a message right away the Lakers aren't facing any "girlie zone" anymore. There are some in Boston who think the Lakers will hear that message and be shaken. The sense I get is most fans expect a strong response from LA this time.
Brian and Andy, you guys have watched this team all season. Do you think they are ready for this sort of physical challenge and are fans confident the Lakers can hit back? Or have LA fans always dismissed the "soft" notion in the first place? After all, the 2008 series was pretty damn close until Game 6.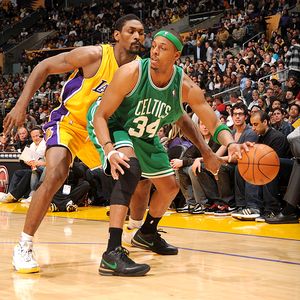 Andrew D. Bernstein/NBAE via Getty Images
It's hard to call any team with Ron Artest
"soft."
Brian Kamenetzky: Totally agree about KG. The injuries have hurt his physical skills, and he's tried to compensate by cranking up the crazy. As a result, he's still effective as a player, but has entered into self-parody.
As for the Lakers, I think they're ready- or more ready than in '08. They're proven themselves capable of playing games down in the mud, and won't be surprised by what the Celtics bring. Certainly swapping Vladdy for Artest increases the tough factor. It's funny you bring up the "soft" theme. I've always thought it was overblown. Not trying to crack skulls doesn't make a team "soft." The Celtics won because they were better, and you're right that Game 6 tends to leave people thinking the series was more lopsided than it was.
I'm just curious to see if the Lakers come out and try to overcompensate, just because they've heard all week about the toughness issue.
Andy?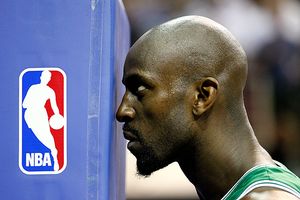 Kevin C. Cox/Getty Images
Does KG still strike fear in the hearts of
ballers?
Andy Kamenetzky: I concur on all counts. Beyond the self parodying aspect, I think Garnett's "tough guy" act is less effective because over the last couple of years, he's come off like a schoolyard bully who only picks on smaller kids. Jose Calderon. Jerryd Bayless. However, when Odom gave KG that sarcastic ass slap last year, he got in LO's face, but didn't appear nearly as geeked at going literally nose to nose. He threw an elbow at Quentin Richardson during the first round, but also looked like he wanted no actual piece of Q, because dude's pretty flippin' tough. Like Chris, I have no "insider's knowledge," but it feels like KG's been exposed along these lines.
No question, the Lakers' first instincts aren't overly physical. It's just not their style, save Kobe, Fisher and Artest. But at the same time, ask Gerald Wallace's ribs about Bynum's penchant for hard fouls. Odom covets scrappy games. Shannon Brown and Jordan Farmar aren't pushovers. Vujacic is high strung enough to embarrass a chihuahua, but doesn't back down. And for all the "Gasoft" talk, if you push his buttons, he'll react. There will be times Perkins knocks him off a spot, but Perk's an outstanding post defender and a horse. There's a difference between getting overpowered and assuming the fetal position.
Bottom line, you don't reach the Finals three consecutive years playing like ballerinas.
Okay, prediction time. Fire away!
Brian Kamenetzky: In 2008, I looked a lot at momentum, figuring the Lakers offense would be good enough to neutralize Boston's defense, while an underrated Lakers' defense could stop Boston's O. I didn't pay nearly enough attention to the matchups. Explains why my "Lakers in something" (I don't remember the exact number) didn't work out.
This time around, the series seems on its face tough to call. Two solid defensive teams playing well at the right time. But in the sequel, I like how the Lakers match up more. Bynum will play, and even if not 100 percent, he changes how the Celtics defend the post and the manpower they can throw at Gasol. Artest is a huge factor not just because of what he can do against Pierce- I think there will be at least a couple games where his impact is massive- but because it strengthens L.A.'s defense against Boston's backcourt. Fisher and Kobe can focus on Rondo and Allen, with the reserves mixing in only as needed. No need to have Kobe rotate down to pick up Pierce at the three.
KG isn't quite the Garnett of two years ago, and Gasol is, I believe, a better player. He knows a lot rides on this series as it relates to his reputation. For that matter, Boston's D isn't quite what it was two years ago.
And the Lakers have Kobe, home court advantage, and a giant chip on their shoulder.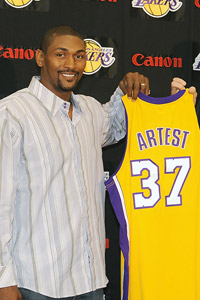 Andrew D. Bernstein/NBAE via Getty Images
Ron Artest came to L.A. For a ring.
Will he get one?
Put it together, and I think it'll be Lakers in six.
Chris Forsberg: Celtics in 6: After watching them dismantle Cleveland over the final three games of the conference semifinals, I vowed, when healthy, never to bet against these Celtics again. Given the fact injuries appear to be less of a concern than they did at the start of the week, I think the Boston steals one of two in LA, wins two of three at the Garden, and clinches it in Game 6.
The series ends with a big ol' group hug between the Big Three, Doc Rivers, and Thibodeau -- doing their best to impersonate the hug between Bill Belichick, Charlie Weis, and Romeo Crennel, when New England's coordinators left for head-coaching jobs after a Super Bowl victory. Doc ponders riding off into the sunset with two Larry O'Brien trophies in tow, but ultimately returns; Thibs heads to New Orleans for his much-coveted head coaching job; Ray Allen enters the free-agent fray and signs elsewhere for one final big contract; Garnett announces a surprising retirement; and Pierce opts out, only to return at cheaper money in order to sign Dwyane Wade, giving Boston a nucleus of Pierce-Rondo-Wade-Perkins to build around.
OK, so that doesn't actually happen. But led by Rondo's MVP performance, the Celtics do win this series and do ponder big offseason changes to get younger. If Rondo is somewhat average in this series -- or limited by bumps and bruises -- then LA's depth is too much to overcome. But Rondo seems poised to ascend to leader of this ball club and what better way to take those reins.
Commence the: "This guy's a homer!" chatter.
Zach Lowe: Wow, Chris. You really had me going there with the Pats-style hug and the surprise KG retirement and Wade signing.
The pick (gulp): Lakers in six. I could just as easily have gone Lakers in seven, because I think this series is a true toss-up, but I feel like "Team X in seven" is the cop-out pick if you can't make up your mind. Understand: If Boston wins this series in five games, I won't be surprised.
Why the Lakers, then? First, they are the most mentally together team Boston will face. The Celtics beat a Cleveland team with key parts still learning to play together in May, an obvious (in retrospect) no-no. They beat an Orlando team fragile until Game 4 and uncertain about what style it wanted to play.
These Lakers know who they are and how they should play.
They've been an elite defensive team all season, and re-discovered their offensive brilliance in the playoffs. The latter will take a hit against Boston's ferocious defense, but the Lakers, more than the Celtics, possess the potential to play a complete basketball game. They also take care of the ball, which is crucial against Boston. Toss in home court advantage and put a journalistic deadline to my head, and I'm going with LA in six.
Just don't be surprised if it's Boston is five, six or seven.
Andy Kamenetzky: The Lakers will return the favor from 2008. Even hobbled, Bynum makes it more difficult for Boston to take paint ownership (particularly if Perkins eventually gets suspended over T's, which could happen). Gasol's toughened since 2008, and KG's gotten a little older. The regular season can mislead, but Artest owned PP did in two regular season games. And while he obviously won't abuse the Boston's D like Phoenix's and Utah's, Kobe's playing at the highest level of anyone taking the court. Plus, four games at Staples.
The Celts are no walk in the daisies and can push this thing to the edge. But if you could pick one player in a Game 7, who would you want? I'm guessing it's Kobe and he plays for the Lakers. There you have it. Even if Zach says "7" is a cop out.