In conjunction with our tag-team partners at ESPN Boston, each coast has come up with five ways to beat the other team in this year's NBA Finals. To break down the best ways to defeat Doc, KG, Pierce and Co., we welcome Chris Forsberg, who covers the Celtics for ESPN Boston. (For my report on how to beat the Lakers, click here...)
--By Chris Forsberg, ESPNBoston.com: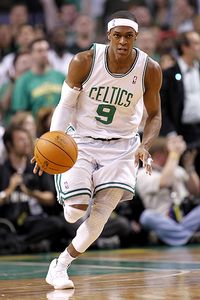 Greg M. Cooper/US Presswire
Looking for a way to beat the Celtics? Start by not allowing Rajon Rondo to run the floor in transition.
Hello to all the Lakers fans searching for Boston's kryptonite. The Celtics have lost 37 games since the start of the 2009-10 regular season, so figuring out a way to beat them shouldn't be too daunting a task, right? Then again, no team has been able to do it consistently when it's mattered most this postseason, so maybe it's not as simple as it seems.
Here's my best effort at game-planning against the Green:
1. Make shots, limit transition
At the risk of oversimplifying matters, the easiest way to beat Boston is to make baskets. I know, I know, some expert analysis right there, but it's slightly more complicated than just scoring points against the Celtics.
Though that doesn't necessarily hurt. After all, Boston is 12-1 when allowing fewer than 100 points this postseason but 0-4 when an opponent tops the century mark.
But more important is how limiting misses prevents Boston from getting in transition. That doesn't particularly bode well for a Lakers team that has allowed 16 transition points per game this postseason, the second most in the 2010 playoffs (only the Heat were worse at 19.3 points per game and we all know what the Celtics did to them).
According to the wizards at ESPN Stats & Information, the Celtics generated 13.5 percent of their plays in transition this postseason, the second highest of all postseason teams. What's more, Boston shot 56.5 percent and scored 15.1 transition points per game.
Shooting a high percentage -- or at least cleaning up on your misses -- prevents Boston from running, which limits the easy baskets the Celtics can generate.
Boston, a team that prides itself on defense, also has a habit of getting frustrated when it doesn't generate stops. That usually carries over to the offensive end, where the Celtics can be particularly stagnant in a half-court set and settle for so-called "hero" ball where players often take ill-advised shots trying to produce an offensive spark. All it typically does is fuel the opposing team in transition when shots don't fall.
2. Instigate, don't retaliate
By now you've no doubt heard the Lakers are soft, right? Don't believe the hype quite yet. If nothing else, Los Angeles grew a thicker skin after the 2008 series and the roster moves it made since then added toughness to the team.
So while Boston is known for its old-school bully ball, the Celtics are also easily excitable. Just look at the 21 technical fouls they've racked up during the postseason.
Six of those belong to Kendrick Perkins, who seems destined to miss at least one Finals game when he reaches the NBA suspension threshold of seven. Given the chippiness that existed during the two regular-season meetings, it seems impossible that Perkins can be himself under the basket and not pick up at least a couple double technicals for jockeying with the Lakers' revamped frontcourt.
But he's not the only one Los Angeles should aim to rile up. Kevin Garnett and Rasheed Wallace have four technicals apiece and are prone to implosion. Heck, Garnett damn near tried to snap Dwight Howard's arm in half during the first half of Game 6.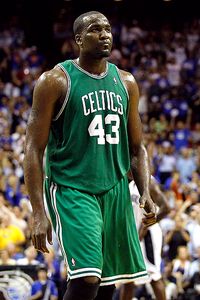 Kevin C. Cox/Getty Images
Kendrick Perkins, one T away from a one-game suspension, isn't the only Celtic with ruffle-able feathers.
But it doesn't even have to be technical fouls to ruffle Boston. The Celtics struggled when Orlando and Cleveland were able to get the Green in early foul trouble, and that included bigs and guards alike. Boston simply doesn't boast the depth to compensate for being without its starters for prolonged stretches.
3. No "sagging off" on Rondo
Two years ago, the Lakers challenged Rajon Rondo to beat them with his jump shot. He couldn't do it consistently. That meant the Lakers could put Kobe Bryant on him and allow Bryant to roam freely on defense, doubling when necessary and saving some of his energy for the offensive end.
It won't be that simple this time around. Rondo is the breakout star of the 2010 playoffs with the way he's fueled the Boston offense, particularly in the pick-and-roll.
Need proof? Let's look at the numbers from ESPN Stats & Information.
In 2008, the Celtics utilized Rondo as the main ball handler in the pick-and-roll an average of 5.2 plays per game, shooting 44.7 percent, while generating 4.7 points and one assist per game out of that set.
This year, Boston has leaned on Rondo in that situation 11.7 plays per game, shooting 50.6 percent, while generating 11.9 points and 2.7 assists per game.
Heck, Rondo's making an impact just being on the court. In the 703 minutes he's logged through three rounds, Boston is plus-98, or plus-6.7 points per 48 minutes. In the 118 minutes he's been on the bench, the Celtics are minus-8 overall, or minus-3.3 per 48 minutes..
So how do you combat this? The Lakers would be well served to take a page out of the Magic's playbook and run Rondo ragged defensively by forcing him to battle through staggered screens. That'll at least chip away at his energy at the other end of the court, where Los Angeles needs to foul him -- and foul him hard, yet clean -- each time he goes toward the rim.
4. Help! I need somebody
Part of the reason Boston has been so successful through three rounds is that it has not had to double team often. We saw this most notably in the Orlando series, where Perkins' ability to cover Dwight Howard 1-on-1 allowed his teammate to stay at home and contest perimeter shots.
It will be interesting to see if Boston can resist the double-team against Bryant. During the 2008 series, it seemed the Celtics were not afraid to slide a second body in Bryant's direction, but his supporting cast rarely did enough to make Boston pay. That's gotta change this time around as the Celtics' basic philosophy with superstar-led teams is to force those extras to play starring roles.
Los Angeles certainly has the horses to do that now, especially if Andrew Bynum remains healthy, affording the Lakers the luxury of bringing the likes of Lamar Odom off the bench. Boston can't match that depth and it forces the reserves to really pick up their defensive intensity.
5. Get downright offensive ... on the glass
Celtics coach Doc Rivers conceded Monday that the key to this series is likely to be rebounding and whether Boston can figure out a way to neutralize the Lakers' length in that revamped frontcourt.
Rivers noted that Boston boasts a player like Glen Davis who can use his wide body to box out, but he doesn't have the leaping ability to contest for those high-bounding caroms. It might actually be on the players like Paul Pierce, who thrives so much when he's rebounding, to fall back and collect boards with the bigs focused on putting a body on their man.
Second-chance points are one of those little categories that can make the difference in a series like this.
"They're long and they've been dominating teams on the offensive glass," said Rivers. "Talking to a couple players from Phoenix, that's the first thing they said: Rebounding. [Los Angeles] shot until they made it [against the Suns]. They've won two games on offensive rebounds already in the playoffs. We have to be even better than what we've been if we want a chance to win this series."