Second verse, not quite the same as the first...
Click below for the full breakdown and postgame video...
ONE MOMENT
With 5:18 remaining in the third quarter of Game 1, Boston's Rajon Rondo found space in the paint, drew the defense, and flipped a nifty pass around a defender to Kendrick Perkins, who laid it in. This on the heels of a Kevin Garnett jumper with a Kobe Bryant turnover sandwiched in between. A 13-point lead for the home team was quickly cut back down to nine. Still comfortable, but after the Game 4 collapse two seasons ago, I'm fairly certain Lakers fans worry consecutive buckets from Boston marks the beginning of the end.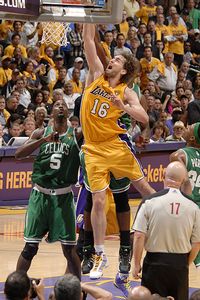 Andrew D. Bernstein/NBAE via Getty Images
Pau Gasol was a force in Game 1 of the NBA Finals, and answered a lot of questions about his character in the process.
To this point in the quarter, Kobe already had eight points, and as the Lakers brought the ball back down the floor looked like he was going for 10. He probed against Tony Allen, drawing attention from a few other Celtics in the process. I thought he was going to force a shot, and probably wasn't alone. Instead, he dumped the ball into Pau Gasol on the right block, matched up against Garnett. With a subtle move, Gasol put KG on his right shoulder, then spun left and hit the baby hook. On L.A.'s next trip, Kobe was doubled on the right wing, and hit Gasol as he sliced through the paint. Pau's initial shot missed. He reached up for the tip. No good. He tapped the ball back to himself, gathered, and scored.
The lead was back to 13.
Thanks in large part to Game 6 -- you know the one to which I'm referring -- the ability of the Lakers to handle Boston's physical onslaught was a major theme of pre-Finals analysis. Oklahoma City was tough defensively, but lacked interior heft. Utah had Kyrylo Fesenko and Kosta Koufos. The Suns had a zone. How would any of that prepare them for the Celtics and their bullying? (After the build up, I expected Perkins and Garnett to walk on the floor with brass knuckles and rebar while Rasheed Wallace came off the top turnbuckle with a steel chair.)
But let's be honest: Nobody was questioning Kobe's toughness. Nor Derek Fisher's, and certainly not Ron Artest's. The guy in the crosshairs was Gasol, and in a span of 24 seconds he demonstrated a serious intention to erase the stain of 2008 (and, for good measure, show tonight's version of Garnett will have problems guarding him without help).
Gasol was hardly the only Laker who made a positive contribution. Kobe continued his postseason hot streak with 30 points, including 10 trips to the line, six assists and seven boards. Artest fought foul trouble, but was reasonably effective against Paul Pierce when he was on the floor, and scored 15 points of his own. But for Gasol, to play so big in Game 1- not just with 23 points on 14 field goal attempts, but eight offensive rebounds (14 total) and three blocked shots- quickly removes one perceived weak spot in the Lakers' attack.
Phil Jackson sees a different Gasol now than the one from '08. "[It's] just the little actions that represent not backing down, getting hit, taking the blow, absorbing it, not reacting to it one way or the other with the mentality to look at the referee," he said. "Those are the things he's learned in the last year-and-a-half or two."
Gasol rejected the notion he was trying to make a statement on a personal level- "For me, it was important just to play hard, be aggressive, and help as much as possible out there, and win the first game. That was my mindset," he said.
I don't entirely believe him, but it doesn't matter. Doc Rivers said it for him.
"I thought he was the best player on the floor at times. I thought he made terrific plays, terrific passes, shot when he should shoot. Yeah, he's better [than in 2008]. He's more aggressive," Rivers said. "Listen, if you heard for two years what you couldn't do, you're probably going to come in and try to prove [yourself], and I thought Gasol proved a lot tonight."
--Brian Kamenetzky
FINISHING STRONG
Coaches always point drive home the importance of ending quarters strong. While the Lakers aren't a disaster in this area, they still fight the tendency to let down, too often undoing ten minutes of quality work with a bad final two.
Not in Game 1.
Thursday night, over the final three minutes in the first three quarters the Lakers were +19. In the first, two freebies for Kobe combined with driving layups from Jordan Farmar and Shannon Brown helped turn a tie game into a five point Lakers lead. Before the half, Artest buried a three, then finished in transition off a Fisher steal. Kobe popped in a layup before Fish nailed a floater in the lane, all helping push a four point lead to nine at halftime (and it would have been 11 had Rajon Rondo not hit a tough step back jumper at the buzzer).
In the third, the Lakers basically put the game out of reach, ripping off an 11-2 run over the last 3:03. Again, it was heavy doses of Fish, Kobe, and Pau.
It was another good sign for the Lakers, indicating the sort of discipline and focus with which they played, despite having to juggle the rotation early because of foul trouble.
--BK
30 MORE FOR KOBE
For the 11th time in 12 games, Kobe Bryant hit the 30 point mark. He was particularly large in the decisive third quarter, scoring 14 points on five-of-seven from the floor, plus four more points off four free throw attempts. Through three, Bryant was nine-of-16 shooting (he'd finish 10-22, thanks to a cold final quarter). Against a Celtics team that held him to 38-percent shooting and below four times in seven games back in '08, it was a very good start.
Importantly, Kobe had help from around the roster. Even if they're not as good defensively as they were two years ago (and they're not), Boston is still very good on that side of the ball. If he doesn't get support, Boston can effectively use their overloads against Bryant, forcing him into tough, perimeter shots. Tonight, he was able to get to the rim a lot more than he did against the Suns, and overall degree of difficulty in his shots wasn't nearly as high as those he threw down to help eliminate Phoenix.
Again, more quality signs for the Lakers.
--BK
BIG NUMBERS
11: The overall rebounding discrepancy in favor of the Lakers. The gap actually hit 17 after three quarters before the Celts out-rebounded their hosts 14-8 during a mini-push late in the game. But 12 minutes out-glassed can't diminish how decidedly L.A. crushed on the boards. No greenie even reached double figures individually.
Pau Gasol deserves mucho props for his yeoman's work in this particular department. Dude was a monster, collecting 14 rebounds in all and matching Boston's entire offensive rebounding count (eight) by his lonesome.
Which leads to another number...
0: The number of second chance points for Boston. Zilch. Nil. Seven field goals attempted on an additional, none successful. You are not going to win many ball games like that. "Zero" might also describe the inches on Kevin Garnett's vertical leap. This relates to the second chance points issue, since his failed putback attempts were pronounced and painful. Even as the "enemy," I wouldn't be surprised if at least a few Lakers fans were a little sympathetic watching a potential Hall-of-Famer with a passion for the game struggle so badly around the rim.
1: During the fourth quarter, the Lakers were outscored by 7 and saw a 20 point lead fall down to 11 with just over four minutes remaining. While I'm sure fans flashing back to the Game 4 meltdown in '08, the Lakers never flirted with disaster on even remotely the same level. Slippage may have reared its head, but the Lakers never lost control of the game... or the ball. Only one gaffe, and well over ten minutes had passed before the transgression.
As always, when things aren't clicking, turnovers are often the key difference between mistakes killing and a mild element of suspense.
10: The Celtics' percentage from behind the arc. Shout out to 'Sheed Wallace for hitting the team's lone triple.
10 (again): The Lakers' grand total of three-pointers. Five alone were taken by Ron Artest, who canned a trio's worth. That the Lakers rounded out the night at a solid 40 percent mark is secondary in my mind to their judiciousness in launching them to begin with. A statement --not to mention a reflection of a game plan- was made in the way Boston's basket was attacked all night.
--Andy Kamenetzky
BIG QUOTES
Rivers, on L.A.'s aggression: "I thought the fouls were called because they were more physical. I thought the Lakers were clearly the more physical team today. I thought they were more aggressive. I though they attacked us the entire night, and you know, I've always though tht eteam that is the most aggressive gets better calls. That's just human nature... They killed us on the glass."
Rivers, on Boston's defense: "It was horrible. I thought we hugged up on guys all night. That wasn't our defense tonight, I can tell you that. Give them credit, they moved the ball, they spaced the floor very well. But we didn't shrink the floor tonight."
Gasol, on controlling the paint: "We did a good job tonight on getting to the paint and finishing and being aggressive and understanding what kind of defense they play. So we've got to continue to do that. I think we continued also to do a good job rebounding the ball. We've given ourselves a really good chance to have second-chance points, control the rebounding on the defensive end."
Kobe, on the bench: "Our bench came in and did a great job. Really sparked us, particularly at the end of the first quarter. Really turned things around for us. Going into halftime, as well, they did a good job for us."
Kobe, on L.A.'s high point total: "Yeah, that was surprising. That's not something that we were hanging our hats on, to score 100 points. We hang our hats on defending and rebounding."
Glen Davis, on the rebounding disparity and more: "We've got to have the will to get the offensive rebounds. We've got to have the rebounds, point blank, and we didn't do that. That kind of dictated the game, and points in the paint-they've been doing a really good job of that since the playoffs started. We've got to stop that. Our bigs- we're capable enough of doing that. We just didn't do that tonight."
VIDEO
Kobe Bryant:
Pau Gasol:
Ron Artest, ESPN postgame video:
More from Artest about the victory:
Artest, on his first NBA Finals:
Shannon Brown, on the win:
Derek Fisher, on the win: