A lot went right for the Lakers 0n Thursday night in Game 1. The box score was pinata-stuffed with any number of sweet, delicious numbers as the purple and gold dominated the action. It was a great effort from L.A., surprisingly flaccid from Boston. Math and history favor the Lakers at this point. 73 percent of the time, the team winning Game 1 of the Finals wins the title (46-17). Combined, Phil Jackson, Derek Fisher, and Kobe Bryant are 17-zillion-and-0 when winning the first game of a series.
Put it together, and Sunday's Game 2 becomes a mini-Game 7 for Boston. If the Lakers win today, history says they'll have no worse than a 3-2 edge coming back to Staples for Game 6, since rarely does a team in a 2-3-2 take all three of its home games.
Can the C's turn the tide? Below are five prominent storylines from Game 1, and my thoughts on how they'll play out tonight.
1) Game 1: Pau Gasol badly outplays Kevin Garnett.
What happened: The numbers from Game 1 overwhelmingly favored Gasol. 23 points vs. 16. Eight-of-14 vs. seven-of-16. 14 rebounds (eight offensive) vs. four (two offensive). It was a major change from Game 1 in '08, when KG was the much more productive player (bearing in mind Gasol saw a lot more Kendrick Perkins in the first series). But beyond the stats, Gasol made Garnett look old and slow when matched together on the block, the kind of player who had lost a bit of explosiveness.
What's coming: Gasol chided the media Saturday for skewing his comments in an effort to create controversy, but to quote the great modern poet Stephon Marbury, the cat is out of the bag. He can't take the comments off KG's mental bulletin board if Garnett already tacked them up. If KG rebounds (metaphorically and literally) this evening, many analysts will point to the "smack talk," as a big reason. I'm not buying it. Given the context -- it's the Finals, and he was just badly outplayed -- I'm pretty sure Garnett would have buried the needle on his motivation meter whether Gasol said anything or not.
PREDICTION: There's no earthly way Garnett finishes Game 2 with only four rebounds. Expect Garnett to close the gap production gap, but because he improves, not because Gasol falls flat. Keep in mind, the Lakers are 9-1 this postseason when Gasol cracks the 20-point barrier.
2) Game 1: Kobe Bryant continues his incredible playoff production.
What happened: 30 points, six assists and seven rebounds in total. He was particularly dominant in the third quarter, going off for 14 points, helping the Lakers balloon a nine-point lead to 20 going into the fourth. Through three, Bryant was a very efficient nine-of-16 from the floor, and earned eight free throw attempts. He broke down Boston's defense with dribble penetration, getting to the rim and creating points for himself or others while opening up the offensive glass as the Celtics were forced to rotate off their men inside and contest. He created serious foul problems for Allen's Ray and Tony (three personals each by halftime).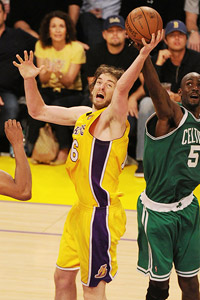 John SooHoo/NBAE/Getty Images
If the Lakers continue to dominate the glass, there's a good chance they go back to Boston up two games to none.
It's fair to call Kobe's Game 1 productive.
What's coming: It was Bryant's 11th 30-point game in his last 12, the outlier being an impressive 13 assist effort in Game 2 against Phoenix in the Western Conference finals (just this one time we'll let it slide...). Remarkably, not once in any of those big scoring outbursts did Kobe's field goal percentage drop below 44 percent. He's not living off the results of high volume shooting: Dude's in the zone.
Until he cools off, I'll assume another great game is coming. The key may be Gasol and Andrew Bynum in the post, because respect for their ability helps slow Boston's rotations on penetration and makes it more dangerous to consistently throw bodies at Bryant. Friday at practice, there was chatter of Boston moving Ray Allen (beyond the aforementioned foul problems, Kobe was six-of-seven when matched against him, four-of-15 against everyone else). Paul Pierce is a bigger body, but defending Kobe is a team operation, and unless Boston's collective D picks up, he'll burn them again.
PREDICTION: Another good night for Kobe. Over 30 points, no worse than 45 percent from the floor.
3) Game 1: The Lakes beat up the Celtics on the glass.
What happened: Led by Gasol, the Lakers went into the fourth quarter with a 34-17 advantage in total rebounding (Boston would close it some in the fourth, but the damage was done). They generated 16 second chance points off 10 offensive rebounds, taking advantage of opportunities when the Celtics left the weakside glass open. With the Celtics unable to hit from outside (one-of-10 from downtown), the Lakers had less space to cover defensively, making it easier to slow penetration and box out.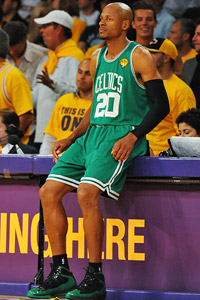 Garrett Ellwood/NBAE/Getty Images
Ray Allen spent far too much time on the bench with foul trouble. At least here he made it to the scorer's table.
What will happen: Gasol's 14 rebounds equaled the combined totals of Perkins, Garnett, Rasheed Wallace, and Glen Davis. That won't happen again. With 12 offensive boards the Lakers generated 16 second chance points, while Boston had none -- another gap almost certain to close. It'll help for the Celtics to get Rajon Rondo into the paint more, where he can break down L.A.'s defense, and also to keep Allen on the floor.
PREDICTION: This is do-or-die time for the Celtics. Passivity isn't an option. Expect them to close the rebounding gap considerably.
4) Game 1: The Celtics are severely limited from downtown.
What happened: Allen left the game with foul problems early, and the Celtics' perimeter game never recovered. Allen was zero-of-two, Pierce zero-of-four.
What will happen: Even with the bad night, the Celtics remain tied for third in postseason three-point percentage (37.4), and they've averaged nearly 16 a game, almost a third coming from Allen. Simply put, they have to keep him on the court. While the Lakers, and particularly Kobe, have a say in the matter, it's the officials who play the biggest role. With 54 personal fouls called in Game 1, Allen was just one of many players caught in the crossfire.
PREDICTION: The Lakers consistently held down Phoenix, a more prolific team from downtown, in the conference finals. They were the best team in the league defending the three in the regular season, and have actually managed to improve in the postseason (31.9 percent vs. 32.8). Boston will make more than one triple, but don't expect them to go off.
5) Game 1: The Lakers won the game.
What happened: All the stuff you read above.
What will happen: I noted in our newest podcast how disappointed I was in Boston's performance Thursday night. I was hoping for, expecting really, a very tight, very intense game. Instead, the Lakers dominated. Equally interesting in many ways, but as a basketball fan a bit of a let down.
Tonight, it'll be a much closer battle as Boston tries to preserve any realistic chance of winning the series, tight into the fourth and down the stretch. I'll be watching to see if Boston's offense can recover. Some still don't like to think of L.A. as a defensive oriented team, but they are. Boston has to figure out how to push their point total into the high 90s, perhaps beyond.
And despite expecting better games from Garnett and Allen, I don't think it'll happen.
Lakers take Game 2.