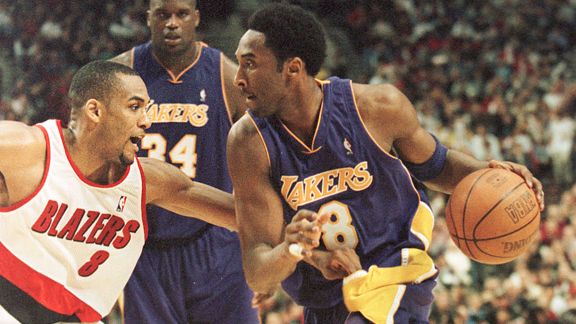 Otto Greule/ALLSPORT
Kobe Bryant drives past Steve Smith in Game 3 of the 2000 Western Conference Finals at the Rose Garden.
"He kind of played fast, which at my age then was much faster than me. He didn't have to. I think he did things back then where athletically, speed wise, it made the game harder for himself. He really didn't take advantage of all a guy's weaknesses, he just played at his pace and played the way he wanted to play. Now you take him, he's still athletic, still very good, and now you add strength, you've added a jump shot, which he's always had but added more range. Now it's scary, he's added a post game... For me, knee injuries forced me to start posting up. There's nothing he's doing that teams are forcing him to do. What he's doing is choosing to have in his career the longevity and play at a high level. I've always said to myself and to other people and friends, if he'd had his post game four or five years ago, this would have been scary. But he didn't have to, because he did so many other things so well. I think those couple years where the Lakers were kind of down, he was getting beat up a little bit and getting a little frustrated. Now you're keeping him with this kind of talent around, the longevity for Kobe Bryant, staying at this level, it's scary for the rest of the league."
More Evolution of Kobe Bryant:
--Steve Smith, 14 year NBA veteran, is now an analyst with NBA TV. He battled Kobe Bryant repeatedly in postseason action as a member of the Blazers and Spurs.