With the NBA Finals sitting at a 1-1 split, Game 3 offers the chance for either team to regain pole position. What lies ahead remains a mystery, in particular because the folks listed below haven't performed consistently, but remain capable of shifting the series in either direction. And so begins today's installment of "Five Things (People) To Watch."
1) Which Ron Artest will show up?
When the Lakers signed Ron Artest last offseason, some wacky behavior with the ball in his hands was understood to be a given; the cost of doing business with Ron-Ron. But generally speaking, it's been a season filled with capital gains, thanks to moments of offensive prowess and a relentlessly effective brand of defense.
In Game 2, however, Artest left the Lakers bankrupt with as disastrous an effort as we have seen in Laker Land since the days of trying to develop Kwame Brown into a low post threat.
One-for-ten from the field. One-for-six from behind the arc. By my recollection, at least one airball. Five missed free throws in eight tries. Three turnovers, including a costly one late in the game. An absurd amount of over-dribbling, lowlighted by a display bizarre enough to inspire a "Benny Hill" treatment from Hardwood Paroxysm's Rob Mahoney.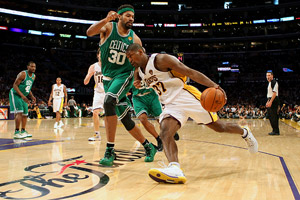 Christian Peterson/Getty Images
WAYYYYYYYYY too much of this during Game 2, Ron-Ron.
As a general rule of thumb, when your actions warrant "Yakety Sax," unless there's a shrimp involved, you have not done glorious work.
Phil Jackson suspected this meltdown, deemed "one of the more unusual sequences" he had ever seen, was the result of Artest seeking redemption after the previously referenced fourth quarter turnover . Those who remember Game 5 of the Western Conference Finals may recall Artest similarly making up for a bad free throw line jumper with an even worse three-point attempt.
Of course, he eventually played hero with a game-winning offensive rebound and putback. But even more significantly, Artest torched the Suns in the following game. His 26-point effort came on the heels of a rant about feeling disrespected by Phoenix's game-plan of luring him into bad shots. There were concerns Artest's emotions might prompt him to do just that. Instead, he was prolific without being a gunner and helped the Lakers punch their ticket to the Finals.
The point? Artest may sometimes be destructively unpredictable, but he is also capable of playing sensibly, even intelligently.
The onus is on him to keep his head screwed on.
2) Which Lamar Odom will show up?
With his current averages of four points, 4.5 rebounds and just one assist, you could say LO has yet to show up for the NBA Finals. With 10 fouls in just 36 minutes of play, you could also say LO has yet to receive his invite. Is Lamar not doing enough to adjust to the referees? Is he getting zero leeway to play aggressively? It may be a little of both, but regardless of who's more at fault, one truth remains: There is a critical need for Lamar Odom to get going.
His absence dramatically decreases Jackson's flexibility in creating lineups. It takes a great rebounder off the floor, and in both games, the squad victorious in the board battle walked away with a win. It cheats the Lakers of a play-making threat, painfully evident during Game 2 in key second and fourth-quarter stretches in which ball movement grew stagnant. These are typically periods in which the Lakers count on LO to make things happen, but there's only so much he can do while donning a warmup. It also means additional minutes and pressure on Pau Gasol and Andrew Bynum. Plus, to some degree, Kobe Bryant.
Can the Lakers win without Lamar's presence felt? Maybe, but I would just as soon not learn one way or the other. The dude needs to be in the mix and pronto.
3) Which Kevin Garnett will show up?
Or, more specifically, is there even another Garnett waiting in the wings? In Game 1, 16 shots were needed to log 16 points and just four rebounds were collected. Even worse, Game 2 left Celts fans pining for Game 1. Six points, four rebounds and five fouls. KG's biggest contribution to the series so far has been his part in a dubious "war of words" with Gasol, who has been dominating The Big Ticket on both sides of the ball.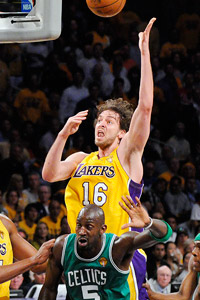 Win McNamee/Getty Images
This sums up KG's presence in the series
fairly well.
Garnett is still a good player and a great leader, but the Celts need him to be more, particularly given how the Lakers flourish when El Spaniard performs at a high level. If Pau continues to average something along the lines of 24 points (on just 12 shots), 11 rebounds, three assists and 4.5 blocks, I like the Lakers' chances in this series. A lot. KG needs to do a better job slowing Pau. Or offsetting that production with some of his own.
4) Which Ray Allen will show up?
I doubt it will be the Game 2 version who set an NBA Finals record with eight three-pointers and singlehandedly kept the Celtics ahead during a first half when nobody else was able to get much going. But if he's even "historically great-adjacent," the purple and gold will feel the effects, especially on the road. Any Laker charged with checking Allen needs to keep tabs on him like a security guard protecting the Hope Diamond; keep your head on a swivel and prepare to fight through a zillion screens. It wouldn't shock me if Sasha Vujacic got a little more run chasing Jesus Shuttlesworth.
Which refs will show up?
Joey Crawford, Joe DeRosa and Derrick Stafford set a seriously high bar for personal fouls in Game 1 with 54 (with three techs to boot). Mike Callahan, Kenny Mauer and Monty McCutchen are an apparently competitive trio not keen on being shown up, because they responded with 58 fouls in Game 2. As Game 3, and Danny Crawford, Bill Kennedy and Bennett Salvatore loom, will we hear an auctioneer in the background bellowing, "I've got 58, 58, 58!! Do I hear 60?"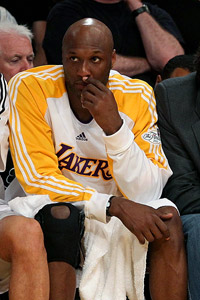 Christian Peterson/Getty Images
Lamar Odom, among other players,
would appreciate some referee
leeway.
I sincerely hope not, because the tenor of this series has thus far been damaged by officials seemingly working hard to put their stamp on events. As a result, both contests have featured stars in foul trouble, choppy play and unpleasant aesthetics. Nobody wins, whether you're talking Lakers, Celtics, the NBA or the fans. If the remaining games in the series continue along this path, potential for epic greatness will disappear.
If the rash of calls has been the result of concerns over physicality leading to tempers flaring, the refs should realize a) fans enjoy passion and b) players know what's at stake at this stage and aren't likely to start swinging or do anything else stupid enough to risk a suspension.
Please, please, puh-leaze, for the love of all that is holy, let these guys play a little.