I've written many times about those who judge Lamar Odom for what he isn't rather than for what he is. They look at the skill set and wonder why he's not a 20/10/5 guy, waiting around for him to finally "wake up" and put it all together. If only he had Kobe Bryant's work ethic and killer instinct, they say, forget the All-Star team, he'd be in the Hall of Fame!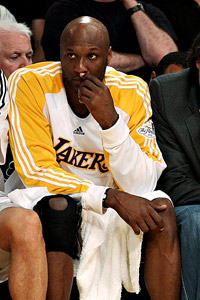 Christian Peterson/Getty Images
Weighed down by foul trouble, Lamar Odom has spent far too much time on the bench through the first two games of the Finals.
Like most generalizations, there is some truth to the criticism. He can be very inconsistent, doesn't have the mentality of a go-to star, and a decade into what has been a highly productive NBA career, there is still the sense he could be more.
But a few years back, I consciously chose to let go of the "if only" talk when it comes to Odom, judging him instead on what he provides and the value it brings to the team, particularly a team like the Lakers, so stacked with stars and scoring ability. It serves them well to have a guy who not only doesn't need 15 shots a game, but doesn't particularly want them. When you talk to Odom, he's almost evangelically on message about being defined by those aspects of the game unrelated to points. And in that regard, he fits what the Lakers are tying to do extremely well. Bryant is the star, Derek Fisher the conscience, but Lamar Odom is the emotional core of the Lakers' locker room.
And though it's true his stats chart has its fair share of peaks and valleys, he has basically been a walking double-double since arriving in L.A. He has also been a reliable playoff performer, particularly in last season's title run. Odom dominated Utah, came up big in Games 5 and 6 against Denver, and played well in the 2009 Finals, particularly in the closeout Game 5 at Orlando.
Odom earned a ring, and in the process shined a light on his value to the team and the organization. When it looked like he might go somewhere else last summer, fans were understandably nervous.
Fast forward one year and the picture is different. He started the season slowly, and didn't have an impact quite as profound as he did a season ago. As for his postseason campaign, Odom (like the Lakers) started slowly and built up momentum along the way. But one constant has been fouls. In the regular season, Odom averaged 31.5 minutes a game and 2.77 personals. In the playoffs, the minutes have gone down (28.4) while the fouls have gone up (3.9). Only five times in 18 playoff games has he finished with fewer than four.
Now, two games into the NBA Finals, an inability to avoid whistles means Odom is in position to erase much of what he gained in reputation a season ago.
Against the Celtics in the NBA Finals so far, Odom has been a disaster, with more PFs (10) than points (eight). In Game 1, he played only 21 minutes. On Sunday, just 14 minutes. He can't even stay on the floor long enough for people to complain he's not playing well. "It's two games in a row, both on drives against Paul Pierce [getting me into foul trouble]," he said after Sunday's loss. "It took me out of the game. ... I couldn't contribute much, just in spirit. I'd rather be out there and play bad than not have a shot."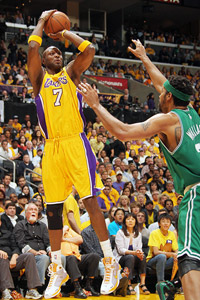 Nathaniel S. Butler/NBAE/Getty Images
The Lakers need an aggressive Odom in Game 3. Odom needs a bounce back performance to help his reputation.
When Odom can't play, it isn't simply a matter of losing his production for a night. It also shortens the menu options available to head coach Phil Jackson. He's been called an X factor so often it may as well be on his driver's license, but the tag is appropriate. If he has a bad game, the Lakers struggle with their sets and their identity.
"Well, you know, it just changes up where we place people on the floor. Obviously [when Odom plays] it takes Pau [Gasol] from the wing and puts him into the post. Takes Kobe from guard and puts him into the wing," Jackson said Sunday. "It just changes how we play the game a lot and gives opportunities that are a little different, a myriad of activities that we run in our offensive sets. It gives us a little more of a variety, and that's something that's tough for teams to adjust to."
In the world in which we live, it's generally not acceptable to call a bad game a bad game. There must be a reason, preferably one revealing deep character flaw. Kobe is selfish. Gasol is soft. For Lamar, bad games mean he has checked out; grabbed the passport and headed to Candyland. When Odom is ineffective he is seen as "flaky" and "disinterested." It doesn't have to be true -- anyone who has seen Odom (who plays through multiple injuries) drag himself to his car after a game would agree he's devoted; he always cares.
That said, there are nights when his focus is dull. And there are nights when he can't strike the right balance between his egalitarian, all-the-little-things basketball ethos and the team's needs. And there also are nights when he simply is not assertive enough, particularly on offense.
Why, I don't know. Right now, "why" is less important than "what," however, and here is the "what": Odom is not getting it done through two games against the Celtics. He cannot continue to be this absent, both metaphorically (weak stat lines) and literally (unable to be on the floor), if the Lakers are to win the series.
If he wants to be the Lamar of 2009, the ridiculously skilled player making contributions at every level, to continue shifting the book on him from disappointment to champion, tonight's Game 3 (not to mention the remaining games in this series) is the time to shine.
He knows this as much as anyone. He knows we will be watching him, looking for a breakout effort. How will he respond? That's the X factor.