It takes a lot to reduce Kobe Bryant into just another guy setting screens, but Derek Fisher managed to get it done.
After building up a 17-point lead in the second quarter of their critical Game 3 matchup against the Boston Celtics at TD Banknorth Garden Tuesday night, it seemed like the Lakers were headed to the sort of dominant road victory with the potential to define a series. After the break, however, the Celtics cranked up their defense and the Lakers responded by hoisting up jumpers and moving very little in space. The results were predictably ugly.
When Rajon Rondo went from his three point line untouched for a layup at the other end, the once large lead was down to one with 9:45 to play.
Normally, this would be the time for Bryant to step up and will his team to victory... except he was part of the problem. Stuck on the perimeter, forcing jumpers.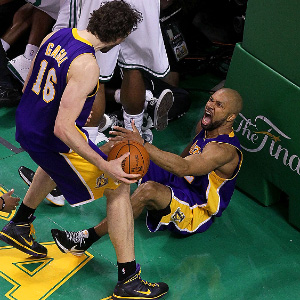 Jim Rogash/Getty Images
Derek Fisher iced the game with a coast-to-coast layup, absorbing a brutal foul in the process. Fitting, since Fisher's play in the fourth was the reason there was a game to ice.
Enter Fisher. Throughout the regular season, Fisher had been trailed by so many shovel-toting fans and media tossing dirt on him, he might as well have been working the garden department at his local Home Depot. His response was always the same- absorbing the criticism, pointing to a team (generally) succeeding on the floor, and noting his moment would come. And this postseason, just as it was against the Magic last year, Fisher has again proven himself a wise, wise man.
Between the 8:56 and 4:33 marks of the fourth quarter, Fisher scored eight of his team's 10 points, including a pair of clutch jumpers coming off the 1-2 screen with Kobe setting the pick. He would cap the game with a tremendous full court drive off a Ray Allen missed triple (one of eight Game 2's hero would clank on the night), dropping the layup through as he was being crushed by three Celtics. His free throw iced it, and the Lakers, just as quickly as they gave away their home court advantage, grabbed it back.
Earlier in the day, much was made of an exchange between local newsman Jim Hill and Fisher, in which Fish delivered a death glare after Hill asked about Paul Pierce's ballyhooed (and totally overblown) in-game declaration that the series wouldn't be headed back to L.A. The intensity from Fisher showed Kobe isn't the only guy in town with an edge.
That was the intensity carrying him through the fourth.
Fisher's postgame interview on the floor with ESPN's Doris Burke showed too how willing he is to let the game face crack when it's over. "I'm sorry," he said, fighting back tears as the release of the in-game adrenaline hit him, "I'm getting emotional."
Who can blame him? The Lakers still had their defining win, now coming in a way perhaps more likely to galvanize the team than a walkover would have. Asked to what he ascribed his performance, Fisher's answer was outstandingly Fisheresque. "Faith. We work hard in this game, and sometimes things don't go your way, but you've just got to keep working hard and keep believing in yourself and in your team."
Even when people may not believe in you.
"I love this game, I love this team, I love this job, I love what I do," he continued. "Nothing means more to me than helping my team win."
Again.
When do we stop being surprised?
-- Brian Kamenetzky
THE BENCH'S EARLY BOOST
As much as we focus on crunch time and closers, games can just as easily be won and lost in the early minutes.
In the first quarter the Lakers had a moment where things could have spun out of control, and another where they gained it back.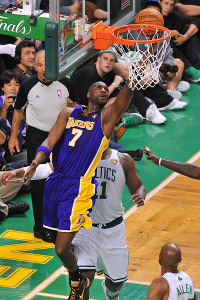 Steve Babineau/NBAE/Getty Images
After two games chained to the bench with foul trouble, Lamar Odom had an impact in Game 3.
The Celtics raced out to a 6-0 lead, with Kevin Garnett finishing on the break off feeds from Rajon Rondo twice within the first 75 seconds. KG was reborn and the Boston crowd was on fire, sensing an opportunity to write a top-shelf sequel to 131-92. At the 9:45 mark, Ron Artest picked up his second foul, sending him to the bench and leaving Luke Walton, who has played almost no minutes of consequence this postseason, the job of marking Paul Pierce.
So this is the part Inglewood's finest goes off, right?
Not so much. Over the rest of the quarter, Walton had two points. A modest total, but better than Pierce's goose egg, Boston's star missing all five of his shots. It was the first boost the Lakers would get over the first 12 minutes from a bench known more for its shaky road work, courtesy of the guy they used to stick on big bodies like Pierce in the pre-Artest days (and whose defense has at times been unfairly maligned) before sticking him near the end of the bench.
The second came from the guy carrying not just the weight of two horrible games to open the series- eight points, 10 fouls- but also the reputation, despite a strong run in L.A.'s title run of '09, of a guy who can't be relied on in the moment. Lamar Odom needed a good Game 3 not just to help his teammates, but to continue changing the narrative on his career.
With four seconds to play in the quarter, Rasheed Wallace left a three short, the rebound falling to Fisher. Odom, contesting Sheed's shot, never stopped moving up court. Fisher hit him with the long pass, and rather than settle for an open mid-range jumper, Odom attacked, absorbing a swat to the head from a recovering Wallace as he laid the ball in.
After the free throw the Lakers had a nine-point lead, outscoring Boston 24-9 after an early 8-2 advantage for the home team.
There were signs Tuesday would be redemptive for Odom even before the great play to finish the frame. Not from his banked-in three (though it was certainly a good omen) but on his first play after entering at the 5:54 mark for Andrew Bynum. Accepting the ball on the left wing, Odom dribbled aggressively at the bucket, drawing the defense before dropping a slick bounce pass to Pau Gasol in the lane. He drew the foul and went to the line for two. It was the type of play satisfying both the Lakers and their fans and the fiercely egalitarian Odom: Aggressive and impactful, and involving his teammates.
His final numbers (12 points, five points, one dime) weren't overwhelming, but Odom made a difference, which is what the Lakers needed.
There were obviously other key sequences and players over the next 36 minutes. I remember a few constructive moments from that Fisher guy, for example. Some may worry about how the Lakers seemed to lose their poise at moments in the second half, but in the end what matters about a big lead isn't how much of it disappears, but how much is left in the end.
-- BK
WALTON STAYS READY
Heading into Game 3, Luke Walton had received just 5:43 worth of run in the Finals, all of which came during Game 1. In fact, the grand sum of his PT through three rounds and two games has equaled a mere 70:09, averaging out to just a shade over five minutes per contest. Any player worth his salt desires more run, even if they don't make waves.
Phil Jackson told Walton during Tuesday's shootaround more action might be on the horizon, but either way, a seven-year veteran knows you gotta stay ready. Just in case. Well, duty ended up calling surprisingly early in the first quarter when Ron Artest picked up two fouls within eleven seconds after little more than two minutes had elapsed. Walton got the nod in his place and over the next 7:35, made the most of a chance.
Judging by the stats, the frame was nothing special. Just two points, one rebound and an assist. But the proficiency with which he operated made a huge difference beyond the numbers. His only shot --a step-back fade-away against Kendrick Perkins closing with the shot clock about to expire -- found the net's bottom. He set up Kobe Bryant for a catch-and-shoot jumper just inside the arc, rifled a few passes to earn others free throw attempts, and despite a couple of close calls, never turned the ball over. The rock moved and the offense flowed, generally the by-product of Walton being on the court.
"He's just a very knowledgeable player inside of our offense," praised Phil Jackson of the reserve forward's play. "There are times when we have to get the ball moving and get some things done out there where the Celtics put a lot of pressure on the ball and put guys in the drive a lot of times. We have to have some guys out there who can play-make and also, on the floor, have recognition of what the offense represents. Luke is an old hand at that."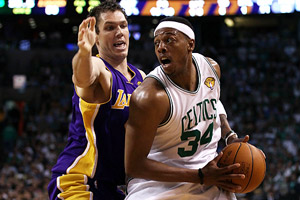 Elsa/Getty Images
Luke Walton made the most of his PT.
"I've been dying to get in and get a chance to play a little bit," smiled Walton, who noted how he's been watching a lot of tape from the series. "I know how they load their defense and in my mind's eye, I had the idea of getting the ball moving from one side to another, getting into the middle, making some passes, getting some other people some easy looks. That was kind of my mindset going in."
To boot, Walton even played some solid defense, whether isolated against Paul Pierce or helping Kobe Bryant force Perkins into a travel underneath the basket.
The game offered more burn in the second and fourth quarter, allowing Walton a grand total of 13:07. Will Game 4 feature similar chances? Who knows? Surely not Walton. For role players, particularly ones with sporadic minutes, staying can often be a challenge. In Luke's case, however, the series' backstory keeps him dialed in without the slightest bit of effort.
"It's not hard to stay ready. Every minute being here hurts. All you can think about is beating them and trying to redeem yourself for what happened here before."
--Andy Kamenetzky
GETTING ON THE BOARD EARLY
Coming into Boston, the Lakers knew they needed at least one win to force a return engagement to L.A. Were the entire team injected with truth serum, my guess is no secret fears would have emerged about losing three straight in Beantown. (Four straight if you count Game 2 in Staples). All "never say never" warnings aside, the odds of such a catastrophe are in fact fairly minuscule. Even if Paul Pierce told Staples patrons the series wouldn't come back to the City of Angels.
"I didn't hear him say it, but didn't hear about it," shrugged Luke Walton. "It's kind of a bold statement to say you're gonna beat us three straight."
Still, until that road win is actually racked, nothing is set in stone. Thus, the magnitude of not just winning, but winning right out of the gate, can't be overstated.
"It's huge, because you do have to get the one," explained Walton. "It's huge, because to lose tonight, a game where he had them the whole game, they start getting a little bit of a swagger about playing at home. They get some shooters hot, it's tough. So get the first one out of the way."
And in the process, put the screws to Boston in their house.
"We really drew blood tonight," said Andrew Bynum.
Not enough, however, to render stitches useless, which is why the smiles were more happy than truly satisfied.
"It feels great but at the same time, we're not gonna let up," insisted Walton. "We could have played a lot better than we played tonight."
"We're not celebrating on that," promised Shannon Brown. "We came in and handled our business like we were supposed to do. Now it's time to go [here] Thursday and handle our business some more. It's not over until we win a championship."
-- AK
VIDEO
Shannon Brown, on the win, plus some great words about Derek Fisher:
Luke Walton, on the value of getting a win early on the road:
Andrew Bynum, on getting the win early, and his knee:
Lamar Odom, on the win and his performance:
More from Odom, on his role, his performance and the win: