Predictably, much of today's practice chatter centered around Derek Fisher's Game 3 heroics. 11 fourth quarter points. A coast-to-coast layup instantly added to a considerable list of indelible franchise moments. An unlikely showing of pick and roll dominance. Plus, the speeches he's famous for giving as situations grow tense. Words captivating everyone spellbound as they leave his mouth. And I do mean everyone. Even Kobe Bryant, obligated to listen to nobody on the Laker roster. By his own admission, that's basically the case.
Except when it comes to that dude in the #2 jersey.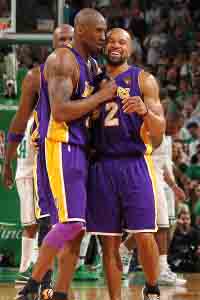 Nathaniel S. Butler/Getty Images
Kobe would enter a nuclear apocalypse with Derek Fisher on his side.
When informed of being the only Laker worthy of Kobe's ear, Fisher initially just cracked a joke.
"Um, wow. Yeah, I probably am the only maybe guy he listens to. He's married, so I know he listens to somebody else."
From there, a more introspective assessment of their relationship was offered:
"You know, we shared a lot of good and bad things in our lives, and so I think it just gives us some commonalities and similarities that otherwise wouldn't be there, you know. I mean, it's not because our games are similar, it's not because of talent similarities or any of that. It's just that we've experienced a lot of good and bad things together. Because we've been through those fires, you know, we're just comfortable relying on each other, and I think he knows and I know that if anything in the world happened, if there was one person that would stand up and say, I'm here for you, you know, it would go both ways."
Fisher also offered a killer comparison to describe how they blend a good cop (Fisher)/bad cop (Kobe) brand of leadership in keeping guys on the same page:
"I think there's a balance to it, and sometimes [Kobe] jokingly refers to it as Malcolm X and Martin Luther King in terms of how we go about balancing it. And, you know, I don't think it's necessarily him tearing guys up in a way that's demeaning or belittling to our guys on our team, but just a different style of communicating it.
"I'm a guy that I like to observe and kind of lay back and see how things are going, and then, you know, fill in the gaps as I see fit. And so with our teams over the years having strong personalities like Shaq and Kobe and Phil, I've always filled in between those guys on how to keep this thing going, because my only concern is for us to win. I love everybody, but if we don't win, I don't love you as much. So that's kind of where it comes from."
Truth be told, it's no accident Kobe started coming into his own as a leader the minute Fisher reentered the purple and gold fold. Without question, the Lakers were an improved team with an improved attitude than the recent Smush-Kwame incarnation, and it's always easier to lead with better troops. But it's also easier when the burden isn't entirely your own, and when you don't have to be someone you're not.
Beyond his individual leadership qualities, he makes Kobe a more effective leader by providing an alternative voice allowing Bryant to maintain his sometimes overwhelming intensity. A figure easier to relate to, but garnering absolutely the same amount of respect. Along with Lamar Odom (whom I've always considered the Lakers' emotional center), the two keep everyone on the same page, even if the message isn't delivered in the same fashion.
Kobe Bryant has never won a ring without Derek Fisher. For that matter, he's never even been to the Finals without Derek Fisher. Do I think it's impossible for Kobe to obtain jewelry without Fish? No, that would be a stretch. But I don't think you can ever overestimate the importance of Fisher's presence in aiding the quest. The Mamba doesn't make just anybody his right hand man.
Derek Fisher isn't just anybody.
For his part, Pau Gasol wasn't surprised to learn Kobe labeled Fisher the one person he'll always listen to.
"They've played together for 12 years of their career. That's a long run. That would build a lot of confidence and trust amongst two players."
Ron Artest shared thoughts on Fisher's leadership. In particular, the way he, along with Kobe, have helped the small forward negotiate his first NBA Finals experience.
"Fish and Kobe is just taking me for a ride and taking me to school. They're giving me a lesson every day. That's why I've had most of my good games after I've had bad games so far in this playoffs. Individually. Which I don't even care about. At all."
Artest shared the theme of these messages shared:
"Stay locked in. There's always another day. That's why I have so many ups and downs. Because I stay locked in, rather than having a bunch of down days. I've had some days where I really do a lot offensively, close out games, some key games. So I'm always [feeling] steady."
Odom offered some poignant words about Fisher's emotional reaction immediately after the win:
"Every man on that court has his own story, tragedy or triumph. To reach this level, we have to persevere. If you all remember, in the beginning of the year, Derek was being criticized a lot for not making shots, or being in a slump or being older, which he didn't deserve. So to be able to come through in that moment, to be so clutch like he's been so many times before, he's been through so much this year, I couldn't be happier for a person. Man, he deserves it. He works extremely hard. Stays in incredible shape. He doesn't miss games.
"I told [a friend of Fisher's], I learned so much from him. When he speaks and when he doesn't speak. The way he carries himself. He's a man."
I asked LO if various Lakers ever get a kick out of the circle game of Fisher's existence during the last few years. Each year, he takes heat from fans and media. Each year, he comes through in big situation, prompting fans and media to swear they'll never doubt Fisher again. Each year, it all starts over. The question prompted a smile from Odom:
"It's funny. In sports, we always talk about how you're as good as you're last game. At this time of year, I always make fun of [Derek], because it seems when a defender's closing out on him, his arm gets a little straighter and he just finds a way to get the ball up and leave it up there. He's just clutch, you know. He's prepared just to take the shot. Forget whether it goes in or not. He's prepared himself to be in that position. You can look up to that."
Aside from praising Fisher, the main topic of interest was an update on Andrew Bynum's knee. After a Game 3 limp and a self-assessed "questionable" tag, Bynum says he's fine for Thursday. The immediate swelling from Tuesday's game was since subsided and Drew said the discomfort is about the same as it's always been. But having come this far, unless either medically unsafe or physically unbearable, Bynum's dead set on riding this train until it reaches the station.
"We've got two more games to get and I want to be in for the rest of the show."
More on Bynum about his injury history and the Laker defense: