"I know this game is the biggest game, because it could change the whole series either way."
These sentiments were shared by Andrew Bynum during Saturday's practice, after the second postseason procedure draining his knee. Bynum wanted to avoid another session under the needle, but excess swelling left him with no choice.
Perceptive cat, that Andrew Bynum.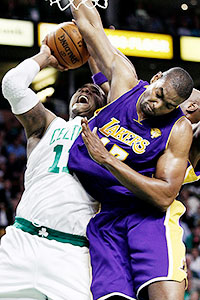 Winslow Townson/AP Photo
The Lakers need to take advantage of
Andrew Bynum in the lineup.
I have a strong hunch tonight's game will swing the series, for a multitude of reasons.
1) For starters, there are precedents at play. According to Peter Newman (ESPN Stats & Information), teams with the home-court advantage in the 2-3-2 format and a 3-2 lead heading home have notched a 9-0 record in the Finals. A win tonight doesn't guarantee anything, but the scenario would become instantly daunting for Boston: The Celtics would have to win two in a row in L.A., where the Lakers have only lost once during the postseason and haven't lost back-to-back this season. Yikes.
On the flip side, history makes Boston a 66.7 percent fave to win it all up 3-2, even without the benefit of the Garden, Dancing Gino and the Dropkick Murphys. It's just hard winning two in a row in the playoffs, much less with your back against the wall. By definition, 33.3 percent odds means the Lakers' quest wouldn't be impossible, but I'll take the historical stone lock, thank you very much.
2) There's also a psychological element here. Beyond any good vibes heading home to close out, foreign territory is avoided. For all the "been there, done that" on this crew's résumé, it has developed very little experience digging out of a hole. During the Pau Gasol era, only two series fell behind the eight ball at any point: The 0-1 start to the 2009 Western Conference semifinals, a series more difficult than necessary but truly jeopardized. And of course, the 2008 Finals against the Celtics, 0-2 out of the game and returning to Boston with the Lakers down 3-2.
Need I remind everyone how that turned out?
I'm not saying the Lakers aren't up for beating adversity, but I'd rather speculate that outcome than learn it firsthand.
3) There's another pressing reason it's imperative the Lakers take care of business, and it's all about a kid gutting out discomfort from a torn meniscus. Tonight's the Lakers' best chance at getting the most from Andrew Bynum.
I'm not a doctor, nor do I play one on TV, but Bynum's entering Game 5 recently de-gooed with two days rest. Who knows how he'll respond, but it stands to reason that this setting suits Bynum more than one day off and a cross-country plane trip before Game 6. Or two games' worth of banging and one day off heading into a theoretical Game 7 (assuming he's even available). The tricky nature of injuries -- not to mention the unpredictability of sports -- makes this impossible to peg. But if I had to lay odds, Bynum will be most effective in Game 5, and the Lakers have to adopt a mind-set of maximizing a gift horse.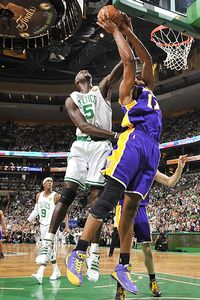 Brian Babineau/NBAE via Getty Images
Andrew Bynum's presence helps keep the Celts off the glass.
In all four contests, whichever team won the rebounding battle won the game. Even with Bynum limping uncomfortably for 10 minutes during Game 4's first half, the Lakers trailed only 21-20 on the glass. Bynum grabbed only two, but his length and size makes loose balls tougher for Boston to track down. In the second half, when he played under two minutes, Boston snagged a whopping nine offensive rebounds en route to a glass war won 20-14. Coincidence? I think not.
Bottom line, rebounding can shift a game, and Bynum makes the Lakers better on the boards.
The Celtics have completed 43.2 percent of their attempts from inside five feet with Bynum on the court. With him on the pine, the clip jumps to 58.7.* As a Lakers fan, I prefer door No. 1.
If Games 1-4 have demonstrated anything, it's Gasol's willingness to get down and dirty. If you're still calling El Spaniard "Gasoft," you're either stuck in your ways or not paying attention. Dude's been dishing out and taking it. Still, grinding against bigger, stronger bodies takes a toll. The more Bynum plays, the fewer possessions Pau spends against Kendrick Perkins, Rasheed Wallace or Shrek. The opportunity can't go wasted in a loss.
Plus, the factors indirectly related to Bynum: Lamar Odom's inconsistency. Ron Artest's confusion on offense. Derek Fisher's under the radar slump from behind the arc (0h-fer his last 11 tries).* Jordan Farmar and Shannon Brown's unreliability as a backup backcourt. Phil Jackson's surprising reluctance to play Luke Walton when ball movement turns nonexistent. The possibility of throwing Josh Powell or D.J. Mbenga into the mix after clocking a combined zero minutes thus far. The reality of a Celts defense well-equipped to prevent Kobe Bryant from going bonkers.
Roll it all together, and the Lakers must take advantage of having Bynum tonight, with his knee at its least puffy. If the purple and gold head back to L.A. up 3-2, I'm fairly confident they could win one of two more games even if Bynum were limited or unavailable. But I have my doubts about both.
In the NBA Finals, clichés about "must-win" games fly out the window. There's no such thing as a result bearing no significance. They all count. A lot. But some must wins are "must-er" than others, and with that in mind, the Lakers are embarking on the most important night of their repeat quest.
I'd like to think the Lakers are drawing inspiration from Bynum's grit. They must win this one for Bynum now, because they don't know whether he'll be able to do it for them Tuesday or Thursday.
(* - Per Newman, ESPN Stats & Information)