(Monday afternoon, I sat in on 710 ESPN's LA Sports Live. We took a lot of calls, and between those, the tweets and e-mails we've received, and comments in our Land O'Lakers mailbag, a lot of commonalities have emerged. With that in mind, to get ready for tonight's insanely critical Game 6, I present a Conversation With John Q. Lakers Fan...)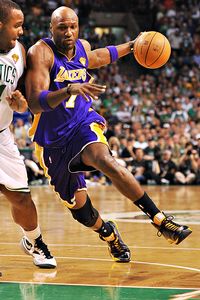 Paul J. Richards/Getty Images
Lamar Odom has to be productive in Game 6, particularly with Andrew Bynum's ability to be effective in serious doubt.
So talk me down, man. This isn't over, is it?
Of course not.
Look, I won't lie to you: The task facing the Lakers isn't an easy one. Boston was the only team in the league with a better record on the road than at home during the regular season and the Celtics already have won twice at Staples Center this year. Boston is, as you may have noticed, an elite defensive team and the Lakers, as Kobe noted after Game 5, have regressed on that end of the floor since Game 1.
The Lakers could lose Game 6 (turning our regular Wednesday chat into an angry and vengeful place). They could win tonight and lose Game 7. Lakers fans have every reason to pop Xanax like Tic Tacs just to take the edge off. (Note: This approach is not endorsed by the Land O'Lakers Blog.)
But while the mountain is tall, it can be climbed. Six times in the 2-3-2 Finals format a road team has taken a 3-2 lead into the home team's building, and four times the road team has won the series. Twice the home team came back. It's a small sample size, but enough to show the home team can take two straight.
The Lakers' challenge is tough, but not unprecedented.
Whew! Good to know. I have tickets for Game 7, and want to be able to use them. How do they get there?
Well, they have some work to do. The team taking the floor in Games 4 and 5 won't be good enough Tuesday night. There is definitely room for improvement on the defensive end. Using Hoopdata.com's numbers, the Celtics' offensive efficiency (points per 100 possessions) this year was 105.4. Twice during the series, the Lakers have held them below that figure, three times they haven't. You'll never guess which games they won, and which they lost.
Deep into the second half Thursday night, Boston was shooting well into the high 60s from the floor. The Lakers have to tighten up.
But while Kobe's mantra is (understandably) defense, defense, defense, the offense has to improve, as well. Twice in the series L.A. has exceeded its regular-season efficiency rating of 105.9, three times it hasn't. Again, I'll let you figure out which two games the Lakers won. Both sides of the ball matter, because each influences the other.
Beyond that? Not trying to be glib here, but to some extent it comes down to the team's best players playing better. Ron Artest can't be a dead spot in the offense. Lamar Odom can't just be a dead spot, period. Pau Gasol needs to be better than he was Sunday evening. The ball has to find a wider variety of players and switch sides of the floor. It's always fun to find the dark horse, but most of the time a team's best players determine the outcome, meaning L.A.'s need to be better.
Why not dip into the bench? Look at what Glen Davis and Nate Robinson did in Game 4!
Because the Lakers don't have that kind of depth, nor the requisite semi-reliable corps of reserves. Think about it -- how much time did you spend this season complaining about the lack of quality bench play from the Lakers? There's some wiggle room in terms of rotations and how Phil Jackson will deploy the reserves, but overall do you feel comfortable when they're on the floor? Neither does Jackson. Game 6 of the NBA Finals isn't really the time to deploy Josh Powell because you're mad at Odom.
OK, but why can't PJ get more from guys coming off the pine? We need something big!
That's not how the world works. A Gipper speech won't turn a role player into an All-Star. Everyone on L.A.'s bench is an NBA-caliber player and therefore capable of rising to the occasion and posting a big performance, but generally speaking players should be asked to play to their level. It would be great for the Lakers if Jordan Farmar or Shannon Brown blew up with a great game tonight, but they're not the problem so much as Artest's offensive offense and Odom's lack of impact.
So why can't Jackson inspire those guys? Isn't that his job?
If guys aren't prepared to do everything necessary to win in the NBA Finals, I don't know what the coach -- any coach -- is supposed to do. This is professional basketball. Coaches can influence and guide, but if for some reason the fire isn't there, I put it on the player.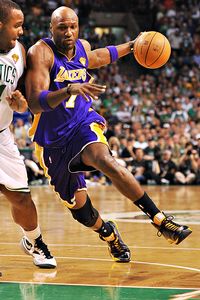 Nathaniel S. Butler/NBAE/Getty Images
Ron Artest is shooting the basketball. Describe how this makes you feel...
That said, I don't think that's the issue. Odom wants to win, he's just playing poorly. Artest desperately wants to win, he's just totally confused on the floor. Gasol had a bad Game 5, but he was trying. I'm not saying the Lakers can't dig a little deeper -- they have to -- but it's easy to overuse the whole "the other guy just wants it more" cliche. I even heard it in reference to the final moments of Game 5, when Paul Pierce wrestled the ball away from Kobe Bryant. He wanted it more!
Really? More than Kobe?
If the Lakers play better ball tonight, they'll look more energized, and could very well win the battle for all the 50/50 plays. Will that mean Boston suddenly stopped wanting it so much?
Sounds to me like you're saying none of the problems the Lakers are having fall on Jackson, but it seems to me he's being totally outcoached by Doc Rivers.
Not my point at all. Certain things I don't put on a coach. Odom has been in the league for a decade. When he plays poorly, it's not the coach's fault. The inability to "get something out of the bench" isn't a coaching thing, assuming players are used reasonably well and put in positions to succeed. I don't have a problem with the rotations in the Finals. Nor do I think the Finals is the right place to start radically altering the formula that got you there.
But as I've written a few times, I do think Jackson & Co. could do a better job getting Kobe the ball on the move, running him off screens and from the weak side. If Kobe is operating behind the defense, the Celtics would have to split their focus between the ball and Bryant. Easier said than done, no question, but doable. Boston has managed to find ways to free Pierce as the series has progressed. L.A. can do the same with Bryant.
I'd also like to see the Lakers get up more on Rajon Rondo. I realize the guy isn't a very good shooter, but when the defender, be it Kobe or anyone else, sags 10 feet off him, it allows Rondo to survey the floor and drop pinpoint passes to teammates. Pressuring the ball risks penetration (a bigger problem with Andrew Bynum's effectiveness questionable at best) but at least forces Rondo to make decisions quickly and under some form of duress.
So there are a couple of examples. So is Jackson being outcoached? I don't know. I do know that with one more loss, and the Lakers fall short in the Finals against Rivers and Boston for the second time in three years, it would be the only thing on the scorecard that really matters.
So what's going to happen tonight? Can the home team pull it out?
Of course!
The Lakers could rise to the occasion, rediscover their defensive tenacity and offensive flow, and win by 20. Unfortunately, they also could remain confounded by Boston on both sides of the ball and lose by 10. Assuming Bynum is limited, Odom can't leave Gasol to fend off Boston's frontcourt by himself. He has to play big. Artest has to either hold off Pierce or score. (Both would be ideal.) Pau can't shrink in the face of Boston's pressure, and the Lakers need to make sure he's involved in the offense for the duration, not just in fits and starts. Derek Fisher, so clutch in Game 3, was absent for large stretches of Games 4 and 5. The supporting cast has to be there.
Finally, the balancing act for Kobe tonight will be tricky. Facing elimination, where and when is the appropriate place for him to take over a game? Can he stay patient if the Lakers get off to a slow start?
Nobody quite knows what to expect tonight, but it's about as intriguing a game as you'll ever see.
Except for a Game 7, of course.