With just over six minutes to play in the first quarter of Game 6 Tuesday night at Staples, Paul Pierce came over a screen on the left wing, looking for space to create, either with penetration or the pass. Instead, he found Ron Artest glued to his right hip, driving him toward the corner.
Without any breathing room, and hoping to avoid a trap, Pierce left his feet and twisted his body toward the backcourt, attempting to reverse the ball. Kobe Bryant, reading the play and filling the passing lane, easily picked off the pass for the steal.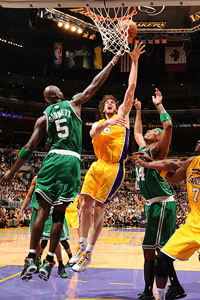 Jesse D. Garrabrandt/NBAE/Getty Images
Pau Gasol rebounded well from a subpar Game 5, coming an assist short of a triple-double in Tuesday's Game 6 thumping of the Celtics.
Bryant quickly turned and fed Pau Gasol, streaking up the middle of the floor. Gasol, who grew up a point guard in Spain, comfortably ran the break, finishing with a finger roll inside over Rajon Rondo to push an early lead from four to six.
In one play, the Lakers managed to accomplish more than they did over huge stretches of time in Game 5. They foiled the Pierce-led pick-and-roll (so key for the Celtics Sunday) as Artest re-established an aggressive and effective tone, driving Inglewood's own toward trouble. Kobe's steal ended Boston's possession without a shot, something the Lakers rarely did two nights ago, when avoiding a Celtics layup constituted a minor miracle.
At the other end, the Lakers benefited from easy points, a welcome sight after scoring became a Herculean task over the final six quarters back east.
It was clear from the opening tip Tuesday the Lakers team taking the floor was different from the group Boston confounded in Game 5. Bryant hit four of his first five shots, and was able to make his way to the rim. Andrew Bynum was a presence inside early, scoring L.A.'s second basket of the game and hauling in more rebounds in the first 3:18 of the first quarter (two) than he did in 32 minutes of Sunday's game. (Bynum watched most of the second half with an ice pack on his bum right knee after tweaking it again with just under two minutes left in the third, obviously a story to watch.) Ron Artest canned his first jumper of the night, a triple from the right corner, and the Lakers ran out to a 10-point lead after the first 12 minutes.
"We executed," Bryant said. "We executed extremely well. You didn't see us blow too man assignments and [give up] too many easy opportunities, which we did in Boston. Then on top of that, we had a lot of effort behind the execution, and because of that we had a big win."
Heading into tonight's game, quite frankly I had no idea how the Lakers would come out. Bynum's knee was a question mark, and without his presence Gasol has been subjected to an incredible amount of pounding to which he did not respond well on Sunday. Artest was a sinkhole offensively and coming off his worst defensive performance of the Finals. Lamar Odom, to steal metaphors from Bryant, belonged on a milk carton.
A second series seemed to have started in Games 4 and 5, one looking an awful lot like 2008. We all know how that movie ended.
Had the Lakers struggled again in Game 6, I would not have been surprised.
But a 22-point win shouldn't surprise anyone, either. All season, the Lakers have (with the notable exception of Game 5) performed extremely well in games they had to win. In a game played without a net, they never allowed the Celtics to threaten, regaining the character on both sides of the ball that helped them dominate the opening game of the series. Clearly they weren't beset by the same doubts others had about them.
The Lakers will take buckets of confidence out of their performance tonight, but the incredibly wide swings of momentum this series has already seen clearly demonstrate past performance is not an indication of future returns. Tuesday's performance will be difficult to replicate on any number of levels, nor is anyone in L.A.'s locker room assuming what they saw from Boston will be repeated Thursday night.
"This is a special moment you just don't get a chance to be a part of, sometimes never in your career," Derek Fisher said. "I think it'll definitely be a much more tightly contested game with a closer margin. It's still going to be about the team that plays the best as a team that will win the game. It won't be about individual performances, it'll be about which team is the best."
But one thing is certain, the basketball universe (save Boston's portion of it) gets what it wanted:
Lakers vs. Celtics, Game 7.
--Brian Kamenetzky
Kobe no longer stranded
If Kobe Bryant had ever wondered what it would be like to star in a remake of Cast Away, he learned during Sunday's Game 5 loss. Similar to Tom Hanks, Kobe was out on an island, left to his own devices for survival. And he made a serious run at overcoming the impossible. 23 consecutive points between the second and third quarter. 19 points in the third frame alone. 38 in all. And it wasn't just flurry of shots dropping, but the degree of difficulty. Turnaround J's off the catch with Ray Allen inside his jersey. Nudging the rock with just right English to convert a terrible alley-oop pass from Derek Fisher. Three-balls from more than a little deep.
Dude was a force of nature.
Unfortunately, his teammates were apparently under the impression they'd all been cast in the role of Wilson the volleyball, and brought basically the same energy to the table.
Only Pau Gasol joined Kobe in double figures, and those 12 points were quiet and tentative. There were fourteen points in all, from a bench led by Lamar Odom, who waited until the fourth quarter to register a pulse. Fisher and Ron Artest were a combined four-for-18 from the floor. In the meantime, they lost the rebounding battle 35-34 and Kobe later told a Yahoo! writer the Laker D "belonged on a milk carton."
The Mamba was visibly steamed during and after the game, and it was hard to blame him, considering the collective no-show. Given this poor showing in this pivotal rubber match, I felt it also fair to wonder how the supporting cast might respond to an elimination setting with such a personal back story to boot. Kobe, however, disagreed:
"Just man up and play. What the hell is the big deal? I don't see it as a big deal. If I have to say something to them, then we don't deserve to be champions. We're down 3-2, go home, win one game, go into the next one. Simple as that."
For the time being, the Laker deserve to be champs.
Kobe's mates didn't just elect to join the party, but proved their willingness to help carry the entire load. At the 7:46 mark of the the second quarter Tuesday night, Artest came on the floor to give Kobe his first rest of the ball game, and with the Laker lead at 15, you'd naturally assume the water was safe for swimming. But after such a disastrous showing in Game 5, seeing was necessary for believing.
Play immediately resumed with a whirling dervish layup from Jordan Farmar, who attacked the baseline after a kick-out from Gasol. In transition after a Rajon Rondo miss, Sasha Vujacic bricked a 19-footer, but Gasol sprinted through the lane to crash the boards for a put back. El Spaniard then helped El Machine atone for the errant shot by penetrating the lane between the circles, then dishing out to Sasha at the top of the arc. One lightning quick release later, the first of Vujacic's two treys was in the books. There was also a fantastic sequence coming off a Gasol steal at Pierce's expense. Odom ended up with the loose ball, then hucked it downcourt to a streaking Farmar. Despite Kevin Garnett breathing down his neck, Farmar managed to elevate and throw down a forceful dunk.
2:59 later, Kobe reentered the fray with his squad up 20 courtesy of a 9-4 run. From there, the production never let up. Gasol finished the night one assist short of making 17 points and 13 rebounds a triple-double. Ron Artest notched 15 points. And the Laker bench outscored Boston's second unit by a whopping margin of 24-0 through three quarters.
"It's important when any player comes out of a game," said Gasol when I asked about the significance of making hay with Kobe on the pine. "I think we have enough on our bench that we can sustain the level of playing that we have been carrying throughout to that point. So yes, it's important that the bench comes in and is ready to step in and make plays and be active . . . We've got to understand how important that is and carry it to the next game."
Kobe agreed, even if he refused to frame the answer within the context of the Game 5 disaster.
"It has nothing to do with the last game. Its all about the present and they did a great job. We have an explosive bench and they got after it tonight defensively, got the loose balls, got out in transition, made big plays, which is something they're extremely capable of doing."
-- Andy Kamenetzky
BOTH CENTERS HURT
Andrew Bynum was effective early, but was forced from the game just under two minutes into the second half, his balky knee again acting up.
"He wasn't able to move very fluidly in the second half," Phil Jackson said. "He had some tightness in the back of his leg. He just said, "You've got to take me out. I can't run," and it was obvious at that point he couldn't."
After the game, Bynum didn't call tonight's tweak a setback, but noted the knee is right back where it was before being drained a second time early Friday morning. Which could be defined as a setback. "It was really stiff, and I needed to come out," Bynum said. "Hopefully on Thursday I'll be alright."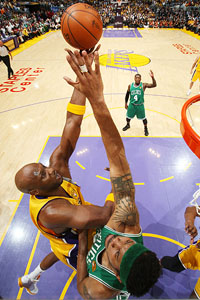 Nathaniel S. Butler/NBAE/Getty Images
Andrew Bynum was once again limited in Game 6, but Lamar Odom's 10 rebound night helped cover his absence.
Bynum said he could, or at least would, have returned had the Celtics made a comeback. "I'm glad I didn't have to," he admitted. Given how he was dragging his leg around the floor after halftime, I can't believe he would have been effective. In one form or another, there will be more news Wednesday, but Bynum said he would suit up and play. How effectively is an open question. Knowing he doesn't need to push the leg past Thursday night will help, he said.
The Lakers have lived with Bynum's injury for the last three rounds of the playoffs. Boston, however, may have lost a key piece in Kendrick Perkins, who left in the first quarter with a sprained knee and didn't return. Asked after the game for an update, Doc Rivers was frank. "I don't know," he said. "It doesn't look great, but I don't know."
With so little time to adjust, losing Perkins would constitute a serious blow to the Celtics. "He's one of our guys that I think gives us great spirit, gives us a lot of toughness, and gives us size. You know, I hope he can play. It would be tough if he can't. Somebody else is just going to have to step forward," Rivers said.
It's not an advantage the Lakers necessarily want. "It's unfortunate what happened to him," Bynum said. "I know where he's at, so I wish him the best and hope he'll be able to play."
--BK
BIG NUMBERS
+13: L.A.'s rebounding margin on the night. At the half, the Lakers had out-boarded the Celtics 30-13, grabbing nine offensive rebounds on only 23 misses. Helps explain the eight second-chance points logged before halftime. By now, everyone has heard the stat noting the winner of the battle for the glass has won the game. The trend held for one more night, and likely will again on Thursday.
5: The number of first quarter buckets for Bryant, who didn't waste much time putting his stamp on the proceedings. The message was sent early, as he hit some typically tricky jumpers, but more importantly was able to get to the rim far more effectively than he did in Games 4 and 5. When Bryant can play going downhill, so to speak, so many things open up for L.A. The Lakers seemed to push their screens higher on the floor, stretching out Boston's defense defending the pick and roll, and effectively used motion to spring Bryant in other instances. He was large early, but the degree of difficulty was lower. A major plus for the Lakers.
1: The lone assist Gasol needed to record a triple-double. His final line- 17 points, 13 rebounds (including five ORB's), nine assists, and three blocks was exactly the sort of box score-stuffing output the Lakers needed. He was incredibly effective distributing from the high post, setting up Artest for two corner threes early, then Farmar later for a baseline drive, and moving on from there. The full range of his skill set was on display, and when Gasol is rolling, it allows Kobe to do so much more on the floor.
0: The total number of free throws for Pierce. He finished six-of-14 overall and turned the ball over five times. Artest bounced back from a rough Game 5 defensively and made an imprint on his end of the floor, limiting Pierce's chances to reach the bucket. That Artest actually outscored Pierce by two is gravy for the Lakers. As a group, the Lakers did a great job of defending without fouling, with 13 steals, eight blocks, and only 10 free throws surrendered.
--BK
VIDEO
Fisher, on the crowd, the energy, and what changed in Game 6:
Bynum, on the condition of his knee:
Shannon Brown, on the quality of the team's defense and bench play:
Luke Walton, on the understanding of what was at stake:
Odom, on the team's mental approach, looking ahead to Game 7: