I was talking to a colleague before Tuesday's Game 6 Lakers win, and he and I were doing the same as virtually every other basketball fan on the planet: Trying to guess how the series will play out. I had my doubts about how the Lakers would play, and after making a season's worth of game predictions had no read on what would happen. They could win by 20 or lose by 10, I thought. Neither would have surprised me.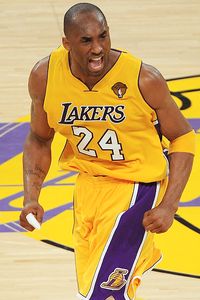 Lisa Blumenfeld/Getty Images
Kobe Bryant is one game away from avenging the Finals loss in 2008. Could this be the most important game of his career?
My counterpart, on the other hand, thought the Lakers were a mortal lock in Game 6. It was Game 7 he saw as the coin flip. Again, we disagreed. If the Lakers could get through Game 6, I said, they would not lose Thursday night.
There were psychological reasons -- success in Game 6 would put the demons of 2008's Game 6 to rest, and the team's strong track record in must-have games would give them confidence. There was the also home court advantage, a major factor for the Lakers (and in the history of Game 7's), despite Boston's quality work away from the Garden.
There was also the matter of Kobe Bryant.
When it comes down to it, I have a tough time picturing Bryant losing a winner-take-all game. Not in his building, not in what can be called the most important game of his career.
Nobody taking the floor Thursday night has more on the line than Bryant. Not Phil Jackson (good to go with 10 rings already), and not Kevin Garnett (even with a victory, he can't get to Kobe's level in the Big Legacy Conversation). Win, and Kobe joins Magic Johnson with five rings, pulls within one of Michael Jordan, and ends forever any question whether he can lead a team -- his team -- to the sort of dynastic levels the Shaq/Kobe teams achieved. And he beats the Celtics, something Lakers fans insist their mega-stars do if they're to be considered the G.L.O.A.T.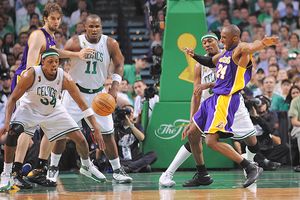 Brian Babineau/NBAE/Getty Images
In '08, the Celtics bottled up Bryant and the Lakers offense. This time, with a Game 7 win Kobe almost certainly gets his second straight Finals MVP.
Lose, and it's his second empty trip to the Finals in three years, his record "on his own" (I use that expression loosely) falls under .500. Michael, some will point out, never left a championship series without a ring. How can Kobe be in his class if he can't produce a victory in the most defining moment the NBA can provide? Talking about this yesterday with my brother, he thought Kobe, when it comes to this sort of stuff, had a lot more to lose tonight than gain. He's probably right.
Even if you think these things don't matter to him (and I do), there is no question of his incredible drive to win. "The opportunity is not something that makes me happy," Bryant said Thursday night. "It's winning and taking advantage of the opportunity that makes me happy. That buzzer goes off and we're not victorious, am I thankful for the opportunity? Nope."
Fair to say his summer will be ruined if the Lakers come up short. His summer, and the part of his being devoted to this sort of thing. It will eat at him forever.
With all that in mind, expect Kobe to come out aggressively from the jump tonight.
But unless things quickly get away from the Lakers, don't expect it to be a game where Kobe shoots 35 times. Instead, look for something out of the Game 6 playbook, where he artfully guided the offense, looking to make sure the Lakers got off to a good start by finding his own shot, but doing so in the context of the offense.
On L.A.'s first trip, Bryant fed Derek Fisher coming off a baseline screen, then moved to spot up off the penetration, catching and shooting off Fish's pass. Next time down, he used a handoff from Pau Gasol to drive the basket and finish with the left hand. From there, he used the high screen and roll to free Andrew Bynum for a look in the paint, then worked his way into the lane, drawing the defense and kicking to Ron Artest for a corner three. He had the "hockey assist" on Artest's first made triple, working the pick-and-roll with Gasol, who made the pass to Artest. And he took rhythm jumpers coming off high screens.
In all, Bryant took eight first quarter shots in Game 6, making five. He registered only one assist, but moved the ball well, and importantly, every Laker in the starting lineup had a bucket by the end of the first 12 minutes. Given the context of the game, it was the ideal Bryant performance.
"I think most people assumed, and I will say not us, but I think most people assumed Kobe would come out and take 1,000 shots, and I thought he did the exact opposite," Doc Rivers said after. "I thought he came out and trusted his teammates, and every time they needed a basket in that first quarter he made one. But I thought they just showed great trust. And the more they got it going, the more everybody got involved."
This is the blueprint for Bryant and the Lakers tonight: Bryant getting his touches in a variety of ways -- from penetration, off weakside movement, as the trigger man in the pick and roll, and so on -- and involving a variety of teammates. If, as he did Thursday, he finishes the game with 19 field goal attempts, chances are things have gone very well for the Lakers.