Kobe Bryant has been many things over the course of his incredible career. Loved and hated. MVP and scoring champ. He's been a pitch man, a closer, a reluctant sidekick, an alpha male, and a global icon.
But Thursday night, as the Lakers clinched their second straight NBA title, and Kobe laid claim to his fifth in purple and gold, he was something we've never seen: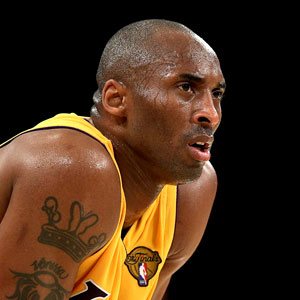 Christian Peterson/Getty Images
Nothing about Game 7 came easily for Kobe Bryant.
He was vulnerable.
It was, in a word, stunning.
Bryant, the game's great closer, the deadly Mamba, the man with ice water in his veins and a keen awareness of the moment, unraveled on the NBA's greatest stage.
It wasn't simply the six-of-24 performance from the field. He's shot poorly before. It was also the out-of-character, anxious play. So off was his rhythm that even the simple act of dribbling escaped him on several occasions, as it did with 10 minutes remaining in the fourth quarter when, after the Lakers earned one of their 23 offensive rebounds, Bryant lost the ball off his leg trying to reset a new possession. There was no ball pressure against him, he just lost the handle. At the other end, hoping to make up for the miscue -- and no doubt the myriad others that came before it -- Bryant tried to draw a charge on Ray Allen and was whistled for a blocking call.
It was one of many sequences making Bryant's experience in Game 7 among the most fascinating things I've ever witnessed.
He experienced the newness of this kind of failure the way a baby giraffe experiences its first gangly steps, all at once confused and frustrated, but also with a dogged determination to get some stability in his legs.
The clearest window into Bryant's plight came when he went to the line late in the fourth quarter. Clearly exhausted and on the edge of something disastrous both practically (Game 7 of the NBA Finals was in serious jeopardy) and mentally, Bryant's eyes widened, his pace slowed, his movements became incredibly deliberate.
So much physical and mental energy spent, not on splitting a double team in the paint or rising for a fadeaway jumper with a hand in his face, but on a free throw, an act he's completed successfully probably 100,000 times or more in his lifetime.
Even more incredible was the honesty Bryant displayed at the trophy presentation ceremony after the game was over. There was no pretense, no attempt to make us believe we had seen something different than we had.
"Tonight, it got the best of me," he said candidly. "I wanted it so bad, and sometimes you want something so bad it slips away from you."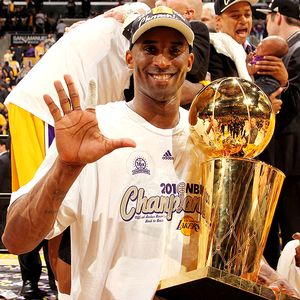 Nathaniel S. Butler/NBAE/Getty Images
How the Thursday night impacts Kobe's legacy is an open question, but no matter how it shakes out, he'll always have five NBA titles.
At his postgame press conference, Bryant went further. "The more I tried to push, the more it kept getting away from me. I'm just glad that my teammates really got us back in the game," he said. "It was a tough one."
Knowing he was struggling to score, Bryant made a concerted, desperate effort to contribute in some other way in Game 7. He finished with 15 rebounds, easily his high mark for the postseason. His defensive effort was frantic and relentless. "I had to do something," he said. "I mean, I had to rebound the ball. Whatever it takes to win the game. You've got to do whatever it takes. That's my job. Sometimes shots aren't going to fall, but you've got to figure out something to help your team win."
It's a cliche, but it's also a simple statement of fact. He had to do something positive to mitigate the damage he was doing elsewhere, and he did, even through a level of fatigue likely impossible for the rest of us to comprehend.
Popping around different radio broadcasts and podcasts this morning ("Lakers blogger" is a popular guy the day after a championship), I've been asked multiple times about the impact of this game on Kobe's legacy. Honestly, I don't know the answer. He has won his fifth title and his second Finals MVP, and will have opportunities to win more. Statistically, he has a shot to reach air even more rarefied than the climbs he already occupies.
On the other hand, he laid down a near-disastrous performance in the biggest game of his career Thursday night.
I suspect those who believe Kobe should be elevated above Michael Jordan and/or other legends will gloss over his shooting and the turnoversThursday night, focusing instead on his newest ring and the incredible playoffs he had in getting the Lakers to the Finals again. Or they'll point to how, despite all the struggles, he hit eight of his nine fourth quarter free throw attempts. And, again, he was named series MVP. He was hardly a non-factor.
Meanwhile, those in the Jordan camp will focus on the 18 missed shots in 24 tries, the four turnovers, and the admission the moment got the better of him.
For me, the most enduring aspect of Game 7 will be how it humanized a player who works so hard to appear impenetrable. Everything, all his game, all the window dressing of his persona, was stripped away Thursday, leaving only a guy incredibly desperate to achieve his most important goal, working as hard as he could to make it happen, but often unable to stay out of his own way.
It was the first time I've ever really felt able to identify with him, and I doubt I'm the only one.
Lakers fans would just as soon he leave the in-game failure part by the wayside in future championship-clinching games, but it's the vulnerability he showed Thursday night, in what could have been his greatest nightmare, that makes him more appealing than he has ever been.