"Life moves pretty fast. If you don't stop and look around once and a while, you could miss it."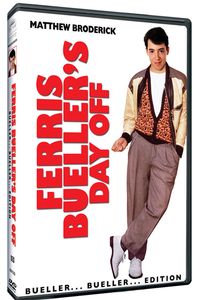 AP Photo/HO/Paramount
Ferris would have stopped to watch Kobe, even as a Chicago guy.
These are the immortal words of Ferris Bueller, one of my heroes growing up as a teenager in the 80's. Bueller became famous for engaging in a fake sick day from school as his principal and bitter sister tried to catch him red-handed. What was most memorable about this bit of trickery wasn't even how Ferris eluded his pursuers, but the way he made the risk of getting busted worth his while. Ferris recognized the importance of style, tooling around Chicago in a vintage Ferrari. More importantly, he took the time to smell the roses while on the lam. A trip to Wrigley Field and a museum. Fine dining at Abe Froman's expense. Participation in a parade. Pool hopping.
Ferris Bueller's day off wasn't just a homeroom ditch. It was an epic journey, and the kid had enough wisdom to make sure every minute registered. Otherwise, what was the point of experiencing it in the first place?
Along those lines, as Kobe Bryant decides which finger to get sized for a fifth ring, it dawned on me his 14th NBA season was just completed. 14 campaigns in the NBA, and it doesn't feel like all that long ago he was a kid about Ferris Bueller's age making a direct leap to the NBA. I still remember my initial "Whoa!" upon learning Jerry West traded Vlade Divac for a 17-year old. Since then, so much has happened. Five championships. Seven Finals appearances. Oodles of records. The triumph and tribulations alongside Shaq. Colorado. Kobe and Phil, Part II. An image revamp in staggeringly quick time coinciding with a roster revamp of equally remarkable speed. Back at the top for two years running.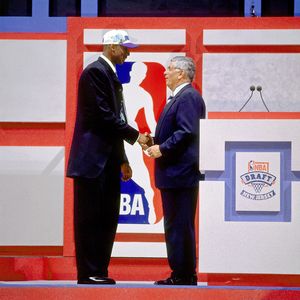 Nathaniel S. Butler/Getty Images
Time Flies.
During that time period, two constants have existed: Consistently remarkable achievement. And talk of why that remarkable achievement does or doesn't out him on Michael Jordan's level. Nothing has changed, and nothing likely will, as we learned watching Bryant hold the Larry O'Brien yet again.
Well, that's not entirely true. A new wrinkle has been added...
Instead of the talk focused solely around how a fifth championship stacks Kobe against MJ, we now debate where he ranks compared to Magic Johnson or West. How does his new jewelry enhance his G.L.O.A.T. credentials, particularly with a victory against the Celtics? Do we knock him down a peg for struggling throughout much of this Game 7 victory, since MJ would have NEVER choked in an NBA Finals Game 7? (And Jordan conveniently never played in one, allowing us to merely speculate instead of know one way or the other.)
The more Kobe achieves, the more we look backwards, reliving the memories of Air Jordan, Showtime, The Logo. In the meantime, know what's kinda getting lost in the shuffle?
Kobe's actual career.
I understand the instincts to maintain historical perspective and recognize basketball's rich past. I understand why the comparisons can make for fun (if sometimes laughably overblown) barroom, barbershop and sports media debate. And I understand why -- if we're being honest -- it's easy to get defensive when a player deemed untouchable has someone breathing down his neck. The reverse happens when those rooting for the challenger argue steadfastly on his behalf. Whether fans or media, we are human beings who spent a lifetime admiring athletes and developing emotional attachments.
Even as someone who finds the actual "Kobe v. "Player X" comparisons tiresome, I still find the psychology behind the arguments infinitely fascinating.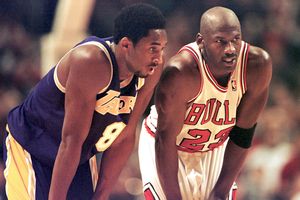 Vincent Laforet/Getty Images
The never-ending story...
Again, I get all of this.
But at the same time, I can't help but think so much time is slavishly devoted towards a determination of Kobe's "ranking," we're at risk of missing what's actually in front of us. By dwelling on "what it all means," we're at risk of not experiencing quite literally what it all means.
Does beating the Celtics qualify as the indisputable missing piece pushing Kobe past Magic or West? I don't know, but I'm positive he led his Lakers through one of the hardest fought series I've ever seen.
Does a fifth ring via a Game 7 spent largely struggling gain Kobe ground in the quest to pass Michael? Keep him in neutral? Somehow regress his status? I don't know, but I'm positive I'll never forget this performance for the rest of my life.
Could Kobe Bryant hang up his sneakers as the consensus greatest player of all-time? Maybe. Maybe not. But I am positive about this. Whether he ultimately strikes the masses as the first, second, fifth or 10th-best ever, Kobe Bryant's career will have been stunningly successful.
And beyond that, it's been stunningly unique.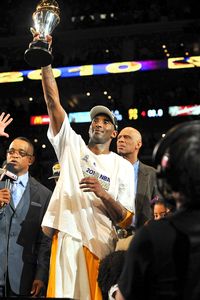 Win McNamee/Getty Images
It's his fifth title. Can't it ever just be about that?
Unique in the way he's been a complete two-way player. Unique in the way he's been part of two wholly different championship teams with the same iconic coach. Unique in the way he's been equally thrilling and frustrating for fans. Unique in the way his sometimes destructive stubbornness is ultimately the same trait fueling his absolute brilliance. Unique in the way he's gone from popular to polarizing to popular. Unique in all the twists and turns taken.
And like Brian noted earlier, unique in the way its latest chapter has added vulnerability out of left field as a layer to a steely persona undoubtedly still genuine.
It's a unique career because there's essentially no mold. For better, worse, and all points in between, Kobe's time in the NBA has been wildly incomparable. Yet despite this striking nature, it sometimes feels like the career exists first and foremost as a jumping point for comparison. We can't seem to just love, hate or simply acknowledge it to some degree as a standalone entity.
Whether you're a "Kobe guy," a "Michael guy," a "Magic guy," a "West guy," a "LeBron" guy or even a "Slava guy," doesn't that strike you as a little strange when you really think about it?
As quickly these 14 years have flown by, the remaining three or so seasons of Bryant playing at this level are guaranteed to wrap up in even a quicker blink.
To paraphrase Ferris, Kobe's career, like life, has moved pretty fast. If you don't stop debating the relative value of winning a ring with Pau vs. Luc once in a while, you might miss it.