Do not expect Thursday's 2010 NBA Draft to cement a Threepeat.
Do not use words and expressions like "replace," "compensate for," or "fill a hole." Certainly don't use the "R" word (rotation).
These are not things picks 43 and 58 can do for a team searching for their third straight title. Even bad teams often have little space for second rounders. On good ones, they frequently don't make the roster or are stashed in Europe until further notice, sometimes never heard from again. There are the occasional DuJuan Blair types who make an impact on a playoff squad, or even a Wes Matthews, who wasn't even drafted. But they are the exception, not the rule.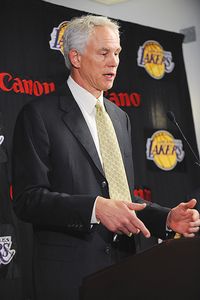 Andrew D. Bernstien/NBAE/Getty Images
Mitch Kupchak says the Lakers will use their two second round picks this year, but will need to "get lucky" to find a player able to make an impact quickly.
This isn't the ranting of an NBA maverick. While he's not exactly prone to fits of exuberance, Mitch Kupchak didn't undersell things when asked Wednesday if the Lakers could fill any needs with either pick. "Probably not," he said. "We have 43, and we have 58, and history tells us it's not likely that the 43rd player makes your team, and if he does [he's not likely] to play a role next year. 58, those guys don't typically don't make your team, but we hope to get lucky."
Unfortunately, due to long-standing rivalries, drafting a leprechaun is not an option, though Marcus Thornton, drafted 43rd last year by Miami and traded to New Orleans, shows good players can still be available around that point in the draft. Thornton averaged 14.5 points a night, shooting a respectable 45 percent from the floor and providing one of the only bright spots in an otherwise miserable season for the Hornets. Other potentially productive players taken in the general vicinity of pick 43 last year include Blair (San Antonio, 37), Sam Young (Memphis, 36), Jonas Jerebko (Detroit, 39), and Chase Budinger (44, Houston).
From a depth standpoint last year's draft was considered far superior to this year's, obviously a huge factor. 2008 offered some decent choices, but by second round of the '07 draft was something of a wasteland. It varies year-to-year, but pickings are generally slim by the time 43 rolls around.
But even if the Lakers don't hit the second round lottery, the '10 draft will be a change from last season's for the simple reason L.A.'s picks aren't automatically up for auction. Kupchak indicated the Lakers plan on, at the very least, using the 43rd pick for themselves. Last year, there was no room for a rookie who likely wouldn't contribute. This year, it's a possibility. By rule a team needs to field 13 players on the roster. The Lakers have only Kobe Bryant, Pau Gasol, Andrew Bynum, Luke Walton, Sasha Vujacic, Ron Artest, and Lamar Odom under contract next season. Shannon Brown, who has a player option for next year, has repeatedly expressed interest in coming back, but still seems likely to opt out of his contract and give the market a look-see.
All things being equal, Brown's preference seems to be staying in L.A., but in the free agent process all things are rarely equal. It's certainly possible he could be offered something, whether in years or dollars, with which the Lakers can't/won't compete.
I consider Derek Fisher a free agent in name only, but even if he and Brown (whether on his current deal or a new one) return, it still leaves four empty roster spots needing to be filled. Maybe one is taken up by Josh Powell, and a second by the backcourt help they're expected to bid on over the summer. There are still two left over, and a second round pick could fit the bill for one without breaking the bank, the latter especially being an important criteria for the Lakers.
The goal is to find a player who could turn into a useful piece down the road, as Luke Walton and Ronny Turiaf did after they were taken in the second round. In the meantime, he'd be obligated to practice hard, keep his mouth shut, put basketballs back on the rack and carry a lot of luggage. The first one in particular isn't, as Phil Jackson might say, a trifle. From Kobe Bryant on down, the A-listers on the Lakers roster consistently emphasize how much better they are as a unit because players like Powell, D.J. Mbenga, and even Adam Morrison push them in practice. Certainly Turiaf did the same.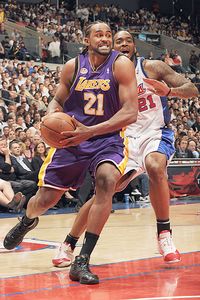 Noah Graham/NBAE/Getty Images
L.A. has had decent luck in the second round, with guys like Ronny Turiaf. (And check out Josh Powell as a Clipper!)
Forecasting who they'll take is a little tricky. Kupchak pointed Wednesday to the backcourt as a major priority, no surprise considering Bryant and Vujacic are the only two guards under contract for next season. Even if Fish and Brown return, they'll still need another player or two. The prevailing opinion says Mbenga is mgone, meaning the Lakers need another big body to back up the Bynum/Gasol/Odom frontcourt trio. But when it comes to players the Lakers will project as members of the rotation, new blood is far more likely to come trades and free agency than their picks Thursday night. (I don't expect the Lakers to pull the trigger on a deal tonight, but if they do it's far more likely to be centered around Vujacic, entering the final year of his contract, than a blockbuster involving Bynum.)
It stands to reason they'll take the highest rated player on their draft board with the understanding he won't necessarily contribute for a season or two. Getting caught up in the "need" philosophy feels shortsighted, since today's holes aren't guaranteed to be the ones they'll face down the road.
The careers of the two guys announced tomorrow as Lakers draft picks may not extend past summer league or training camp, no question. But there's a good chance at least the 43rd choice will make the roster, though the Lakers would have to, as Kupchak says, "get lucky" for the player to make an impact next season.
THE 2010 NBA DRAFT:
-L.A. has picks 43 and 58. For reference sake, last season those picks were used on Marcus Thornton (Miami, traded to New Orleans) and Lester Hudson (Boston, waived in January).
-The Lakers don't have a first round pick, which was sent to Memphis in the Pau Gasol trade (seems fair enough).
-It's against the rules to trade away first round picks in consecutive years, so if the Lakers do make a move tomorrow involving a first rounder, it'll have to be for their pick in '12, not '11.
Mock Drafts
-ESPN.com (Insider required)