I got the following response from Ron Artest's camp when asked for a reaction to the news of Phil Jackson returning for one more season:
"THANK YOU PHIL"
The message, by the way, was specifically requested to be presented in all caps.
I don't think it's a stretch saying fans second Ron-Ron's sentiments. If anything, they'd request a bigger font.
With Jackson's return comes increased odds of a third consecutive title. PJ's track record speaks for itself, and even if this weren't the case, his players have offered plenty of testimony on his behalf. But there's another tangible effect beyond the hardwood, a byproduct of this coach confirming he's down for one "last stand."
Jackson in the fold means a sense of normalcy, being able to distance yourself from the uncertainty currently swirling around the NBA landscape.
With free agency's kickoff just a day in the books, the rumor mill has entered an overdrive of mammoth proportions. But this chaotic and gossipy whirlwind doesn't merely represent what happens when 24-hour news, the Internet and Twitter join forces to blow out a situation. It underscores how many teams' fates remain connected to the settling of the dust. Consider the state of affairs for several teams banking their immediate futures (maybe even longer) on this summer: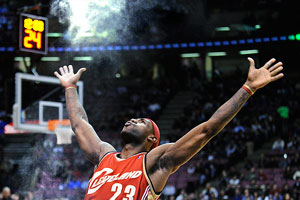 Bill Kostroun/AP Photo
Who will LeBron throw chalk for next season?
The Cavaliers: A pins and needles wait over LeBron James' decision has officially reached epic status. It's as if the fate of Western Civilization rests on the King's final decision. Beyond just how epically far back the Cavaliers would be set back if he bolted, there's the spillover factor. Cleveland's economy. Cleveland's permanently fragile sense of self-worth. The way an LBJ-less Cleveland is being pictured, it's conceivable the entire state of Ohio may get shut down altogether. It'll be evacuated and used as a space to film Hollywood movies, like Johnnie's Coffee Shop on Fairfax Blvd. Or Canada.
Lakers fans may rightfully grouse about LeBron being shoved down their throats, but his call is ultimately pretty monumental. Whether the decision leads to his first championship, being locked into a worse situation, or simply treading water, his whereabouts change the game. If he relocates, others will follow. If he never changes jerseys. the decision will still send teams scrambling.
Resent it or not, he's got the whole NBA world in his hands for the time being.
The Heat: Stripped down to Dwayne Wade... Michael Beasley and Mario Chalmers (because somebody needs to be on the other end of a potential trade)... and hopes Pat Riley can convince an A-Lister or two to buy into the upside of fewer dollars and few dollars in exchange for a championship. Assuming, of course, they'll be supported well enough by a crew of veteran's minimum schmoes to get that far. Generally speaking, teams without good role players don't raise the O'Brien.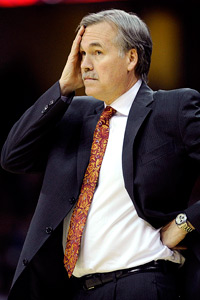 Jason Miller/US Presswire
We don't blame Mike D'Antoni if he's feeling a little stressed these days.
The Nets/Knicks: New Jersey is currently banking on the power of an unproven Russian Billionaire and a hip hop icon to offset Newark's unpleasant nature, particularly on a team in need of a serious rebuild. And compared to what the Knicks have in their back pocket (New York and... I don't know... New York?), playing for the Nets is an offer you can't refuse. How bad has have things gotten in the Apple? They're likely pretty peeved at being robbed of the opportunity to wildly overpay Joe Johnson and Rudy Gay.
Speaking of which...
The Hawks: They are committing $119 mil to a "franchise player" who fell off the map as Atlanta got swept during the Eastern Conference Semifinals. It's understandable why -- the alternative is regression -- but how many people truly think Johnson is a legit max player? And without an overhaul around Johnson, are the Hawks just running in place?
The Grizzlies: I've been predicting for six months the Clippers would celebrate a LeBron Sweepstakes snub by tossing insane money at Rudy Gay and bridging the gap of Corey Maggette's empty calorie scoring. Well, the Griz beat them to the punch. And that's a good thing, mind you. Of course, who knows if the Clippers will even be able make the free agency splash increasingly hinted at as this summer approached? Standing pat could be smart, but even fans as masochistic as the Clips' will eventually tire of being told to wait until next year.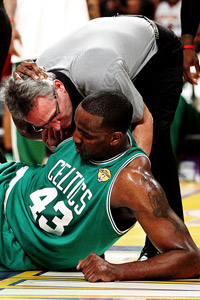 Win McNamee/Getty Images
Perkins' health is a big concern for the Celts next season.
The summer's uncertainty isn't just limited to the free agency movers and shakers, by the way.
The Celtics: Doc Rivers and Paul Pierce will be around, but what about Ray Allen? Even more importantly, when will Kendrick Perkins ready after blowing out his ACL and MCL? 5-6 months as hoped? Maybe longer? In the meantime, the team's collective ain't getting any younger and The Big Three's window (assuming they remain at three) ain't getting any bigger.
The Nuggets: The stakes of George Karl's health issues are obviously bigger than whatever lies ahead for the team, but there's no doubting the cloud of uncertainty cast over the franchise by this horrible situation. Plus, there's talk of trading 'Melo if he and the Nuggets can't agree on an extension. Is it worth riding out the mercurial personalities -- and expiring contracts -- of Kenyon Martin and J.R. Smith for another season? Particularly if Karl can't return.
The Blazers: G.M. Kevin Pritchard was fired and nobody can land on a logical reason why. (Illogical reasons -- Paul Allen's ego, for example -- have been speculated.) On the court, Greg Oden has yet to get through an entire season, Brandon Roy will also be coming off injury and Marcus Camby will be counted on to avoid getting hurt.
The Suns: Because really, what team doesn't commemorate a shockingly deep playoff run by parting ways with the G.M.? Amare Stoudemire appears to be following Steve Kerr out the door after a prolonged dance. As always, Robert Sarver can't seem to get out of his own way.
I'm guessing the Mavericks will retain Dirk Nowitzki, but the road ahead is murky after a first round exit to the Spurs, a team dealing with "window" issues similar to Boston's.
And while they may not be remotely a playoff team, how about the insanity that is the Timberwolves locking up Darko Milicic? Seriously, this happened. Actual money will change hands. (By the way, remember when I predicted the pride of Serbia would somehow inexplicably land a big payday? High five for AK!)
With few exceptions (Orlando, Oklahoma City, a suddenly deep-pocketed Milwaukee), most NBA teams of note are being threatened by some form of uncertainty, and the suspense may not end anytime soon. On the other hand, the NBA champion Lakers, the league's best team to begin with, just eliminated their one truly important question mark. (I don't count Derek Fisher's unresolved status, since nobody seems to think he won't be back.) Mystery swiftly solved, we can all take a breath.
Does Phil Jackson's return equal "guaranteed three-peat, just add champagne?" Of course not. Nothing is ever set in stone. But it's a quantifiable relief knowing the Lakers are a team with their ducks in a row, proceeding forward as optimally planned: With the same coach from 10 of the last 11 seasons. With a sense of familiarity appreciated even more as opponents twist in the wind.
THANK YOU PHIL, indeed.