ESPN.com's Chris Sheridan reports Steve Blake and the Lakers have agreed to a deal worth $16 million over four years. I can't believe Mitch Kupchak didn't inform us this morning when the media was in El Segundo to ask questions about Phil Jackson, Derek Fisher and the new rookies. We totally asked him about free agents. I mean, what a perfect time, with all the cameras there and rolling! Even if he wasn't ready to formally announce a deal in the works, Mitch could have just told us about the Blake situation under the condition we don't tell anyone else.
It's a sad day when the honor system no longer means anything.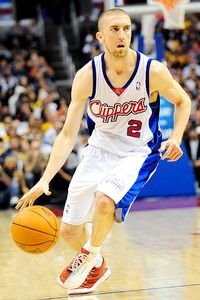 Gary A. Vasquez/US Presswire
Steve Blake fills needs on a few levels for the Lakers.
Obviously, nothing is set in stone. Contracts can't be signed until Thursday, and if we've learned anything from Hedo Turkoglu, Elton Brand and Vlad Radmanovic, players occasionally back out. (Although if Blake has learned anything from Turk, EB and Vlad, karma upon backing out generally stinks.) But assuming no hitches, the biggest name of their offseason has possibly been added. Here are some immediate thoughts:
-- Like I said in my rundown of realistic free agent guards, Blake was about as good a signing imaginable when it comes to addressing multiple needs with one player through limited means. He's a very good outside shooter. He has made 39 percent of his shots from beyond the arc in his career, and over 40 percent in 2006, 2008, 2009 and the Clippers section of his 2010 season. As a point guard, he's more of an actual distributor than someone who can pass but is equally/more interested in scoring. Blake can score, but doesn't feel compelled to at all costs. He's smart and can adapt to different systems. As a defender, he's more scrappy and willing than hugely accomplished, but certainly adequate. All in all, he's a pretty solid addition.
Plus, the "super dope" guard comes 100 percent Ron Artest-approved. What more can you ask for?
A little bit, if you're being greedy.
I consider Blake more of a luxury backup than a truly ideal starter. He doesn't kill you in the first five, but there are better options. Thus, he doesn't necessarily represent a long-term solution to a longtime search for Fisher's successor. The money is also a little higher and the contract is a little longer than I expected. Not ridiculous, but still more considering the funds available for an already-high payroll. Of course, this summer has witnessed money once again being thrown around by front offices like drunken trust fund frat boys at a strip club, despite the predictions of purse strings being clutched with a vice grip. By now, it's hard to know what even constitutes "overpaid" anymore.
Actually, that's not true. Rudy Gay and Joe Johnson are now very overpaid.
At any rate, the red flag for me isn't so much about guys being "overpaid," but whether the contract as a whole is completely irresponsible. In the case of Blake, not the issue at all. The money isn't necessarily even more than I expected Blake to earn, but rather more than I thought the Lakers might be willing to pay him. Either way, I'm fine with it.
-- I've already gotten one text from a friend asking if Blake on board equals Derek Fisher (reportedly not close to agreement on contract terms) on the way out. Not even. Remember, the Lakers needed additional firepower at the point even with Fisher under contract. Jordan Farmar has been on borrowed time for a couple of seasons. Shannon Brown (more on him later) is both a free agent and much better off the ball. Sasha Vujacic has received oodles of chances at the one since his rookie season and has yet to make it work.
By definition, if you sign Blake to replace Fisher, a backup for Blake is probably still needed, unless Shannon (presumably resigned) or Sasha comes into his own as a serviceable lead guard. One way or another, the arrival of Blake seems unlikely as a planned one-for-one swap.
Plus, it's not just a matter of bodies being needed, but Fisher's body in particular. His worth has been indisputably proven, whether by his clutch performances during the playoffs or leadership throughout 82 regular-season games and a postseason. His presence carries immeasurable weight. He gives the best motivational speeches this side of Tony Robbins. He's the one teammate Kobe Bryant believes in unconditionally. The organization values what Fish brings to the table, and at this stage of his career, there's more to be gained going out as a Laker than chasing an ultimately marginal difference in dollars. A middle ground can and will be reached.
I'm still banking on Fisher in a Lakers uni come October. For that matter, I think Fisher will start next season, with Blake allowing Phil to reduce his minutes, a desired goal in any event.
-- My same buddy (Texty McText-A-Lot, we'll call him) also wondered if money now devoted toward Blake and (theoretically) Fisher makes it absolutely prohibitive to bring back Shannon. Again, I don't think so, even while acknowledging "YouTube" was always less of a lock to return. It's really a matter of what it takes to keep him. The brass likes Shannon, the feeling is mutual, and he's a young hard-working player with a good attitude. Plus, he'll eventually need to be replaced at some point (I don't see Sasha in L.A. past 2011), so if the dollars to keep Shannon aren't outrageous, it may be more economically feasible to lock him up now and have Kobe's sub in place for a few seasons. Of course, if someone throws crazy money in Brown's direction, all bets are off, just as they were before Blake was in the picture.
-- I don't know how much steam the reported talks between Mike Miller and the Lakers had actually gained, but unless he's willing to play for the veteran's minimum, consider them now evaporated.
-- I can't tell you how happy I am Blake can't be introduced until after the holiday weekend. I could really use a few days off.