Go ahead, call the hype surrounding the free agent summer of 2010 oppressive. Insufferable. Unendurable. Or any other appropriate word available at Thesaurus.com. Measured by the way it has reshaped the NBA, you'd have to call it monumental as well. The buildup was long, but the payoff has been legit.
Most the high profile action has centered around the Eastern Conference. There have been plenty of teams making moves, some rising (I read an article or two about happenings in south Florida, for example), some not. Of course, only one can ultimately come between the Lakers and a possible third straight title.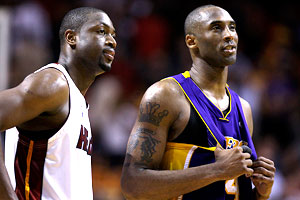 Harry How/Getty Images
For the last two seasons, preseason hype has centered around a potential Kobe/LeBron Finals. Now it's Kobe/Wade... and LeBron.
So which teams currently look dangerous?
The New Elephant in the Room
Miami Heat
LeBron James, Dwayne Wade, and Chris Bosh constituted either an incredible foundation without much built on top or an incredible house without much of a foundation. Pick one. Point being, when it seemed like Miami's new triumvirate would be surrounded by Mario Chalmers and a gaggle of minimum wage vets and second rounders, predicting a title for next season was a little tricky. Mega-stars aside, this isn't Hickory High, where running with four guys is inspirational. They needed some dudes. But in the last several days, they've added Mike Miller and Zydrunas Ilgauskas, and re-signed the very valuable Udonis Haslem. Frankly, they're miles ahead of where I figured financial constraints would force them to be after inking the South Beach Three.
They'll still need to integrate a shocking amount of "new" into next season, but it's now likely Miami will have the requisite depth to win a title next season to go along with all the top shelf talent. L.A. seems to match up well, but then again, nobody's quite sure what the Heat will look like fully formed, or how they'll play on the floor.
A Finals matchup looks a lot more realistic now than it did the morning following the big TV spectacle. These guys could be scary.
Still Championship Caliber, Except They're Not Miami So Nobody Cares Right Now
Orlando Magic
Stan Van Gundy's crew has won 59 games in consecutive seasons, including a trip to the Finals in '09. This summer, they've swapped Jason Williams and Matt Barnes for Chris Duhon and Quentin Richardson. A wash, basically, but by matching Chicago's offer sheet on J.J. Redick, the Magic certainly aren't setting themselves up to slide this season. With Dwight Howard they have a dominant player in the middle, accompanied by a great guard in Jameer Nelson and strong players up and down the roster.
Granted, they're in a position to rely on Vince Carter, who did nothing last season to improve his rep as a major postseason disappointment. At some point, everyone has his moment, right? Maybe? The Lakers showed in '09 they can handle the Magic, but Orlando would love a chance to exact some revenge.
Boston Celtics
When the Lakers knocked off the Celtics in Game 7, the vibe in the arena screamed end-of-an-era for an aging group. Ray Allen seemed likely to move on, Rasheed Wallace to retire. Only one appears to be the case. In the meantime, Paul Pierce opted out of his deal, then re-signed at a (relative) discount in an effort to help Boston fill in the blanks. Boston re-signed Allen. To help tide them over until Kendrick Perkins returns from knee surgery, likely next winter, Danny Ainge signed Jermaine O'Neal to a reasonable two-year contract.
Losing Tony Allen to Memphis (seriously, Tony Allen?) hurts, but Boston is likely to add a couple more pieces to the rotation before it's all said and done. Their window is too small to do anything but. Can they stay healthy enough to make a deep playoff run next year? I'd bet against it. Then again, I said the same thing last year. As for a possible Finals rubber match, after last year's seven game slugfest, it's clear the Celtics are a quality opponent.
Most Likely to Make "The Leap"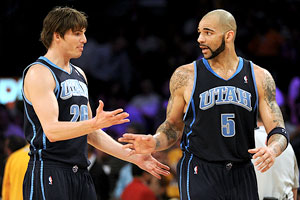 Harry How/Getty Images
Kyle Korver and Carlos Boozer add scoring punch to an otherwise scrappy Bulls squad.
Chicago Bulls
They whiffed on LeBron, Bosh, and Wade, but managed to add real frontcourt scoring in Carlos Boozer and badly needed shooting in Kyle Korver. Redick would have been sweet -- the Bulls looked at L.A.'s 34.1 percent mark from downtown with envy -- but they're still substantially better. Korver's presence will help create lanes for Derrick Rose, Boozer's will free up Joakim Noah for easy shots and the combination should make Luol Deng better, too. In short, Chicago will be able to score points on something more than a bi-weekly basis.
Add in the potential of new coach Tom Thibodeau and some leftover cap space, and the Bulls have assets to get even better. I don't think they're good enough to leap to the top of the conference, but outside of Miami, no team has a chance to improve in a meaningful way like Chicago.
The Rest of the Best...
Atlanta gave Joe Johnson a massive new deal that'll hurt down the road. The good news? It won't help them win anything important now, either.
Milwaukee added Corey Maggette via trade, Drew Gooden with the MLE, and re-signed John Salmons. Add a healthy Andrew Bogut and they'll be a playoff team again, one nobody in the E.C. will want to play. Not L.A.'s problem, though, since the Bucks won't make the Finals.
Amare Stoudemire, Raymond Felton, and Anthony Randolph (healthy and playing to the potential many think he has) could be enough to squeak the Knicks into the playoffs. Not exactly what they were hoping for, but it's a start. On another note, they'll love Ronny Turiaf in New York.
There's still time for teams to get better, whether through trades or via free agency. Hard to predict the former, but below are five players still available capable of making a difference.
-Shaquille O'Neal. Not even close to the M.D.E. anymore, but still good enough to help a quality team. He just can't be "the guy."
-Brad Miller. Statuesque (in the non-complimentary way) on defense, Miller's ability to hit mid-range shots and move the ball makes him an asset to teams needing frontcourt depth.
-Tracy McGrady. Truly a wild card. If he's healthy and within shouting distance of the guy he once was, T-Mac could still matter. Or he could end up injured and irrelevant.
-Ronnie Brewer. The Grizzlies rather inexplicably allowed Brewer to become an unrestricted free agent. He's not much of a shooter, but plays hard, smart, and moves very well without the ball. Another guy whose value rises with a better team.
-Craig Smith. My favorite 18-minute-a-night player in the league. Smith doesn't look pretty and needs protection defensively, but is an effective scorer down low and can create havoc for the opposition.